Trailer Park Boys: What Is Their Net Worth?
Fans of the irreverent and boozy Canadian TV series, Trailer Park Boys, know the lead characters as Ricky, Julian, and Bubbles. In real life, the talented trio go by their genuine names, Robb Wells, John Paul Tremblay, and Mike Smith.
Robb "Ricky" Wells
As the none-too-bright Ricky LaFleur, Wells brings the hilarity with malapropisms, misstatements, and a ridiculous sense of fashion. Often seen sporting a black-and-white polyester houndstooth shirt with side-striped track pants, Ricky overindulges in everything from liquor to chicken wings while peppering his speech with plentiful F words. Nonetheless, the decidedly uneducated yet perfectly pompadoured character is one of the most beloved denizens of Sunnyvale Trailer Park.
Not a lot has been published regarding Wells' personal life, but two things are known for sure: Wells was born in New Brunswick, and the 6'1″ actor is nowhere near as stupid as the character he plays on Trailer Park Boys. In fact, Wells earned writers credit for 56 episodes of the uber popular series.
In a 2006 interview with The Globe and Mail newspaper, Wells admitted that his inspiration for the low-IQ Ricky is sparked from an amalgam of people he knew while growing up in the same Nova Scotia neighborhood as TPB director Mike Clattenburg and costar John Paul Tremblay. Wells even went so far as to write down the "messed up words" of one childhood friend in particular. And thus were born the uproarious "Rickyisms" that TBP fans know and love.
Heightline was unable to determine the actor's annual salary or marital status but pegs his current net worth at around $2.5 million and bound to increase due to many upcoming Swearnet projects.
John Paul "Julian" Tremblay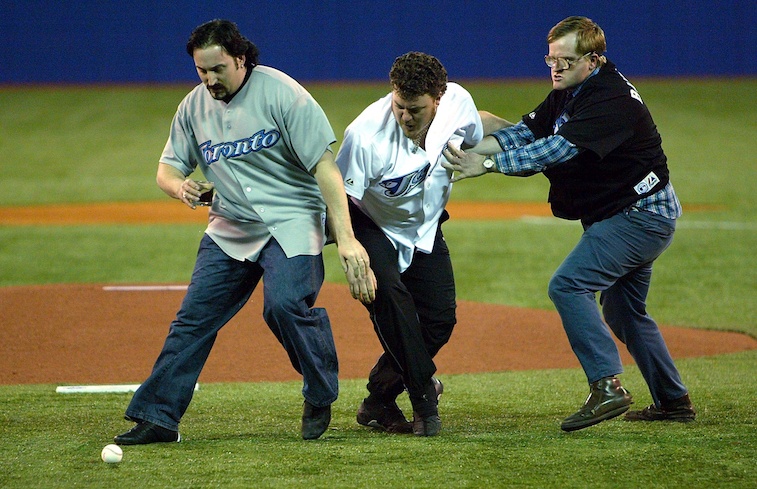 As the undisputed hunk of Sunnyvale, Julian is never seen without an iced rum and coke cocktail in his hand. Handsome and suave, Julian masterminds most of the bound-to-fail crime sprees that land the boys in jail at the end of every season. Over the course of 12 seasons, Julian's last name was never revealed.
Tremblay was born in Halifax, Nova Scotia in 1968. When he was a youngster, the Tremblay family moved to the Dartmouth suburb of Cole Harbour where he befriended Robb Wells and Mike Clattenburg. The trio attended high school together, and it was there that they discovered their knack for ensemble comedy.
Reliable sources say that John Paul's net worth at the moment hovers around $2 million. As is the case with his co-stars, Tremblay's net worth will probably be boosted in a big way by his association with Swearnet and other creative projects.
Mike "Bubbles" Smith
Like Julian, the bespectacled Bubbles appears to has no known surname. Abandoned in Sunnyvale Trailer Park when he was very young, Bubbles lives in a succession of storage sheds with an assortment of cats and kittens. When not involved in shady situations with Ricky and Julian, Bubbles earns his living stealing, repairing, and reselling shopping carts.
Born in New Glasgow, Nova Scotia in 1972, Smith evinced musical talent at a young age. Prior to being cast as the sometimes befuddled, always philosophical Bubbles, Smith played guitar in a Canadian rock band called Sandbox along with "Snowbird" singer Anne Murray's nephew, Paul Murray. Smith has also performed live with Guns 'n' Roses and Rush.
A couple of years ago, Smith was arrested on battery charges after an altercation with a woman at the Roosevelt Hotel in Los Angeles. A spokesman for the LAPD told CTV News that all charges against Smith were dropped due to insufficient evidence.
Today, the talented actor, musician, and producer is worth a cool $2 million, according to Born Rich magazine.
Will there be a Season 13?
Conceived in Canada, Trailer Park Boys is the brainchild of director Mike Clattenburg. The show that Sharp magazine called "the most unintentionally profound comedy of the 21st century" is on hiatus after the death of John Dunsworth who portrayed besotted park manager, Jim Lahey. All 12 seasons of TPB are available at Netflix.