Trailer Park Boys: Will There Be a 13th Season?
When Trailer Park Boys made its debut in 1999, few people expected the Canadian TV show to be the international sensation it is today. Despite -or perhaps because of- the show's raunchy humor, disregard for moderation, and outlandish, drug-fueled plot lines, TBP has become a cult favorite.
Wrapping up Season 12
The last episode of Season 12, F*cking F*cked Out of Our F*cking Minds, saw Julian and Bubbles organize an enormous stag party for the recently engaged Ricky LaFleur. No, Ricky was not finally marrying his long-suffering girlfriend, Lucy. In a plot line best described as surreal, the perfectly coiffed character proposed to relative newcomer Susan in typical "Rickyism" style when he asked, "Would you like to be married by me?"
Of course, everything that could go wrong did go wrong, and the season finale ended with the boys cooling their heels in jail once again. This time, however, it was different. Instead of the usual jailhouse shenanigans, Ricky, Julian, and Bubbles morphed into animated cartoon characters, and left everyone wondering what would happen if and when a new season were to be filmed.
Finally, a touching tribute appeared on the screen as it was revealed that John Dunsworth had passed away shortly after the season wrapped production.
The first final episode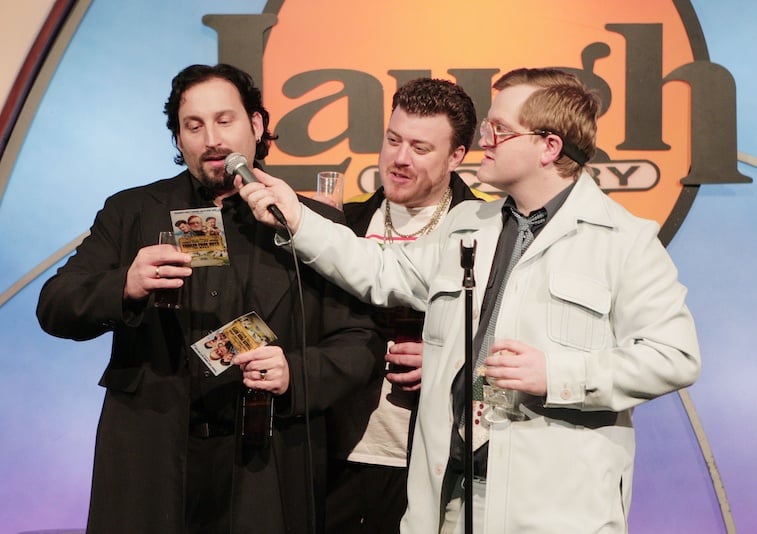 When Trailer Park Boys wrapped up Season 7 in December 2008 with a one-hour special, Say Goodnight to the Bad Guys, it heralded the end of their tenure with Showtime. In fact, several years lapsed between the end of Season 7 and the start of Season 8.
In the interim, John Paul Tremblay, Mike Smith, and Robb Wells, who portray Julian, Bubbles, and Ricky respectively, pooled their cash and bought the rights to TPB from the original producers. After founding their own Internet streaming network, "Swearnet," seasons eight and nine started production in tandem with Netflix.
Season 10 of the wacky TV series was underwritten by the government of Canada, as were two new eight-part series, Trailer Park Boys: Out of the Park: Europe and Trailer Park Boys: Out of the Park: USA. The Out of the Park shows premiered in 2016 and are currently available for streaming on Netflix.
Irascible, irreplaceable Jim Lahey
John Dunsworth gave a lot of gifts to the world, only one of which is the genius that is Jim Lahey. Some unreleased photos from season 12 pic.twitter.com/gmpagpPs1H

— Bubbles (@MSmithBubbles) October 17, 2017
Born on April 12, 1946, Nova Scotia native John Francis Dunsworth was one of the most seasoned members of the TPB ensemble cast. Although his character was nearly always falling-down drunk, the 5'10" actor rarely imbibed in real life. That he was able to manage the pratfalls and misspeaks of Mr. Lahey was a testament to his true acting ability.
A long time friend of Dunsworth, director Mike Clattenburg, told The Globe and Mail that Dunsworth was a meticulous actor who "didn't wing it" and described his late friend as a studied thespian who spent months preparing for every role he played.
Prior to his 12-season stint as the perennially plastered park supervisor, Dunsworth portrayed characters as diverse and Shakespeare's Shylock and Santa Claus. As a peculiar news reporter, Dunsworth was a featured player on the supernatural TV series, Haven.
Shortly after John Dunsworth's sudden demise in October 2017, sources close to the show told TMZ that the part of Jim Lahey would not be recast. Whether a new season will come to fruition is anyone's guess at this point.
Are you ready for a cartoon version of Trailer Park Boys
In the official Reddit TBP Season 12 discussion hub, users offered differing opinions regarding a possible cartoon spinoff of the well loved show. Many said they'd enjoy a cartoon version of TPB. Others found the idea abhorrent, citing aging actors and the absence of John Dunsworth as the top reasons they don't want the show to go on in animated form.
If you are like zillions of TPB fans around the world, you're eager to see what the future holds for Sunnyvale Trailer Park and its motley assortment of residents. We are, too.