'Transformers: Age of Extinction' and Its Game-Changing China Debut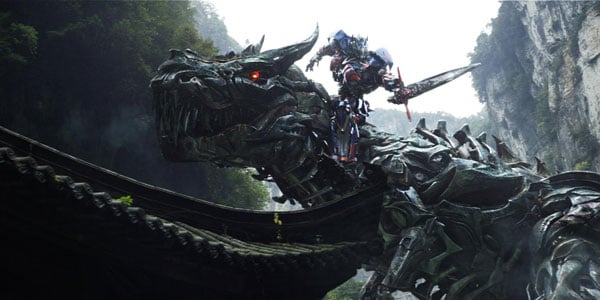 Paramount's Transformers: Age of Extinction earned the biggest domestic opening of the year this weekend with $100 million, but in many ways the domestic take is being lost in the fray due to its game-changing numbers overseas. In South Korea, the film opened with $22.4 million to become the biggest opening of the year in the region, which is now the fifth largest film market in the world. But it was Age of Extinction's box office numbers China that blew away expectations and is expected to have huge ripple effects both in Hollywood and China. That's because in China, which has recently become the second largest movie-going population in the world, Age of Extinction just drew the biggest opening weekend ever for a foreign film — to the tune of $90 million in three days.
But the record numbers in China for Age of Extinction don't stop there — the film also has a good chance of scoring the biggest opening of all time, foreign or domestic, by the end of the week. The current record holder in China is Stephen Chow's Journey to the West: Conquering Demons, which earned an impressive $106 million in one week in February of 2013. But that means that Age of Extinction only needs $16 million in four days to become the biggest film opening all time. Further, many onlookers believe that Age of Extinction is on track to become the number one film all time at the Chinese box office, currently held by Avatar with $221.9 million.
The news is a huge blow to China's Film Bureau which only last week called on Chinese theater owners to limit screenings of Age of Extinction while encouraging domestic films. "The main point is that we need to defend and fight for our cultural territory," said China Film Bureau chief Zhang Hongsen. "On the economic aspect we will have to see if we will be forced to surrender," adding that 2014 was "the year when the battle between Hollywood and China really begins."
The "battle" in 2014 that Zhang has alluded to over the past few weeks has to do with the fact that this might be the first year that the box office for foreign films in China will outpace domestic films. Last year, the domestic box office narrowly edged out foreign releases on the backs of hits such as West: Conquering the Demons, Donnie Yen's The Monkey King, and Dad, Where Are We Going? But it was believed that there was already a good chance that foreign films would exceed domestic this year, even before Age of Extinction blew away expectations. Now, it seems a given that Zhang and the Film Bureau will oversee a changing of the tide.
While the success of Age Extinction could be viewed as a stunning victory for Hollywood and its goal of breaking into the Chinese film market, there's also a sense that the success of the film could give the Film Bureau the go-ahead to put even more stringent controls on foreign films coming into China. But the Film Bureau's strict regulation of foreign films has also polarized Chinese film viewers who don't always see eye-to-eye with the State Administration of Press, Publication, Radio, Film and Television (SAPPRFT.) 
According to The Hollywood Reporter, the Film Bureau's stance on regulation has led to strong outcry on the Internet. "As long as SAPPRFT exists, Chinese films will not free themselves," wrote Yiran Shiwo. Shuixin Suoyu explained, "I support the promotion of domestic films, but the domestic films must be good enough."
More From Wall St. Cheat Sheet: