'Transformers' Destroys Weekend Box Office, Topping '22 Jump Street'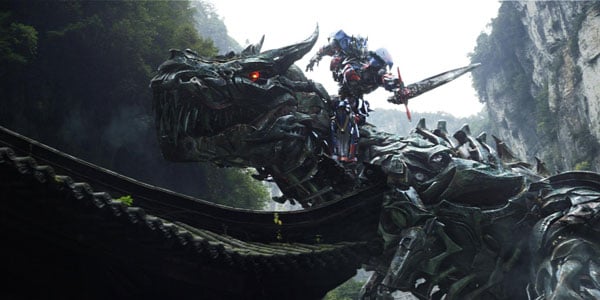 Michael Bay's Transformers: Age of Extinction demolished the domestic weekend box office, grossing more than $100 million, according to Box Office Mojo; this marks the highest debut of the year thus far. The film was also a success worldwide, making more than $300 million overseas. Sequels 22 Jump Street and How to Train Your Dragon 2 filled out the top three films of the weekend.
Age of Extinction is the latest action-adventure movie in the franchise based on the classic Transformers toy line. The movie stars a new cast, including Mark Wahlberg, and features Chicago three years after the city was destroyed in the last movie.
The Paramount Studios film failed to impress critics, receiving a rotten 16 percent score on Rotten Tomatoes. The previous three films were also critically panned, with the overall consensus that the films display impressive computer effects but are lacking in any story development. Age of Extinction, however, did receive an A- from CinemaScore, which tracks audience response to films.
Sony's 22 Jump Street fell 42 percent, grossing almost $16 million. The rated-R comedy, starring Channing Tatum and Jonah Hill, has made more than $140 million over three weekends. The sequel, like the original, is garnering almost equal critical and audience acclaim, with a fresh 85 percent from critics and 86 percent from audiences on Rotten Tomatoes.
How to Train Your Dragon 2 fell 46 percent from last week but continued to hold on to the third spot, bringing in more than $13 million on its third weekend. The Fox animated film has made more than $121 million in domestic ticket sales and $106 million in foreign sales. Audiences love the film, giving it an A on CinemaScore and 92 percent on Rotten Tomatoes. It features the voices of Jay Baruchel, Gerald Butler, and America Ferrera. The third film in the series is set to be released in June 2016.
Sony and Screen Gems' Think Like a Man Too, which debuted at No. 1 the previous week, dropped to fourth place, with over $10 million. The film, produced by Steve Harvey, has made almost $50 million thus far.
Disney's Maleficent rounded out the top five with more than $8 million made in the past weekend. The fantasy film, starring Angelina Jolie, has a staggering domestic total of over $200 million and is doing well in foreign sales, with $383 million.
No major action blockbusters are opening next week, so Transformers: Age of Extinction may continue to reign. There will be a mix of genre options, including Relativity's Earth to Echo, a family film similar to E.T., targeting younger audiences. Sony and Screen Gems' horror picture, Deliver Us From Evil, and the Warner Bros. comedy Tammy, starring Melissa McCarthy, are also opening.
More From Wall St. Cheat Sheet:
Want more great content like this? Sign up here to receive the best of Cheat Sheet delivered daily. No spam; just tailored content straight to your inbox.