Travis Scott Breaks His Silence Amid Kylie Jenner Cheating Rumors: 'It's Simply Not True'
News of Travis Scott and Kylie Jenner's breakup has been constant over the last week. With rumors of a reported mistress and Jenner spotted out with an ex-boyfriend, where does the truth of what happened lie? Jenner commented on the rumors, but Scott hasn't — until now.
The rumors about Travis Scott and Kylie Jenner started immediately after the breakup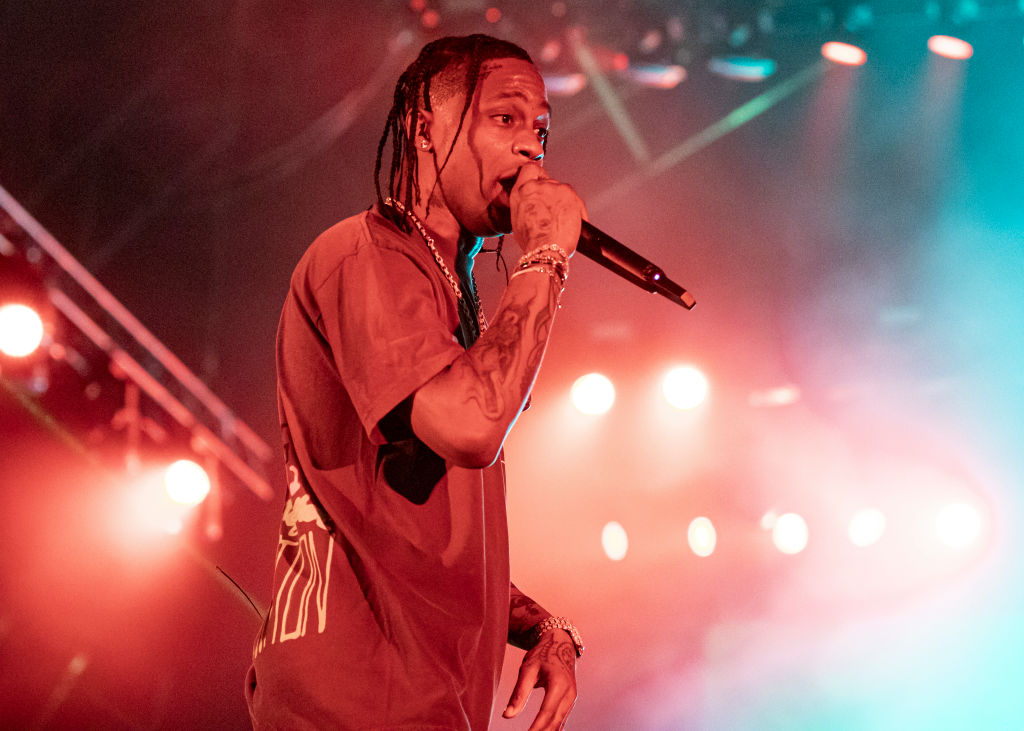 Earlier this year, TMZ said Jenner reported Scott of cheating, but the two remained together, co-parenting their daughter, Stormi Webster. As of now, Scott has moved out of their Beverly Hills mansion.
The confusion as to what actually happened comes after Jenner was spotted out with her ex-boyfriend, Tyga, post-breakup. The two hung out only 24 hours after the split, though it's said to have been platonic.
Jenner's history with Tyga goes back to 2015 when Jenner was entering high school. Though they're adamant they were only friends, their relationship became public around her 17th birthday.
Jenner met Scott soon after her breakup with Tyga in 2017, though the two have stayed in touch since then. Jenner took to Twitter to clear up any rumors that she and Tyga have rekindled things.
With the Tyga thing cleared up, Jenner has yet to comment on whether she and another ex-boyfriend, Jaden Smith, are involved. The two dated in 2013 and Smith was allegedly the source of conflict between Jenner and Tyga's breakup.
Jenner and Smith were reportedly very cozy at Justin and Hailey Bieber's recent wedding, with photos surfacing of Smith grabbing Jenner's backside.
As for Scott's side of things, allegations Scott cheated on Jenner with Rojean Kar (YungSweetRo) forced Scott and Jenner fans to take side. Kar released a statement on a now-deleted Instagram story obtained by E! News.
She said: "None of these rumors are true, it's just the internet creating a false narrative," she said. "Please stop spreading lies & leave him, her & I alone because it's affecting real lives. Thank you."
Travis Scott and Kylie Jenner have a complicated relationship
Scott and Jenner have reportedly had a complicated relationship, full of ups and downs (like any relationship, really). Jenner became pregnant soon after the two became a couple, which could attribute to any additional stress they're under.
It didn't help when rumors of Scott cheating circulated back in February. They broke up and reconciled after a month apart and the relationship seems to have deteriorated since.
"The couple has been hot and cold since their last breakup, and haven't been able to fully get on the same page again," a source told Entertainment Tonight.
"They are both extremely busy with different schedules and since Kylie found out about Travis messaging another girl on Instagram, the rebuilding of trust has been hard."
The source continued: "Although they aren't together now, they're both open to getting back together in the future. Above all, Kylie and Travis know their priority will and always has been Stormi."
Jenner's stated many times over her desire for traditional family life, while Scott's busy promoting his music career.
"She loved being at home with Travis and their daughter, Stormi Webster, more than anything," the source continued. "But right now, their priorities are different."
Though all of this happened fast, another source told E! News it may not be the end of their relationship just yet.
"Kylie and Travis aren't officially calling it quits on their relationship, but are taking space apart. It's not a firm split. They've been fighting again, but have still seen each other within this last month."
What does Travis Scott say about those cheating rumors?
After all that's been said about the breakup, fans have waited for Scott to tell his side of things. Scott took to Instagram to set the record straight.
"[It's] really affecting when u see false things said about you [sic]," Scott said. "Once again these false stories about me cheating are just simply not true. Focusing on life, music and family at this moment is what's real." 
Meanwhile, Scott's new song, "Highest in the Room" dropped Friday. Fans speculate the lyrics spill the details of Scott and Jenner's relationship issues.
The breakup drama comes in the midst of Travis' return to the music scene. His new song, "Highest in the Room," dropped Friday, and fans believe the lyrics paint a clear picture of Scott and Jenner's relationship troubles. 
If there's still doubt in your mind the cheating allegations are true, friends of the rapper are also defending him saying, "any rumors of cheating are totally and completely false and press should really report on facts rather than rumors and speculation."
Nearly a week after the breakup, it's still anyone's guess what's happening behind closed doors. Luckily, Jenner has Keeping Up With the Kardashians to document her side, and Scott has music to defend his. What a time to be alive.