Travis Scott Kicked off Kylie Jenner's Birthday Week With an Extravagant Surprise
Kylie Jenner's already getting birthday gifts and the big day isn't until this Saturday, Aug. 10.
The billionaire and youngest member of the Kardashian-Jenner family will turn 22 this weekend but judging by the video Jenner shared on her Instagram Stories earlier today, celebrations have already begun.
Keep reading to learn what her boyfriend, rapper Travis Scott, did to kick off her birthday week.
Kylie Jenner on Travis Scott's extravagant gesture: 'It's not even my birthday yet'
If there's anyone who knows how to celebrate it's the Kardashian-Jenner family. Scott has clearly learned from the best about over-the-top parties and romantic gestures (maybe he got tips from Kanye West knowing the way he proposed to Kim Kardashian in 2013) because he covered the entryway of Jenner's home with what appeared to be thousands of rose petals.
Jenner posted a short video to her Instagram for her 142 million followers to see. She captioned the post, "My house is covered in ROSES! @travisscott and it's not even my birthday yet!!!!! Omg ♥️♥️♥️♥️♥️😭😭😭😭."
She walked through her entryway while Stormi Webster, Jenner and Scott's one-year-old daughter, played with rose petals in the background.
In the video, she held up a typed note from Scott with the following message: "Happy birthday!!!! We're just getting started. Love you!!!!"
The founder of Kylie Cosmetics seemed pleasantly surprised and overjoyed by the sweet gesture. "Stormi, look at this," she said with a laugh. Jenner also showed more of the incredible scene in her house on her Instagram Stories.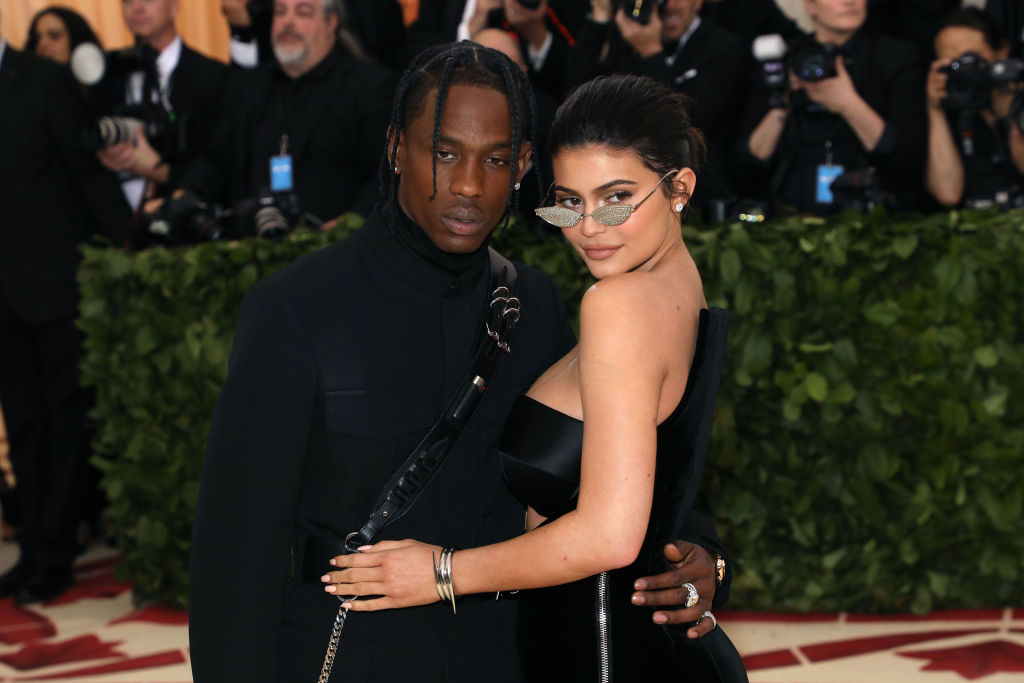 As we mentioned above, this gesture is a lead up to Jenner's birthday on Aug. 10 meaning she's in for an even bigger birthday gift from Scott. We wouldn't be surprised if Jenner's boyfriend has something big planned for every day leading up her actual birthday, wrapping up the birthday week celebrations with what we're pretty sure would be an over-the-top party sparing no expense.
Surely, fans will get the inside scoop on Jenner's birthday celebrations from the woman herself thanks to Instagram and Twitter (she's very active on both platforms).
How Kylie Jenner celebrated Travis Scott's birthday
Like the majority of her siblings who go above and beyond for birthdays, Jenner marked Scott's 28th birthday on April 30 with a gas station themed party that appeared to be more extravagant than many weddings.
What's a birthday party without gifts? Not only did Jenner throw her significant other a lavish birthday party but she gave him a silver Lamborghini valued at $280,000, according to Elite Daily.
Kardashian-Jenner family takes celebrating holidays and birthdays to a new level
Holidays and birthdays are a big deal in the Kardashian-Jenner family. Just look at the family's annual Christmas party.
In the past, they've had John Legend sing songs from his Christmas album, and have gone so over-the-top on party decor and activities that Kim Kardashian had to tell her husband they had to cut back on the 2018 Christmas celebration because they were spending too much money on one party. This coming from a woman who is a millionaire hundreds of times over mind you.
Birthdays are no exception. In fact, some may say birthdays are even more significant for the Kardashian-Jenner family than holidays such as Christmas, Fourth of July, or Thanksgiving.
We can't wait to see what's next in store for Jenner on her birthday week extravaganza.