Travis Scott Seemingly Shades Kylie Jenner's Latest 'Thirst Trap' Photos
Travis Scott seems pretty bothered by the racy photos Kylie Jenner posted Sunday, Dec. 29 on Instagram. The Kylie Cosmetics founder flaunted her curves in the snaps, showing a good deal of skin for the shots. But Scott didn't appear to be impressed. He posted what many people are calling a shady response to his ex-girlfriend's "thirst trap" photos.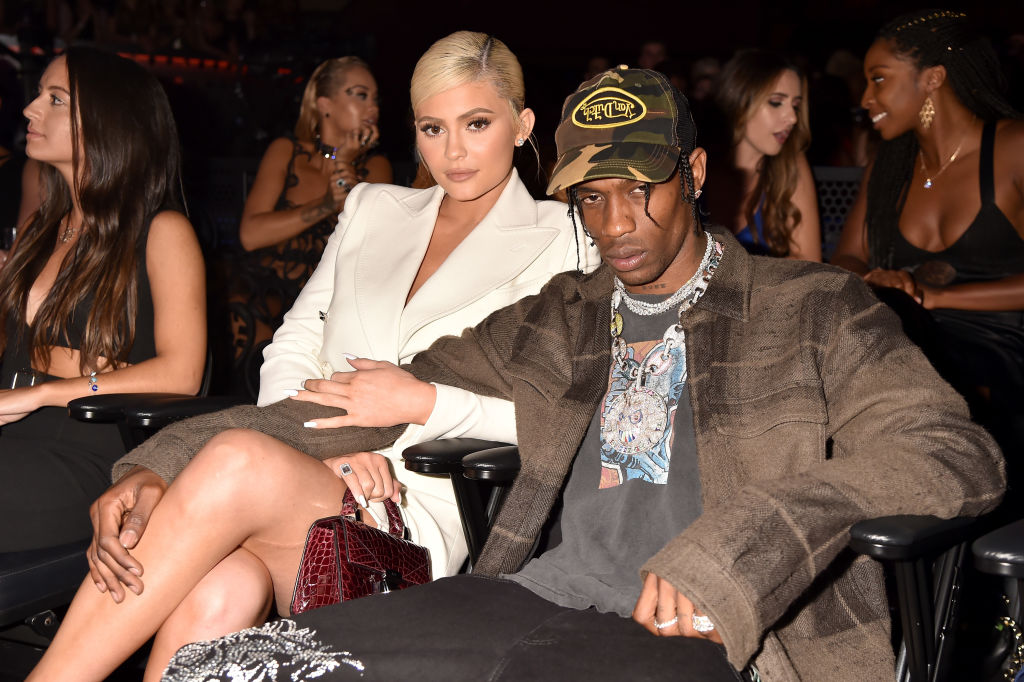 What Kylie Jenner posted on Instagram
Jenner shared two sultry lingerie photos. The pictures show her in bed, wearing only a lace bra and matching underwear. She's also seen wearing a pair of hoop earrings with her hair slicked into a bun.
"just didn't feel right going into 2020 without one last thirst trap," Jenner captioned the pictures, which were taken by her friend, Victoria Villarroel. A "thirst trap" is a sexy social media post meant to attract attention.
The post drew a lot of praise, with Villarroel calling Jenner "so hot" and Jenner's BFF Anastasia Karanikolaou saying she looked "yummy." But Scott didn't seem to be applauding. Just minutes after the post went up, he took to his Instagram Story and posted, "Lol."
Commenters on Twitter say Scott was obviously stunned and hurt over the pictures, which have garnered over 10 million likes.
"Kylie Jenner posting thirst traps all Travis Scott said was 'Lol' [I know] he hurtin," one person tweeted.
"Travis deff mad Kylie posted them thirst traps on [Instagram] mans said lol," commented another.
Some people even felt bad for Scott, with one person tweeting, "Kylie ain't have to do my boy Travis like that tho."
Kylie Jenner and Travis Scott have been broken up for a while
Sources confirmed on Oct. 1 that Jenner and Scott had split up. The couple had been together for a little over two years after meeting at Coachella in April of 2017 and share a daughter, Stormi Webster, who was born on Feb. 1, 2018.
In regards to the reason they split, some insiders claimed that it had to do with their conflicting lifestyles. While Jenner allegedly wanted to settle down and have another baby, Scott reportedly did not.
"He hasn't been giving her the commitment that she needs," a source told People back in October. "Travis isn't ready to give her all that she wants."
A source added to Us Weekly: "They are very, very in love, but she's 22, and her whole life is Stormi and her business and her family. She's not wanting to be a normal rapper's wife. He's still young and at the recording studio late. She usually goes to bed early. They have different lifestyles."
As of writing, neither Jenner or Scott has not directly addressed the reason behind their split. However, the ASTROWORLD rapper seemed to confirm the aforementioned reports in his new song "Gatti," which came out on Dec. 27. In the track, he raps: "Duck away, she wanna lay up and hibernate/I took a chance, it's a lot to take."
Kylie Jenner and Travis Scott have been staying cordial
Although they're currently not together, Jenner and Scott have remained on friendly terms. They've worked out a custody agreement that gives them equal time with Stormi, but they still come together as a family. The trio even celebrated Halloween, Thanksgiving, and Christmas 2019 together.
"It's not been awkward between Kylie and Travis at all," a source told Us Weekly in October. "There's no animosity, no ill will or any negative feelings at all right now. They are both putting aside any romantic differences to be the best parents in the world for their daughter. Kylie has followed in the same footsteps as her sisters Khloé and Kourtney [Kardashian] in that respect."
Sources noted that Jenner and Scott could even get back together one day — which could be why Scott appeared to react to Jenner's "thirst trap" in the way that he did. But for now, Jenner is single and posting whatever she wants.