Trippie Redd Dedicated His Sophomore Album, '!', To XXXTentacion: Here Are The Tracklist And Song Meanings
Trippie Redd, also known as Big 14, released his sophomore project on TenThousand Projects titled ! Fans almost immediately began to question if the album would be his version of his late friend and frequent collaborator, XXXTentacion's 2018 sophomore album, ?
Redd not only clarified that this album is dedicated to the rapper but also confirmed it's his favorite project he has made so far. Also called Immortal, he stated this is his rock album and will have another project dropping in 2019 titled Mobile P***y Suit.
! definitely has some rock inspirations, but he stayed true to the underlying common themes in his music: relationship problems, drugs, success, and fighting the opposition. Redd enlisted several other rappers for the album including Playboi Carti, The Game, Lil Duke, Lil Baby, and Redd's girlfriend, Coi Leray.
Additionally, huge names in the industry such as OZ, Wheezy, Murda Beatz, and Diplo contributed their production skills to help create the sound of ! Keep reading for the tracklist, features, and song meanings.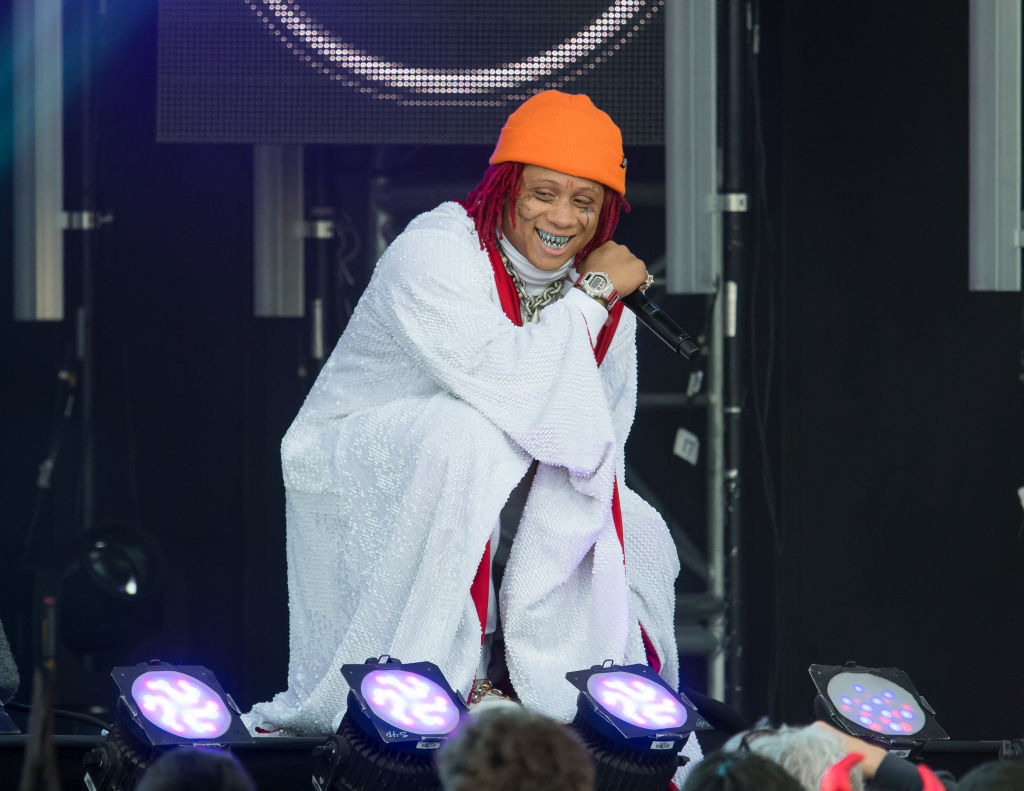 "!"
The Diplo-produced track is the intro to the album and talks about pain resulting from a relationship, a common theme in Redd's music. The song is also the second collaboration between Diplo and Redd after their 2018 single, "Wish."
"Snake Skin"
In this song, Redd seemingly speaks out against suicide. However, he's actually bragging that his wealth and success could make one want to kill themselves.
"Be Yourself"
The third track off ! is also the sequel to "I Know How To Self Destruct" from Redd's surprise 2017 EP, A Love Letter You'll Never Get. Produced by OZ, also the man behind the hit "Sicko Mode" by Travis Scott featuring Drake, this song stresses the importance of always being yourself.
"I Try"
For the first verse, Redd talks about taking a girl on tour with him to travel the world and spoil her. In his next verse, he describes how success has changed his circumstances, but not him as a person. He then repeats "I try" several times for the chorus. Even though it doesn't relate to the first or second verse, the two simple words still work for the song.
"They Afraid Of You" featuring Playboi Carti
Redd enlisted the Atlanta rapper's baby voice for this track about fake love. Produced by ChopsquadDJ, known for his work with Chief Keef and Redd's 2018 hit, "Topanga," the song marks their first collaboration. However, their followers assume they have several unreleased songs together after rumors circulated that they were working on an EP together in July 2019.
"Immortal" featuring The Game
For their first collaboration, the two artists rap about their "immortal" feeling after taking drugs. They also warn their enemies about their dangerous potential.
"Throw It Away"
Once again produced by OZ, Redd talks about unreciprocated love and single-handedly fighting for a relationship.
"Keep Your Head Up"
Redd used a slower melodic beat from Murda Beatz, known for his work on Drake's "Nice For What" as well as several Migos and Cardi B songs, to beg the listener to "keep your head up." The song also marks Redd's first collaboration with the Canadian producer.
"Riot"
In a record produced by Kyle Stemberger, popular from working with rappers Lecrae and Yung Tory, Redd talks about starting a riot.
"Mac 10″ featuring Lil Duke and Lil Baby
Redd enlisted Lil Duke and Lil Baby to take the Wheezy-produced track's verses, while he held the chorus down. They rap about threatening the opposition with Mac-10s, which are machine pistols typically used with a suppressor.
First previewed with Lil Duke at a Redd concert, it is the second single released from the album. While the collaboration is a first between Duke, Baby, Redd, and Wheezy, Baby previously worked with the Atlanta producer for his Drake-assisted hit, "Yes Indeed."
"Everything BoZ" featuring Coi Leray
While fans hoped for a love song between the couple, the artists settled on rapping about their wealth and fame instead. The title of the song is a nod to Leray's debut project, Everythingcoz.
"Under Enemy Arms"
Also the lead single from the project, this song seems to be the fan-favorite so far. In the track, Redd raps about his success and enemies and how he deals with both. He also released a music video which shows a rainbow-colored rat, depicting his former friend and collaborator, Tekashi 6ix9ine.
"Lil Wayne"
In this single which has nothing to do with the Louisiana rapper, Redd talks about smoking weed with a girl. "Lil Wayne" is produced by Nils, who also worked with Machine Gun Kelly for his diss song to Eminem, "Rap Devil" as well as Rich the Kid.
"Signing Off"
For the outro, Redd talks about logging off the internet to "take a f***ing break." The song marks the second time he's collaborating with producer Staccato after "Negative Energy," and it's a possibility that after the release of ! Redd will take a social media break.