Tristan Thompson Clears the Air About Cheating With Khloe Kardashian On His Pregnant Ex-Girlfriend
The father of Khloe Kardashian's daughter, True, has a terrible reputation when it comes to women. Tristan Thompson has a habit of breaking women's hearts, and leaving them for good.
In light of this, it's no surprise that the NBA star is hounded by constant rumors about his behavior. Now, he's speaking out and trying to clear some of those rumors.
Here's what we know about Thompson, and what he says about the rumors. 
Rumors follow Tristan Thompson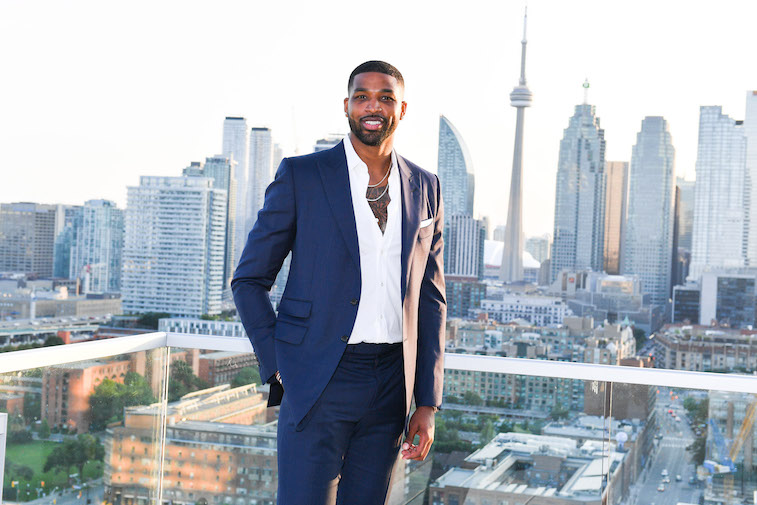 Ever since Kardashian first started dating Thompson, a rumor has persisted that their relationship started when Thompson was still with his pregnant ex-girlfriend Jordan Craig.
Kardashian met Thompson on a blind date sometime in the summer of 2016, and Craig gave birth to Thompson's son, Prince, in December of 2016. But Thompson has always insisted that he and Craig were already broken up before he started the relationship with Kardashian.
Now, another rumor is plaguing the NBA star thanks to an Instagram photo he posted of his son, who he shares with Craig, on a yacht. Craig also posted a vacation photo of her and Prince on a beach in Thailand, and so the internet assumed the three were vacationing together.
Tristan Thompson speaks out against the rumors
To clear both rumors, Thompson updated his Twitter status. First, with a denial that he was spending vacation with Craig.
Thompson wrote, "I have spent the last few months training for my upcoming NBA season, and making sure that I am in the best shape possible. I have not been on vacations at all this summer and the current rumors spreading are 100% false."
He then made another Tweet where he addressed the longstanding rumor that he cheated on Craig with Kardashian. "Also, when I met Khloe I was SINGLE," he wrote. "The negative comments that are constantly being directed towards her are unnecessary. She does not deserve all this backlash for my wrong doings. Both Khloe and Jordan have been nothing but great mothers to my kids."
Kardashian has always denied the rumors that Thompson cheated on Craig to be with her.
"Obviously I was reluctant about us continuing to date or start a relationship," Kardashian admitted on Instagram after she found out about Craig.
"He had me talk with his most inner circle. He showed me physical proof (correspondence between the two) and had me on calls with his lawyers to prove his point. His best friends, his business associates, and even his mother told me, him and his ex were broken up before we met."
Tristan Thompson did cheat on Khloe Kardashian
Even though Thompson seems to be telling the truth regarding the start of his relationship with Kardashian, we know we wasn't as honest in his relationship with her.
After a whirlwind romance that seemed to the public to be a sweet and perfect connection, Thompson was caught cheating. News outlets released photos of Thompson kissing multiple women when Kardashian was nine months pregnant.
Despite the heartbreak, Kardashian decided to stay with Thompson for the sake of their new daughter, who was born just days after the scandal hit. She spoke out about the enormous strength it took to rebuild their relationship, but she wanted to give their baby, True, the best possible home-life.
However, even after she gave him a second chance, rumors of his infidelity continued to plague the couple. Multiple women were caught by news outlets in compromising situations with the NBA star. Kardashian didn't respond to any of these accusations publicly, but then came the bombshell that would finally tear the couple apart for good.
In February of 2019, a video surfaced of Thompson at a party with a close friend of the Kardashian family. Jordyn Woods, who was best friends with Kardashian's sister, Kylie Jenner, was caught kissing Thompson.
The scandal tore apart the relationship between Thompson and Kardashian, ending it for good.
It also caused Woods to lose her place in the Kardashian inner circle. She had previously been living in BFF Jenner's guest house, but as soon as the news came to light, Jenner sided with her sister and kicked Woods out of her house, ending their friendship.
Thompson tries to portray himself in the best light possible, but the truth is that his behavior has caused heartbreak and ruin for multiple women.