15 Trump Administration Officials and Their TV Counterparts
Watching everything that is happening in the White House and with the Trump administration has been like watching a comedy of horrors. With a revolving door of unqualified and absurd people running this country, it's shocking that America has survived Donald Trump's presidency without imploding on itself.
So far, Trump and his circus of incompetents have done very little but bicker with one another, embarrass the country on an international scale, and try to overturn everything President Barack Obama ever did. In fact, it's been almost like watching a television show, and we're pretty sure that we've seen these characters before. Here are 15 members of the Trump Administration and their television counterparts.
President Trump — Frank Reynolds (It's Always Sunny In Philadelphia)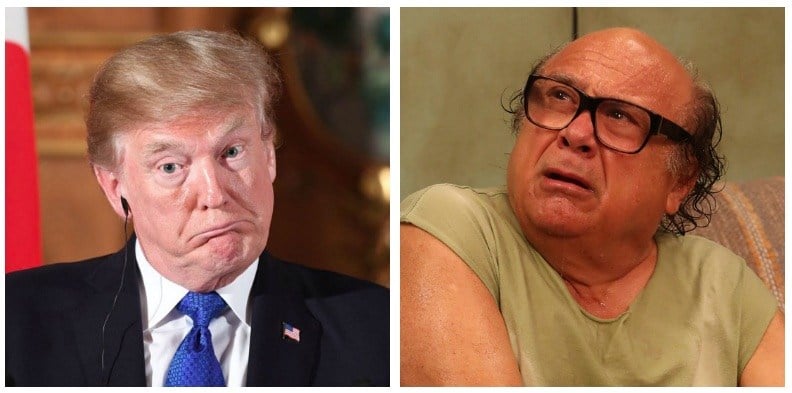 When It's Always Sunny in Philadelphia debuted on FX back in 2005, we had no idea that we were witnessing the future of American politics play out on the small screen. Trump is just like the mentally unstable Frank Reynolds.
A master manipulator, Frank has been known to paranoid, delusional, and psychotic. The parallels are uncanny.
Next: GOB Bluth isn't liked much either. 
Donald Trump Jr. — GOB (Arrested Development)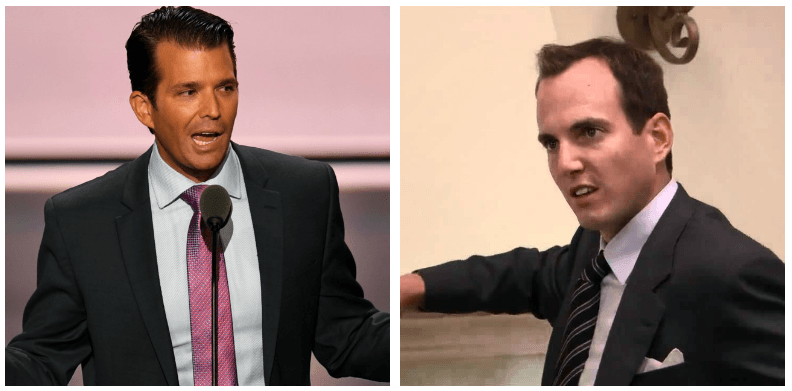 On Arrested Development, even GOB's own mother didn't much care for him. Since the Trumps are looking more and more like the Bluths every day, we can pretty accurately say that GOB Bluth and Donald Trump, Jr. are the same person.
Like GOB, Trump, Jr. is the president's oldest son, and he's also the one who also loves to commit crimes and then act oblivious to them. We all remember the meeting with Russian lawyer Natalia Veselnitskaya and the emails that came after.
We suppose we shouldn't expect much from the eldest Trump kid. After all, GOB was also a buffoon who would do anything for his father's attention.
Next: A position earned through sheer nepotism
Eric Trump — Connor Stevens (Black-ish)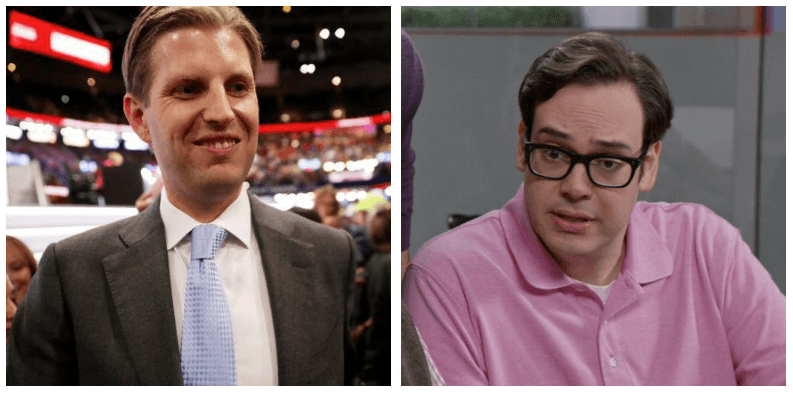 We're not sure what Eric Trump does at the White House except for whining to the press. That's why he's exactly like Mr. Stevens' son, Connor, on Black-ish. Andre Johnson's boss is known for saying outlandish things about race and class, and he adores nepotism.
No one was surprised when he hired his son Connor to fill a seat in the office. Of course, Connor doesn't add anything worthwhile to the business just like Eric.
Next: The Dwight K. Schrute of the Trump administration.
Devin Nunes — Dwight Schrute (The Office)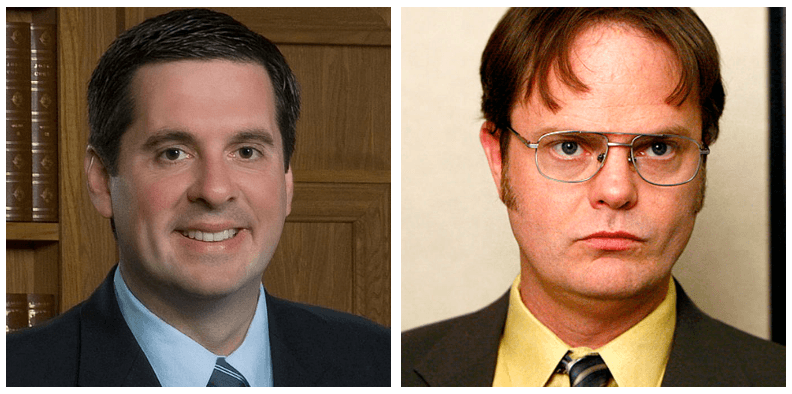 House Intelligence Committee Chairmen Devin Nunes is desperate to get on Trump's good side, so he's issued a memo trying to discredit the FBI and the investigation into the Trump campaign colluding with Russia.
Though the FBI has discredited the memo, Trump and his allies are holding on to it for dear life. From where we're sitting,  Nunes and his annoying little memo remind us of something Dwight K. Schrute would do to try and get some praise from Michael Scott on The Office.
Sadly for Nunes, things never really worked out for Dwight.
Next: Cersei Lannister has some competition. 
Ivanka Trump — Cersei Lannister (Game of Thrones)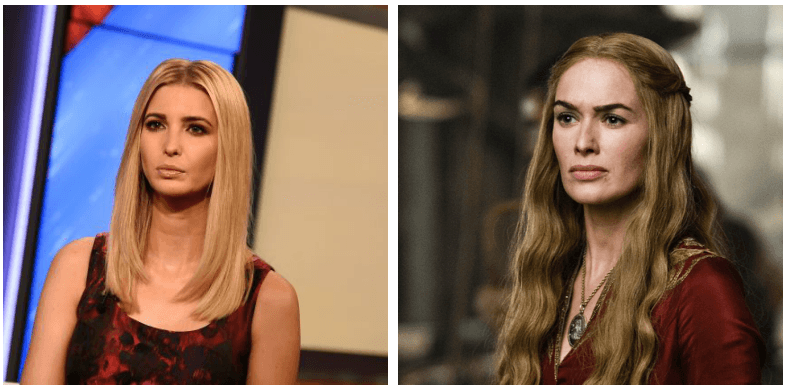 Ivanka Trump might not be as fearsome and scary as Cersei Lannister from Game of Thrones, but she certainly has some similar traits to the diabolical blonde. Before she went completely off the rails, Cersei knew just how to play her position and, like the eldest Trump daughter, she is complicit in all of the wrongdoings of her family.
Before her father's election to the presidency, Trump may have had a softer side. But now the White House Senior Advisor is just there to make sure women and people of color are forgotten about and continually exploited.
Next: A very cowardly character
Paul Ryan —  Theon 'Reek' Greyjoy (Game of Thrones)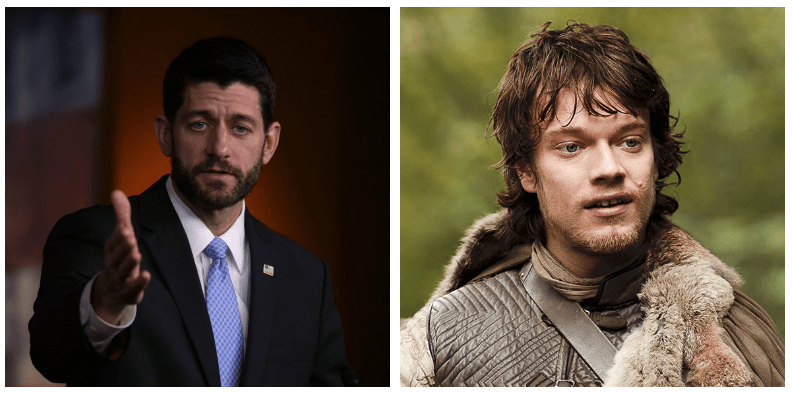 Theon Greyjoy is a weasel. Now known as Reek, the Game of Thrones character reminds us of the Speaker of the United States House of Representatives, Paul Ryan. Ryan used to be a tolerable human being. However, being drunk on power will change you completely, and like Reek, Ryan has become a tragic little character too selfish and cowardly to stand up for what's right.
At the end of season 7 of GoT, we watched Theon get some of his mojo back, but we aren't holding our breath that Ryan will ever stand up to President Trump.
Next: Perhaps the White House Press Secretary should host 'Dance Moms.'
Sarah Huckabee Sanders — Abby Lee Miller (Dance Moms)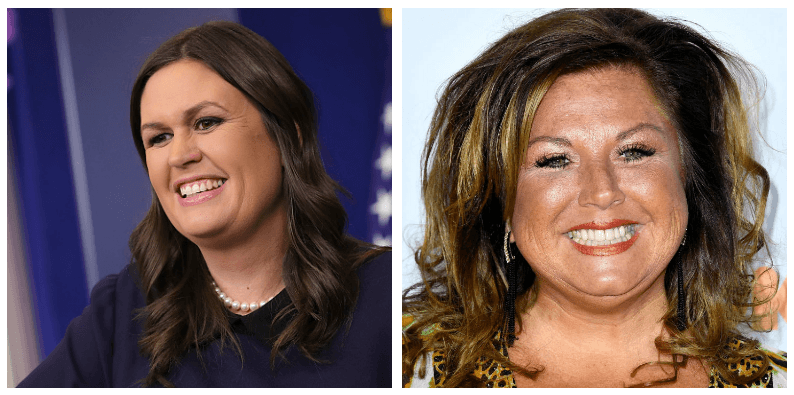 Former Dance Moms host Abby Lee Miller is currently in jail serving a prison sentence for fraud. We're not saying White House Press Secretary Sarah Huckabee Sanders is a full-out fraud, but she's certainly been known to bend the truth. In defense of Sanders, to keep her "cushy" position she has to spew lies to the press and stay on Trump's good side.
Like Miller, she's also likes to tell women how they should appear and act. Apparently, she thinks House Minority Leader Nancy Pelosi "should smile a lot more." This isn't a dance competition, Mrs. Sanders.
Next: A leader who seems to think we're living in the 1950s and '60s
Mike Pence — Race Bannon (Jonny Quest)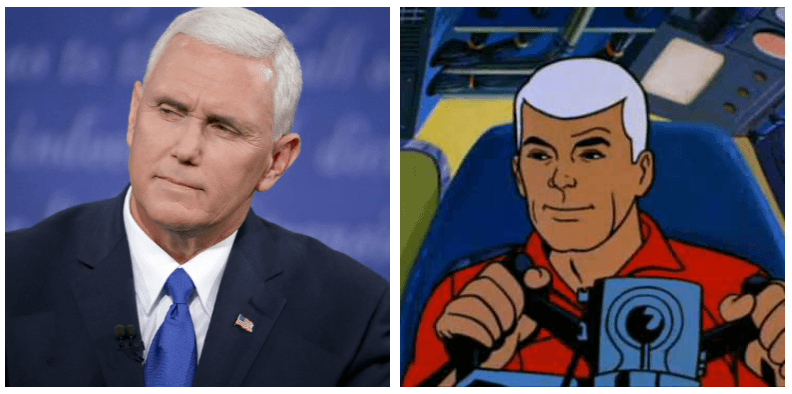 Since he wants us all to be stuck in a past oppressive time, it seems perfect that Mike Pence is a dead ringer for Race Bannon from the 1964 cartoon, Jonny Quest. From the white hair to the ironic last name, we couldn't think of a better fit.
However, Bannon was a skilled special agent and bodyguard who protected Johnny Quest. The only thing the vice president wants to protect is conservative white men like himself.
Next: An actual cartoon character
Sean Spicer — Eric Cartman (South Park)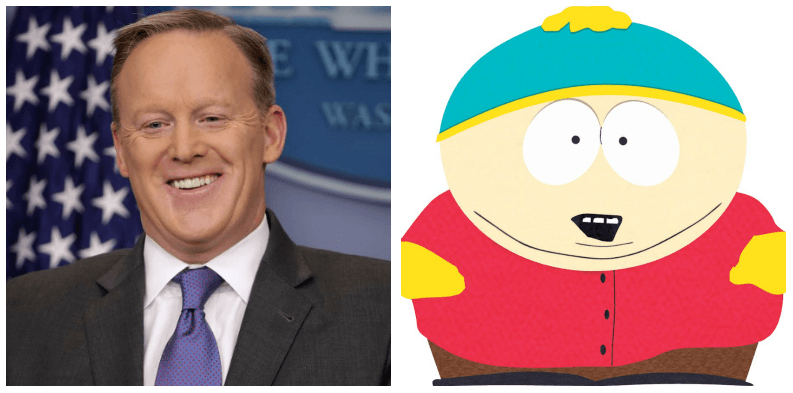 The former White House Press Secretary was a ticking time bomb who was sent into a tailspin when he couldn't handle all of the lies and foolishness coming out of the White House on a daily basis.
Like South Park's Eric Cartman, Sean Spicer tried to drag all of the rest humanity down to Trump's level with his outrageous antics.
Next: An ousted Trump aide who lives for drama.
Omarosa Manigault — Tobias Fünke (Arrested Development)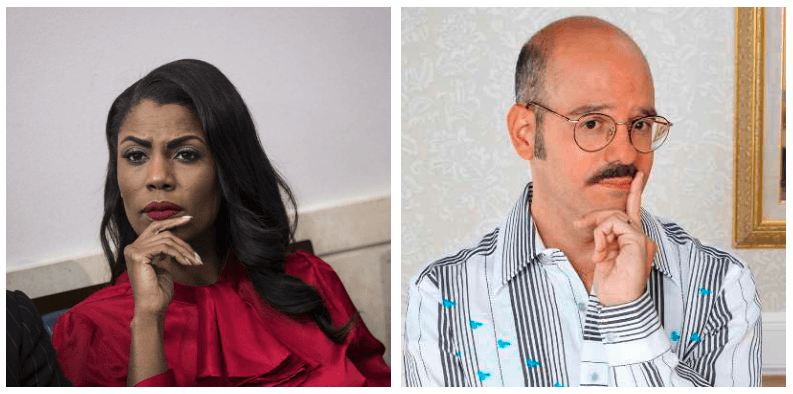 Though her time at the White House as an alleged political advisor was short-lived, it's no secret that Omarosa Manigault is ambitious, or at least we thought she was until we learned about her new Celebrity Big Brother gig.
Like Tobias Fünke on Arrested Development, it's clear that the former Apprentice contestant adores the spotlight and she will try nearly anything (except using her degree in journalism) to stay relevant. At least she hasn't resorted to painting herself blue like Tobias yet.
Next: A counselor who rivals a caricature
Kellyanne Conway — Sally Langston (Scandal)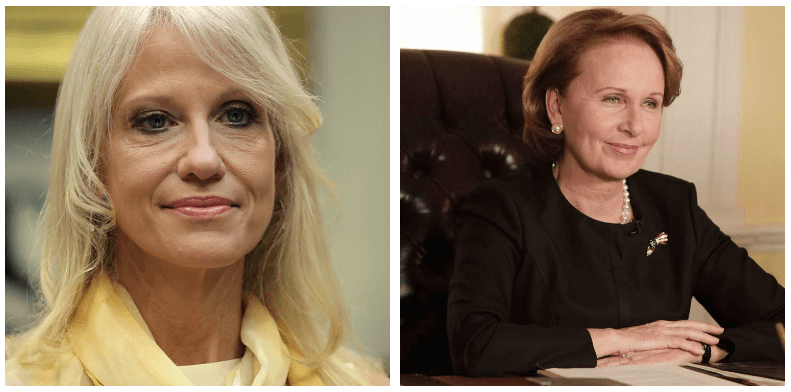 Kellyanne Conway is apparently President Trump's counselor, but she is known more for her wild rants and using phrases like "alternative facts." In fact, Conway is such a caricature that she reminds us of Scandal's Sally Langston, the former VP who uses her political talk show, The Liberty Report, to tout her own agenda and rip other folks to shreds.
The parallels are as obnoxious as they are baffling.
Next: The senior advisor who acts like a Parks and Rec character. 
Jared Kushner — Jean-Ralphio Saperstein (Parks and Recreation)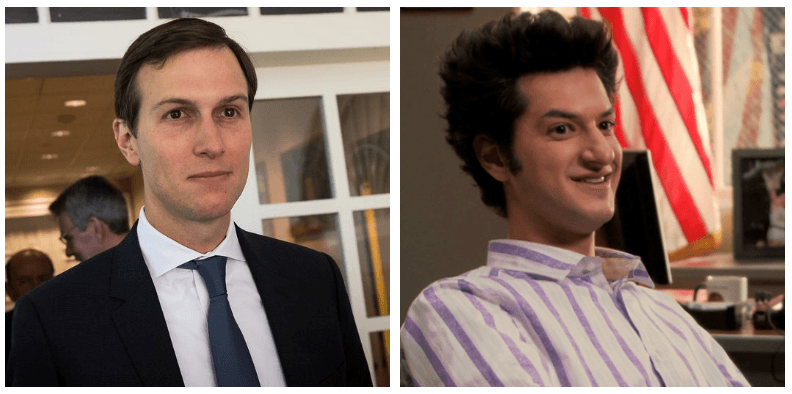 President Trump's son-in-law Jared Kushner is another White House senior advisor who has way too many jobs with very little qualifications. Like Parks & Rec's Jean-Ralphio, Kushner has risen to the top because of sheer nepotism.
We don't know if Kushner is as pompous and obnoxious as his TV counterpart, but we wouldn't be surprised if he was. Kushner probably should have just stayed in real estate.
Next: The Keebler elf attorney
Jeff Sessions — the Keebler elf (cookie commercials)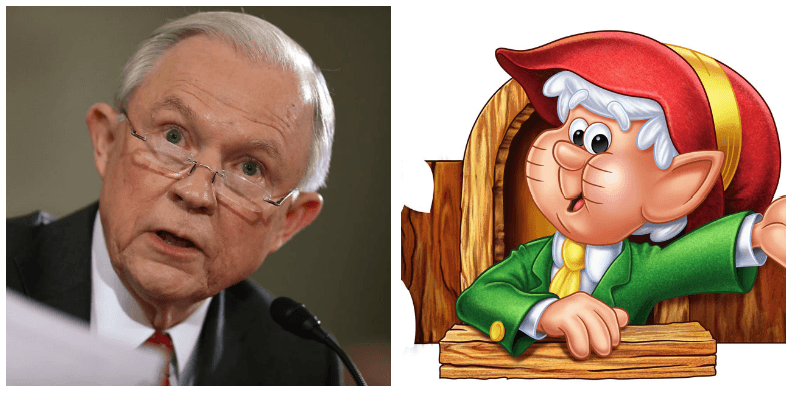 Of course, President Trump would nominate a known bigot as the Attorney General of the United States. Though Jeff Sessions has only been in his role for a short time, the known racist has already made it harder for poor people to get legal assistance while holding on to his loyalty to Trump like the last chicken wing at a cookout.
Since we have to laugh to keep from crying, at least we can say that Sessions reminds us of everything from the Keebler elf to a hobbit that would probably be named Bigot Baggins.
Next: A government official who hates the government.
Betsy DeVos — Ron Swanson (Parks and Recreation)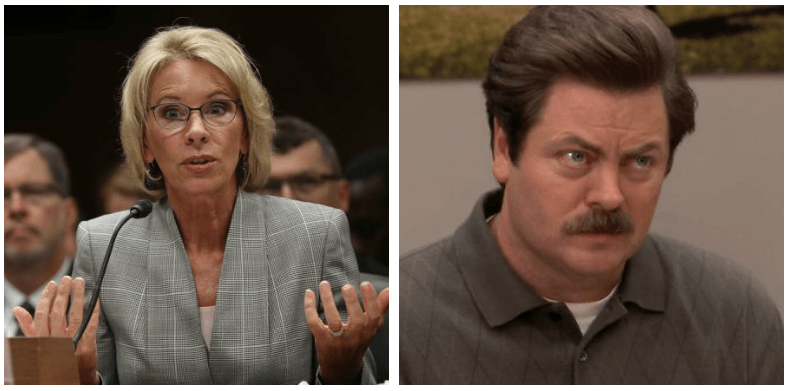 Betsy DeVos is a greedy, wealthy woman who hates the public school system and yet, she's our current Secretary of Education. The billionaire knows very little about our education system, doesn't care about the education of low-income people, and thinks we should have guns in schools. In fact, she's even more embarrassing than Ron Swanson on Parks and Rec.
If you can recall, Swanson was the director of Pawnee Parks and Recreation Department but he hated the government, had a ton of money, and couldn't be bothered with his job.
At least Swanson was amusing.
Next: The Trump administration's Michael Scott
Ben Carson — Michael Scott (The Office)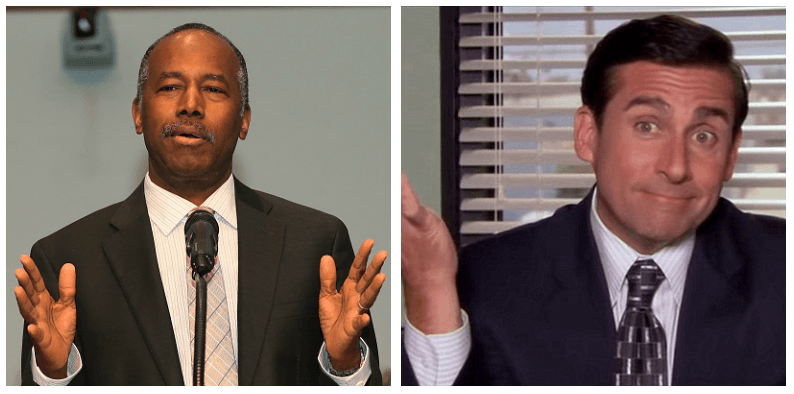 Though Ben Carson was once a renowned surgeon, he's now slithered into the role of Secretary for Housing and Urban Development, though he has no experience whatsoever.
Like The Office's Michael Scott,who is a bumbling idiot, Carson seems to think that everyone else is just as aloof and out of touch as he is. When asked about his critics, Carson once said, "You know, people are so stupid."
Read more: TV News Hosts Who Absolutely Hate Donald Trump
Check out The Cheat Sheet on Facebook!