Did Fox News Fire Tucker Carlson For His Comments About Miss Teen USA?
Once again, Fox News' Tucker Carlson has come under fire for questionable comments he made in the past. This time, they pertain to a contestant in the Miss Teen USA pageant from many years ago. Here's what the recordings revealed, the fallout from its release, and what Fox plans to do in the wake of this media attention.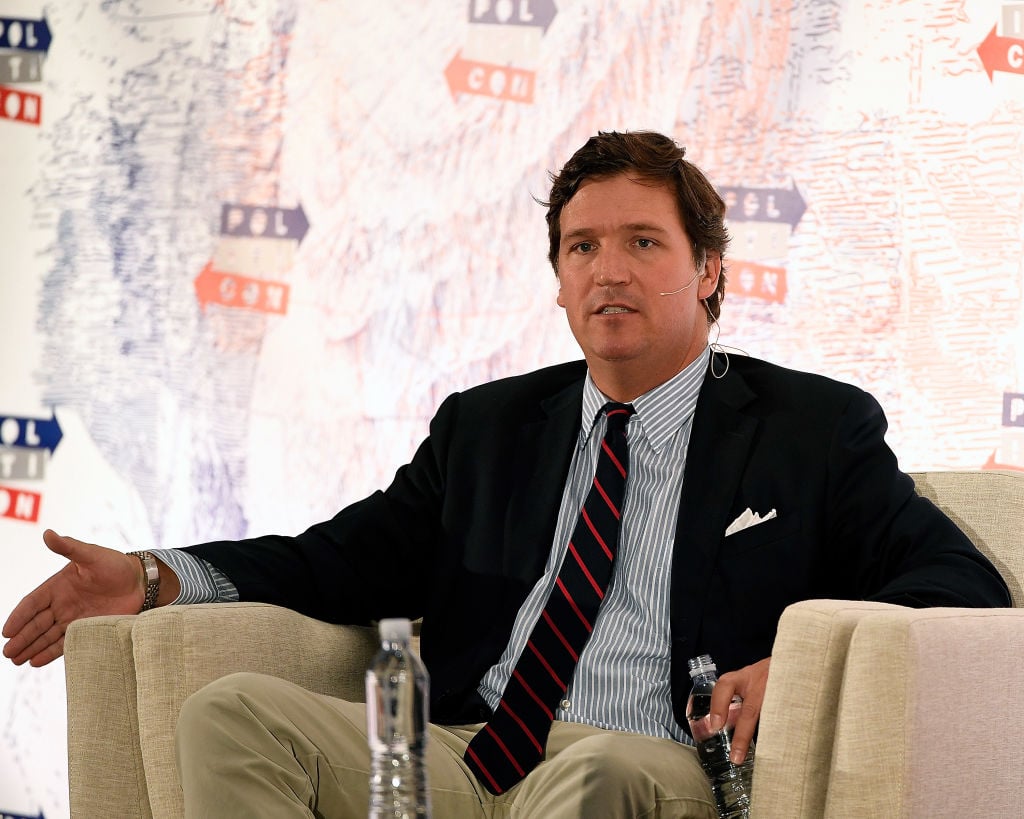 This is the third set of recordings of Carlson

This particular recording, the third in as many days released by Media Matters, is from a 2007 radio show in which Carlson discussed the Miss USA Teen pageant. He referred to a specific contestant, who was 17 at the time, as "appealing," "dumb," "vulnerable," and stated that she would "probably be a good wife." "She's like a wounded gazelle, separated from the herd," he said of the contestant, who has since said she was "very, very depressed" following the competition, due to media comments about her intelligence.
He has said many other things on this radio show

Carlson was a frequent guest on this radio show, hosted by Bubba the Love Sponge. In other interviews shared by Media Matters, he made several other disturbing comments. In 2007, Carlson called women "extremely primitive," adding "they're basic. They're not that hard to understand."

During another call in 2006, Carlson spoke about Alexis Stewart, Martha Stewart's daughter, who he called "extremely c**ty," ridiculed her appearance, and said he wanted to "give her the spanking she so desperately needs." In the interview, Carlson called the c-word offensive, but proceeded to use it anyway — which is ironic, given what he said about Samantha Bee last year when she used the word to describe Ivanka Trump.

Is Carlson going on vacation?

On Tuesday, March 13, 2019, the third wave of Media Matters recordings dropped. Carlson did not address the comments on his show that night. However, Sean Hannity did, in a way. While both were on air, Hannity complimented his co-worker for "stand[ing] up to" "the mob's crap." He then added, "have a great rest of vacation you were supposed to have."

So was Carlson supposed to be on vacation? According to a Fox spokesperson, no, that was never the case. However, it wouldn't be all that surprising if Carlson did choose to take "a vacation" now, especially if these recordings keep coming.

Carlson's show has lost advertisers

Though he has yet to face any threat to his job, Carlson's show has suffered a loss. Sheex, a bedding and sleepwear company, has pulled its advertising for Tucker Carlson Tonight. The company, which was founded by two women, said the following of its decision: "Due to the inappropriate statements of Tucker Carlson that have recently come to light, SHEEX has made the decision to cease advertising."

Last year, Carlson's show lost numerous advertisers after his anti-immigrant comments. Now that even more of his comments are coming to light, it is likely that the same could happen again. However, it remains to be seen how much money Fox News will need to lose before it considers axing Carlson.
Check out the Cheat Sheet on Facebook!