Tupac Shakur Dead or Alive? New Theory About What Happened to the Rapper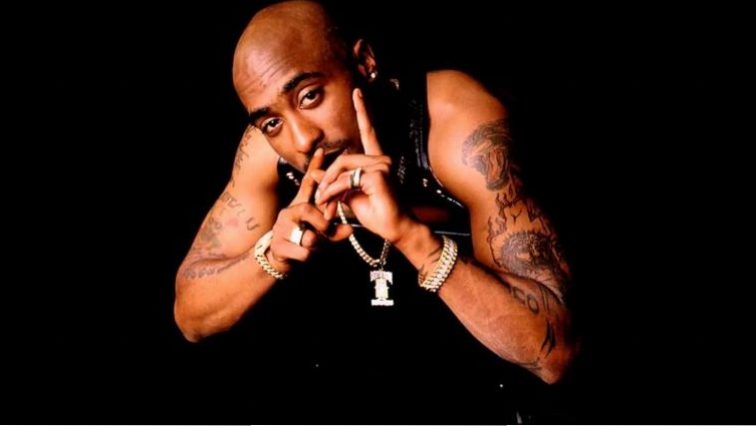 Just when you thought you heard every conspiracy theory out there about what may have happened to Tupac Shakur, a wild new claim from the son of Death Row Records co-founder Marion "Suge" Knight has gained traction on social media.
Tupac was gunned down in a drive-by shooting at a Las Vegas intersection on Sept. 7, 1996. He was rushed to a nearby hospital and six days later news broke that he had died. The only other person in the car with the rapper that evening was Knight and in October 2018, the ex-rap mogul's son, Suge J. Knight, took to Instagram with a series of posts on Tupac's "whereabouts."
He posted that Tupac was alive and well living in Malaysia. He then shared a screenshot of a text exchange with an unidentified party threatening him for speaking about the matter.
He followed that up with photos supposedly of Pac posing with 50 Cent and Beyoncé. In his Instagram story, Knight's son insisted he wasn't on drugs and later shared more photos and video clips that he claimed were of the "California Love" artist after his apparent death.
https://www.instagram.com/p/Boc85pUHUzw/?taken-by=sugejknight
https://www.instagram.com/p/BodLsx8HWrJ/?taken-by=sugejknight
Over the years, there have been numerous sightings from people who say they saw Tupac. Most have been in Cuba but there have been some in the U.S. as well. Conspiracy theorists and those who want to believe the rap music icon is still alive will welcome Knight's claim about him being in Malaysia. Others though believe the younger Knight is just out for attention and knows nothing about what really happened to Pac.
Someone who does know the truth is Knight's father. The former Death Row chief isn't talking though and will likely spend the next to 28 years in prison for the 2015 hit-and-run death of a man outside an eatery in Compton. In September 2018, Knight Sr. struck a deal with prosecutors and pleaded no contest to voluntary manslaughter rather than stand trial for attempted murder.
To this day, no one has ever been charged with murdering Tupac although LAPD sources involved in the investigation have floated out their own ideas about who killed him and why. One source told People that it was all an act of "gang retaliation."
When Pac signed with the Death Row label, he became an enemy of the Crips gang. The night of the shooting, Tupac, the elder Knight, and others got into a brawl in the lobby of the MGM Grand casino with Crip member Orlando "Baby Lane" Anderson. Police sources said that after that fight, Anderson and other South Side Crips sought revenge for the attack. "It was simple retaliation: you mess with one of ours, we will mess with one of yours," the source explained. "If Orlando had never been jumped in the hotel, they never would have killed Tupac that night."
In 1998, Anderson died in an unrelated gang shooting.
Now, more than two decades after Pac's murder, the case remains unsolved and hip-hop fans everywhere continue to mourn the loss of one of the greatest rappers of all time.
Check out The Cheat Sheet on Facebook!