How Tupac Shakur's Legacy Has Lived on Since His Death
It has been over 20 years since Tupac Shakur was murdered. Although the world lost a great artist and was left with many questions, his legacy lives on. Even people who aren't fans of rap and hip-hop know about his influence and how much he meant to the genre. After all, he is one of the greatest rappers of all time. But how exactly has his legacy been able to stay so strong after more than two decades? Here are five ways the rapper has been able to stay unforgettable.
1. His journals and letters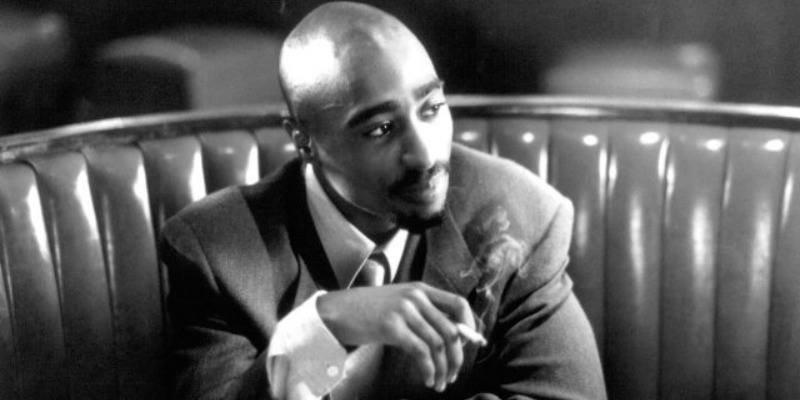 Understandably the songwriter needed to keep notes of his ideas for his future work. According to TMZ, three of his notebooks are still around and contain lyrics and notes for the "Point the Finga" music video. The handwriting in them have been matched to the handwriting in a prison letter of his. The notebooks along with other personal items are currently up for auction. The prison letter that was compared to the notebooks, is five pages long and was addressed to an employee at Death Row Records. It detailed his desire to leave the "Thug Life."
When a normal man questions his existence, it begins with childhood, teenager, adult. However, when most black males examine their lives, especially those of us from the ghetto upbringing, realize this is not our development stages. Ours begins with a young dustkicker, a thug ni**a and finally a boss playa. Each stage has many obstacles and pleasure, but they are all lethal if not played properly.
The letter also gives a road map for others of how to get out of the hood. The letter was up for sale for $225,000. So there is personal writing out there that gives an interesting look into the rapper's life and internal struggles.

2. Documentaries covering his life and death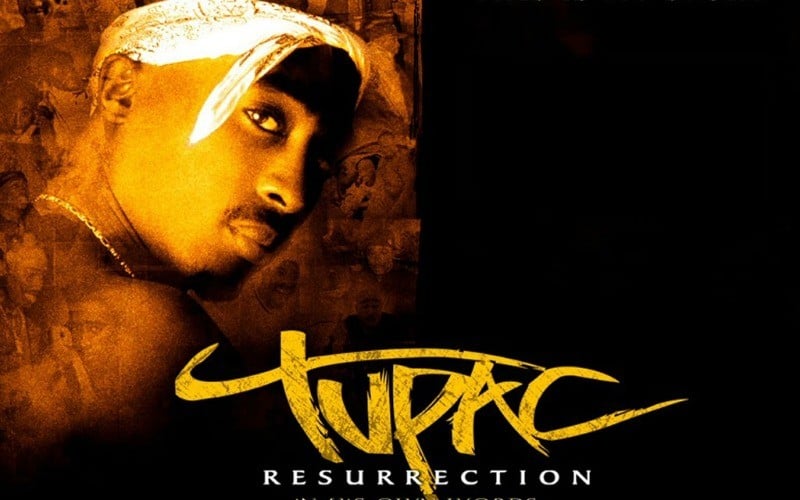 There are a lot of interesting details regarding the rapper's life and career. Along with a lot of mystery surrounding his murder. However, there have been multiple documentaries trying to cover both of these things. One is titled Murder Rap: Inside the Biggie and Tupac Murders, which focuses on the murder and investigation surrounding Tupac's death.
The documentary claims a South Side Crip gang member named Orlando Anderson allegedly killed the rapper. A federalized task force found a witness named Duane "Keffe D" Davis, who happens to be Anderson's uncle, who allegedly saw the whole thing from a white Cadillac. The witness also claimed Sean "Diddy" Combs allegedly paid Keffe D's crew $500,000 to kill the rapper, according to The Guardian. However, the rapper and producer has claimed he is innocent.
Then there is Tupac: Resurrection, which is filled with home videos, photographs, poetry, and more from the legend. The movie shows how his mother, Afeni Shakur's previous involvement in the Black Panther party had an affect on his career. It also includes the rapper's struggle with fame. The film definitely shows the more human side to the man who has been immortalized as a music legend. But it also eerily shows some odd foreshadowing to his death while he was alive. These of course are just two of the many documentaries about his life.

3. Posthumous albums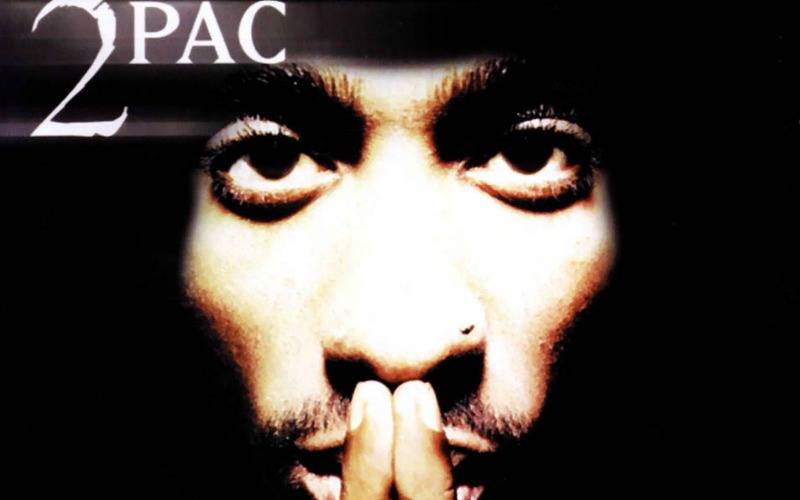 The reason why so many fans believe the rapper is secretly alive and in hiding is probably because of how much new music was released after his death. But what they haven't considered is that Tupac had a library of over 153 songs that were unreleased at the time he died. From that, there were six albums that were released from 1996 to 2006. That of course is excluding the compilation and collaboration albums. Seven of the 11 albums went platinum. A big reason why all of his work has been coming out after his death is due to his mother, who said in a statement that it is her mission to share his music.
I believe it is our responsibility to make sure that Tupac's entire body of work is made available for his fans. My son left many incomplete pieces and even more unfinished ideas. Using the blueprints he gave us, I am committed to fulfilling this duty.
This has not only kept his fandom growing and strong, but Tupac has kept earning money as if he was still alive. According to Forbes, his estate earned $3.5 million in 2010 and sold over 75 million records worldwide. He has even beaten rappers who are still alive, like Eminem and 50 Cent, in the earning game.

4. He continues to inspire new rappers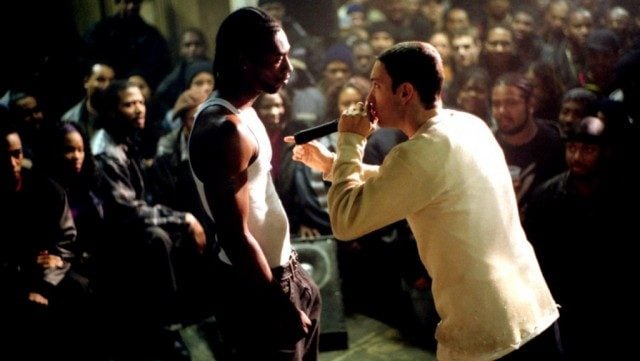 If you sit down and talk to any rapper who is making music or aspires to, chances are they will say Tupac along with many other great rappers inspired them. That admiration has led to many artists name dropping Tupac in their bars and sampling his music. One of the rappers who has talked openly about the legend's influence on him personally is Eminem. He told Vibe about the first time he came across his music.
The first time I ever heard Tupac was his verse on "I Get Around" with Digital Underground. I was 18 or 19-years-old and I remember thinking, 'Who is this?' He stood out so much. Once I heard that, I got his first album, 2Pacalypse Now. I saw the video for "Brenda's Got a Baby" and I remember thinking, 'Holy sh*t.'
Eminem later got the opportunity to work on the dead rapper's posthumous music. You have probably heard Tupac's music without even realizing it. His song "California Love" was sampled in Usher's "Come Back." His song "Dear Mama" was sampled by Lil' B, CeeLo Green, and Tyga. His "I Ain't Mad at Cha" was sampled by Fifth Harmony, Fabolous, and Joe Budden.
5. His movies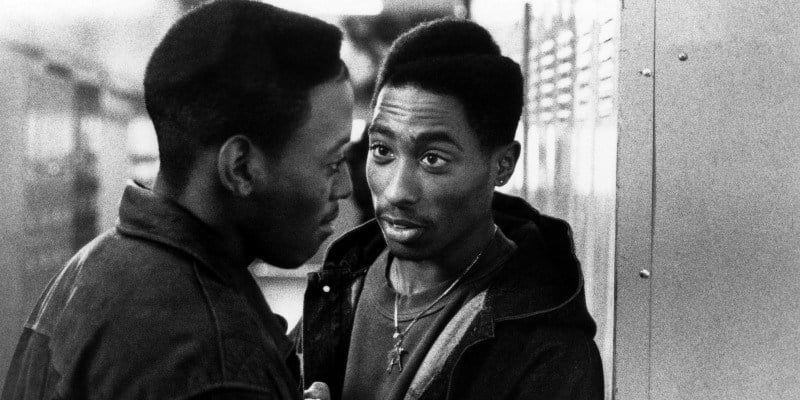 A lot of people refer to his music, but we can't forget that Tupac also acted. Sadly he never got to quite show his possible full potential on-screen. But he has had some pretty convincing roles and some movies that have been seen as classics by those who love black cinema.
Juice was his second movie, yet he is so convincing as the corrupt character, Bishop. Even then he began using method acting practices and insisted that the cast and crew call him Bishop on set. Another one of his movies that is highly recorded is Poetic Justice with Janet Jackson. The romantic movie showed a different side of him and gave a glimpse into what range he was capable of when it came to acting.
The great thing about how the rapper approached acting is that it was truly about the work. It wasn't about trying to break into Hollywood, or expand his fan base. Like his music, it seemed like he had to feel personally invested in what he was doing. When asked if he would take on more roles after he finished Juice he said, "It depends on whether or not there are any good parts. I want to challenge myself."
Check out Entertainment Cheat Sheet on Facebook!