TV News Hosts Who Absolutely Hate Donald Trump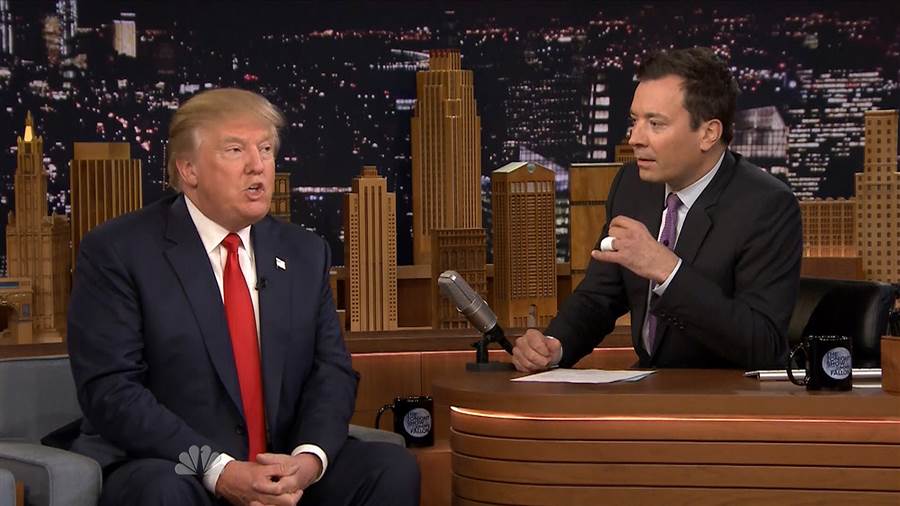 Much of the country seems exhausted by the antics of President Donald Trump. From calling neo-Nazis "very nice people" to sexually harassing women, the Trump presidency has been disastrous thus far. Even TV news hosts have stepped away from their typical reporting styles to call out Trump.
In the past, many TV news hosts have remained neutral when it comes to politics, providing a zing here and there. However, that was not the case during the 2016 election season nor has it been during Trump's term as president.
Here are the TV news hosts that are speaking out against the president (including one who calls him "The Harvey Weinstein of presidents"). Do you watch any of these hosts?
Jimmy Fallon
Jimmy Fallon initially annoyed many folks when he had Trump on The Tonight Show Starring Jimmy Fallon, and he playfully rubbed Trump's head. Up until the events in Charlottesville when three people were killed, Fallon had stayed mostly neutral on Trump and his presidency. However, the Monday following the events, he spoke out.
He said, "Even though The Tonight Show isn't a political show, it's my responsibility to stand up against intolerance and extremism as a human being."
Not only did Fallon address white supremacy, he also called out Trump directly, stating, "The fact that it took the president two days to come out and clearly denounce racists and white supremacists is shameful, and I think he finally spoke out because people everywhere stood up and said something."
Fallon has since returned to safer territory, but it doesn't look like he'll have any issues calling out Trump in the future.
Next: A clapback queen
Rachel Maddow
https://youtu.be/tpoUOFesPwk
Rachel Maddow has been the queen of hitting back hard against Trump and his administration. Not only has she dived into every one of his repulsive policies on The Rachel Maddow Show, but she has also given in-depth insight on everything from Trump's long-discussed taxes to the current Mueller investigation.
When Maddow was a guest on The Tonight Show, she said,
Three and a half million Americans in Puerto Rico and the president was really preoccupied with trying to make a racial issue out of the NFL while he wasn't doing anything about that. And that, I think, is going to stick, and I think that's going to be in his history, no matter what else he does.
Next: A host with a musical flair 
James Corden
Though his jokes haven't exactly been hard-hitting, James Corden has used his wit and humor to make statements about the current state of the world.
When Trump attempted to ban transgender people from the military, Corden had a delightful musical comeback for him on The Late Late Show with James Corden. Also, after Trump's statements on Charlottesville, he said he needed "this country's leader to set a better example."
Corden also stated that he sent Trump 267 copies of the movie Philadelphia starring Tom Hanks and Denzel Washington with the hopes that it would educate the president on the HIV/AIDS epidemic.
Next: He called Trump "clinically insane." 
Seth Meyers
Seth Meyers has had no trouble discussing Trump and politics on Late Night with Seth Meyers.
In his segment "A Closer Look," Meyers takes a closer look at what's happening in the world, and he has also openly discussed his disgust with Trump as our current leader. He's even called Trump "clinically insane."
Next: A host who tackles things, full frontal
Samantha Bee
Samantha Bee has taken it upon herself to go to war not only against Trump but against hate and fear in America in general. With her sensational show, Full Frontal with Samantha Bee, the news show host has used wisdom, clarity, and common sense to tackle the poor information that has come out of the White House.
Bee has decided to use her voice to create change. Her most legendary moment was when she declared that Trump was a white supremacist.
Next: The inventor of Cartoon Trump
Stephen Colbert
Stephen Colbert seemed to actively be trying to step away from The Colbert Report style with his new series The Late Show with Stephen Colbert. However, all of that has been thrown out of the window lately.
Colbert has actively mocked Trump with everything from Cartoon Trump (which was recently given the green light for a full-length animated series) to long monologues which have directly called for Trump's impeachment.
Next: He called Trump"the Harvey Weinstein of presidents."
John Oliver
https://www.youtube.com/watch?v=D9jfduQiGo8
From the beginning, John Oliver has been no fan of Trump. On Last Week Tonight with John Oliver, he's painstakingly and hilariously called out every moronic thing Trump has ever done including when the president sided with the Nazis in Charlottesville.
He once even called Trump, "The Harvey Weinstein of presidents."
Next: A health care crusader
Jimmy Kimmel
For years, Jimmy Kimmel Live! was the late-night TV show you turned to when you wanted to get some fairly neutral laughs and giggles. That all changed when Trump took office, and he began his crusade to dismantle Obamacare aka the Affordable Health Care Act.
After the birth of his son, Billy, who was born with a heart defect, Kimmel has been an advocate for health care. He's also gone as far as to call Trump "unhinged."
Next: A no-nonsense legend
Tavis Smiley
Tavis Smiley has hosted Tavis Smiley on PBS for nearly 15 years, and he's never been afraid to call it as he sees it. Not only has Smiley called out the "racist, sexist, classist" Trump administration, he also took the media to task for normalizing Trump's "nonsensical" behavior.
Next: A previously well-respected journalist who was accused of sexual harassment

Charlie Rose
Charlie Rose was once considered a respected veteran in the news industry. But in November 2017, Rose was fired by CBS and PBS after sexual misconduct allegations surfaced. With his now-canceled PBS series, Charlie Rose The Week, he had tried to stay firm but fair despite the political climate. However, as a reporter, he took issue with Trump's constant attacks on journalism and his childish desire to label everything "fake news."
I don't view myself, and I don't think that most of the reporters that I know view themselves as the enemy of the president. They view themselves as reporters who have an obligation to their readers and their viewers to tell a story, to seek facts, and to speak truth to power — that's what good reporting does.
Next: He called Trump "white trash."

Bill Maher
Bill Maher isn't exactly known for being politically correct, and that has certainly come back to bite him in the past. However, the Real Time with Bill Maher host has hit the nail on the head with his various assessments of President Trump.
After Trump found himself entangled in yet another Twitter tirade when he should have been running the country, Maher smartly quipped, "Once again Donald Trump has taught the nation a valuable lesson: you are never too rich to be white trash."
Next: He might cast Trump as the next Real Housewife.
Andy Cohen
Typically, Bravo executive producer, Andy Cohen, who hosts Watch What Happens Live with Andy Cohen, has stuck with celebrity gossip and saucy bits from his beloved Real Housewives franchise for his late-night show. However, that all changed when he said that Trump was acting like a first season housewife.
Since then, Cohen has tweeted "HOUSEWIFE PLAYBOOK" every time Trump has done something straight from one of our favorite ladies' storylines.
Next: This host knows Trump would be a favorite among Nazi Germany. 
Conan O'Brien
While other late-night show hosts have gotten serious when it comes to approaching Trump, Conan O'Brien has kept things light on Conan. He's taken Trump to task using humor.
He once said, "Donald Trump has dropped to second place in a national poll. On the bright side, he's still polling No. 1 among Germans of the 1930s."
Next: A woman on a new path

Chelsea Handler
Trump's presidency has drawn a ton of ire from Chelsea Handler. His election has changed the trajectory of Handler's entire career. The Chelsea host recently announced she was leaving her Netflix series to focus on political activism.
She tweeted, "Like so many across the country, the past presidential election and the countless events that have unfolded since have galvanized me."
Handler has been openly disturbed by Trump, his family, and his presidency, but she's decided that simply calling him out for it is no longer enough.
Next: A host who tells it like it is
Trevor Noah
Trevor Noah has been very diligent with highlighting how traumatic President Trump has been to the American people and the country as a whole. Using The Daily Show With Trevor Noah as his platform, Noah has hit hard on Trump's racist and sexist attitudes and his obsession with fake news.
Though Noah has often tried to inject a bit of humor in his commentary, much of it has been very dark. One of Noah's most biting assertions was, "Donald Trump isn't a president — he's just playing one on TV."
Follow Aramide Tinubu on Twitter @midnightrami.
Read more: The Disturbing Reason Why Donald Trump Won't Take Jimmy Carter's Advice
Check out The Cheat Sheet on Facebook!