TV Shows That Got Axed by Netflix and Amazon
When it comes to canceling TV shows, Netflix and Amazon generally have a slower trigger finger than traditional broadcast networks. But that doesn't mean that all of their original comedies and dramas have managed to avoid the chopping block. As each company continues to grow their lineup of new TV shows, they have started to become choosier about which shows they renew and which they give up on altogether.
These titles, though not necessarily low-rated or badly reviewed, unfortunately failed to make the cut. Below, check out the TV shows that got axed by Netflix and Amazon, including a popular show that's been making headlines for all the wrong reasons (page 11).
1. Everything Sucks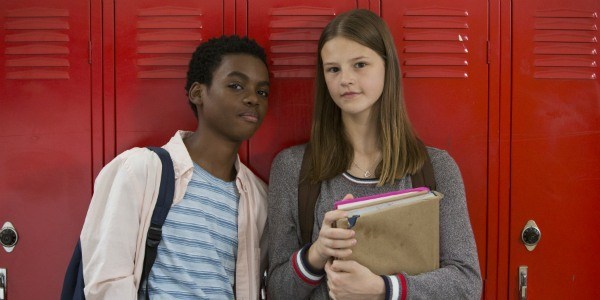 Netflix axed this comedy after only one season. The show, which follows two groups of high school misfits, an AV club and a drama club, as they collide in 1996 Oregon, earned decent reviews from critics, but apparently didn't earn the viewership to warrant a second season.
Unfortunately, that leaves fans on a cliffhanger as creators Jones and Mohan had already been starting plans for a potential second season when it got axed.
2. Hemlock Grove
Hemlock Grove was one of Netflix's earliest original titles, premiering just a couple of months after the acclaimed House of Cards. It proved to be a big misstep. The show was universally panned, with critics slamming the series for its poor acting and painfully slow pace. Time Magazine even named it one of the worst 10 shows on television in 2013.
Despite the widely criticized freshman season, Netflix didn't pull the plug right away. The company gave the series two more seasons before canceling it. The show officially ended its run in 2015.
3. Lilyhammer
Netflix canceled this Norwegian drama in 2015, after airing three seasons. The news came as a surprise to star Steven Van Zandt, who took to Twitter to write, "#Lilyhammer RIP. Not my decision. Let's just say for now the business got too complicated. Very proud of our 24 shows."
It wasn't necessarily bad reviews that got the show axed. According to Deadline, escalating costs and complications over ownership and rights (the show originated in Norway) ultimately led to its cancellation.
4. Marco Polo
The historical drama series earned a lot of buzz in the lead-up to its 2014 debut, and for good reason. Netflix shelled out a whopping $90 million for the 10-episode freshman season, making it one of the company's costliest and most ambitious projects ever. But the series failed to live up to its impressive price tag, earning widely negative reviews from critics.
Despite the lackluster response, Netflix opted to give the series another shot with a 10-episode second season. Unfortunately, Season 2 didn't fare that much better, leading the streamer to ax the show in late 2016.
5. Longmire
This crime drama, starring Robert Taylor and Katee Sackhoff, was canceled for the second (and likely last) time in 2016. In November of that year, Netflix announced it was giving the show a sixth and final season to air in 2017. This was the third season that the series aired on Netflix, since the streamer saved the show from its initial cancellation at A&E back in 2014.
The show's executive producers, Greer Shephard, Hunt Baldwin, and John Coveny, issued a statement on the cancellation, saying, "We are grateful to Netflix for the opportunity to compose a closing chapter for these beloved characters that inspires lasting memories."
6. Bloodline
Netflix pulled the plug on this Kyle Chandler starrer in 2016, confirming that the show's 10-episode third season would also double as its last. The drama earned critical acclaim during its run, with leads Chandler and Ben Mendelsohn earning Emmy nominations for their work in Seasons 1 and 2.
Despite that, Netflix ultimately decided to cancel the series, with some suggesting that the decision may have to do with financial concerns. According to Variety, the first two seasons of the Florida-set show were covered under the state's entertainment tax incentives. However, Florida discontinued its credits program in 2016, making the series more expensive to produce in future seasons.
7. The Get Down 
Netflix pulled the plug on Baz Luhrmann's ambitious musical drama in May 2017. The announcement came just a month after the release of the second half of Season 1. Though Netflix doesn't release its ratings, the high cost of the show may have played a factor in the decision. The Get Down was among Netflix's most expensive shows, with Season 1 costing about $120 million to produce.
Another factor that may have played a part in the series cancellation? Luhrmann's busy schedule, which prevented him from being able to commit to Season 2 full-time. "This exclusivity has understandably become a sticking point for Netflix and Sony, who have been tremendous partners and supporters of the show," Lurhmann wrote in a Facebook post announcing the cancellation. "It kills me that I can't split myself into two and make myself available to both productions … But the simple truth is, I make movies."
8. Girlboss
Netflix has opted not to move forward with another season of Girlboss, the Britt Robertson starrer loosely based on Nasty Gal founder Sophia Amoruso's life. The 13-episode series followed a rebellious anarchist who turns herself into a businesswoman by starting an online vintage clothing store.
The decision to cancel Girlboss, which premiered in April 2017, comes after the show debuted to little fanfare and earned middling reviews from critics. Since the series didn't get the kind of traction that we've come to expect from a Netflix original, it's no surprise it was axed after just one season.
9. Sense8
Netflix opted to cancel Sense8 after two seasons in June 2017. The streaming service confirmed that it would not be moving forward with the ambitious sci-fi drama from siblings, Lana and Lilly Wachowski and J. Michael Straczynski.
"After 23 episodes, 16 cities and 13 countries, the story of the Sense8 cluster is coming to an end," Cindy Holland, Netflix's VP of Original Content, said in a statement, per The Hollywood Reporter.
10. Gypsy
The psychological thriller, starring Naomi Watts, will not be back for Season 2. The show premiered in June 2017 and earned mostly negative reviews.
Netflix opted to cancel the series only six weeks after its premiere. The news came as a bit of a surprise as the streamer was initially in talks with producers to move forward with a second season, despite the lackluster response. Deadline reports that a writers room had even been assembled and had already started work on Season 2.
It's unclear what caused the change in decision, but it's since been confirmed that Gypsy will not be returning to Netflix.
11. House of Cards
According to The Hollywood Reporter, Netflix decided to cancel its flagship drama House Of Cards. The decision came after allegations surfaced that star Kevin Spacey made aggressive sexual advances toward actor Anthony Rapp when he was 14.
Spacey has since faced numerous other sexual misconduct allegations and has been let go from the series. The show will end after airing a sixth and final season that will focus its attention on Claire Underwood, the character of Spacey's co-star, Robin Wright.
12. Betas
The Silicon Valley-set Betas was one of Amazon's first original series, but it didn't last very long. The company declined to renew the series in 2014, despite the fact that it earned solid reviews in its first (and final) season. The reasoning behind the show's cancellation was not provided to the public.
Amazon chief Roy Price offered only a vague explanation at the time, saying, "Unfortunately you have to make tough decisions."
13. Mad Dogs
Though this dark comedy earned decent reviews in its freshman season, Amazon chose not to renew it for a second season, as announced in February 2016. The decision was reportedly made at the last minute, with the company announcing the cancellation the day before the cast's contracts were set to expire.
Executive producer Shawn Ryan confirmed the news in a series of tweets. As he said at the time, "[Creator] Cris [Cole] and I laid out a story for Season 2 we believed in. Ultimately, Amazon didn't want to make that story, and we didn't want to make the kind of story they wanted us to make. It made more sense to declare victory after ten episodes, which was our original plan all along anyway."
14. Alpha House
Amazon's political satire Alpha House debuted in 2013 and was renewed for Season 2 just weeks after the conclusion of its freshman season. Though the show earned decent enough reviews throughout its run, little was heard about the comedy after its second season, with Amazon never formally announcing either a renewal or a cancellation.
An update finally came in August 2016, when Amazon Studios head Roy Price essentially confirmed (albeit vaguely) the show's axing. "Alpha House is not a current show," he said at the time, per The Washington Post.
15. Hand of God
The Ron Perlman-led drama debuted in 2015 to widely negative reviews. Though Amazon initially renewed it for a sophomore season, it wasn't long before it changed its tune, confirming that Season 2 would actually be its last. The company made the announcement before the show's second season debuted in March 2017.
"We're wrapping up the storyline in season two … and are excited to bring it to customers," a spokesperson for Amazon told Variety in a statement.
16. Good Girls Revolt
Amazon made the surprising move to ax this period drama in 2016, after only one season. The abrupt cancellation came as a shock to many, as the show had earned solid reviews (scoring a 70% on Rotten Tomatoes) in its debut and ranked as one of Amazon's biggest series among female viewers. Creator Dana Calvo later suggested that Amazon Studios head Roy Price didn't care for the show, ultimately leading to its cancellation.
Whatever the reason, the drama won't be getting a second chance for more episodes. Producer Sony Pictures Television reportedly shopped it around to other networks, but it wasn't picked up. Calvo confirmed that Good Girls Revolt was officially done in January 2017.
17. One Mississippi
One Mississippi, created by and starring Tig Notaro, only ran for two seasons before Amazon decided to pull the plug. The show received strong reviews from critics, which likely played a factor in its second season renewal. But ultimately, it failed to break into the mainstream or generate awards season attention.
Amazon announced its official cancellation in January 2018.
18. I Love Dick
The Kathryn Hahn-starring comedy, from Transparent creator Jill Solloway, received some buzz in the lead-up to its premiere and also earned a positive reception from critics upon its debut. Despite that, the show failed to make as much of a splash as some of Amazon's other originals and didn't earn any award nominations after Season 1.
Amazon eventually announced its axing of the show in January 2018.
18. Jean-Claude Van Johnson
Amazon also axed Jean-Claude Van Johnson, the action comedy starring Jean-Claude Van Damme as a washed-up version of himself. Though the show earned decent enough reviews in its debut season, it didn't perform impressively enough to make the cut as the company looks to overhaul it's original programming slate.
19. Mozart in the Jungle
Amazon canceled the Golden Globe-winning drama in April 2018. The move was one of the first major programming cuts made by new chief Jennifer Salke, who started in her role at the streamer earlier in the year.
"We are so proud of the four seasons we made of this show and are grateful to the cast, crew, fans and Amazon for writing this symphony with us. We hope people will keep finding the show for years to come," executive producers Paul Weitz, Roman Coppola, Jason Schwartzman, and Will Graham said in a joint statement.
Follow Michelle on Twitter @Mar8289.
Check out The Cheat Sheet on Facebook!