TV Shows That Have Been Un-Canceled
TV shows come and go quickly. Every year, fans hold their breath, waiting to hear if their favorite TV shows will get the ax. Eventually though, all TV shows must come to an end … or do they? These shows have done something that not many have accomplished. Despite getting canceled, they somehow all managed to find their way back to TV.
Here are 11 TV shows that have been un-canceled.

1. Southland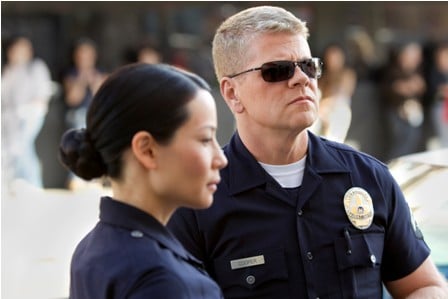 TNT saved Southland from being a one-season wonder. After debuting the series in 2009, NBC dropped the show after one short season. According to The Hollywood Reporter, the show was deemed too dark and gritty for broadcast TV, particularly for its 9 p.m. time slot. "I'm disappointed that NBC no longer has the time periods available to support the kind of critically-acclaimed series that was for so many years, a hallmark of their success," John Wells, the show's producer, told The Hollywood Reporter when the cancellation occurred. "We remain extremely proud of Southland and are actively looking for another home for the series."
Luckily, Wells was able to find the show another home. TNT swooped in to save the day, and relaunched the show, which ended up running for another four seasons. The network decided not to renew the show for a sixth season, and it was re-canceled in 2013, according to zap2it. Southland is a police drama that focused on the officers of the Los Angeles Police Department.
2. Futurama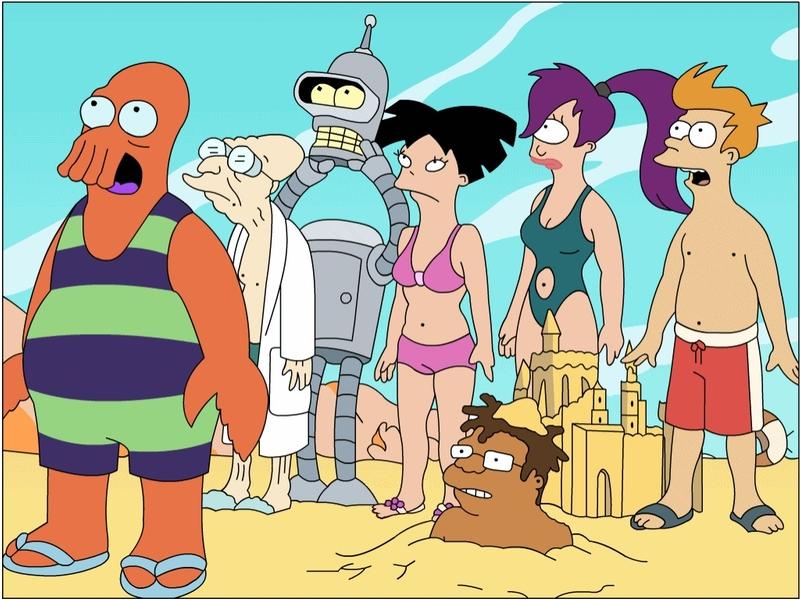 Midway into Futurama's fourth season (the show ran on Fox from 1999 to 2003), the network decided to cancel the show, which centered around a group of humans, aliens, and a robot who worked for a futuristic space delivery service, according to The Daily Beast.
In 2005, Cartoon Network began airing the show in syndication, and the show then reappeared as straight-to-DVD films, which were then turned into TV episodes that aired on Comedy Central. The show's producers David X. Cohen and Matt Groening continued to hope that the show might eventually be revitalized. In 2009, their wish came true.
20th Century Fox announced that Comedy Central had picked up the show for 26 new, half-hour episodes. "When we brought back Family Guy several years ago, everyone said that it was a once in a lifetime thing — that canceled series stay canceled and cannot be revived," 20th Century Fox TV chairmen Gary Newman and Dana Walden said to Entertainment Weekly. "But Futurama was another series that fans simply demanded we bring back, and we couldn't have been happier when Matt and David agreed that there were many more stories yet to tell."
After multiple seasons, cancellations, syndication, DVD's, and renewals, Futurama was re-canceled in 2013.
3. Unforgettable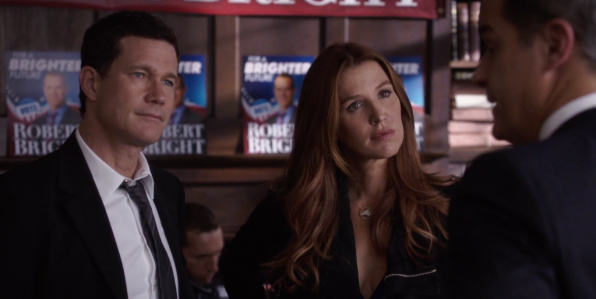 CBS canceled Unforgettable after its first season, which ran in the fall of 2011. The show's premiere managed to draw an impressive audience of almost 14 million viewers, according to The New York Times. It then went on to average about 12 million viewers, but when the season wrapped up that spring, CBS canceled it. A few weeks later, CBS decided to cancel the cancellation.
The TV show stars Poppy Montgomery, who plays Carrie Wells, a New York City police investigator who was born with an impressive gift: total-recall memory. Montgomery was shocked at the show's un-cancellation. "When I heard it was uncanceled, I thought it was a joke, because that never happens," she told The New York Times. "I was pretty flabbergasted. It takes a lot to throw me, because I've seen so much in TV."
After its third season at CBS, Unforgettable was canceled yet again, before being picked up by A&E for a fourth season in February 2015, according to Deadline.
4. JAG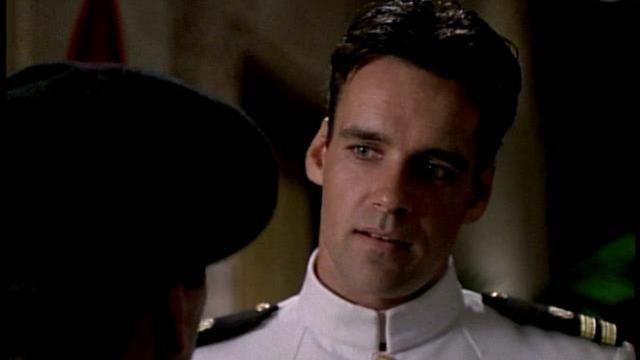 This military-focused, legal drama debuted on NBC in 1995 but was canceled just before the first season had finished airing, according to IGN. However, CBS jumped in and picked up the show. The network change was just what the show needed. It repeatedly had strong numbers and gathered a loyal fan base. The series finally wrapped up in 2005, but its spinoff, NCIS, continues to live on.
The TV series developed a loyal following while on CBS, averaging around 10 millions viewers, according to the Chicago Tribune. The show's executive producer and creator, Donald P. Bellisario, told the Chicago Tribune that the show will continue to live on, thanks to the show's premise and its loyal fans. "One of the reasons it will be turning up decades from now is that it is a military show with people in uniform, which quite frankly doesn't change. And I think the values of the show — the values of honor, commitment and dedication will continue to have appeal," he said.
JAG told the story of Commander Harmon Rabb, Jr. and Lieutenant Colonel Sarah MacKenzie, JAG lawyers who investigate and litigate crimes committed by those in the Navy and Marines, IMDb writes.
5. Breaking In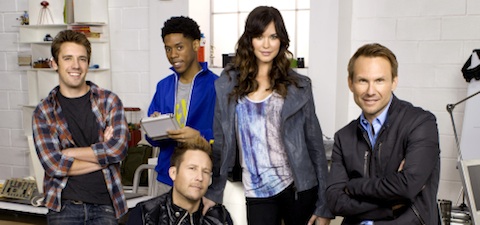 Fox originally debuted this series in 2011 but canceled it in May 2011 after just one season, per IGN. However, there was talk that Breaking In might still have a shot. That August, the network made the announcement that it would run a 13-episode season, which would air in 2012. The show was about a high-tech security firm that takes pretty extreme measures in order to sell their protection services, according to IMDb.
Sadly, the show just couldn't gain the fan base it needed. In May 2012, Fox re-canceled the struggling show, which ran on the network's Tuesday night comedy block.
6. The Game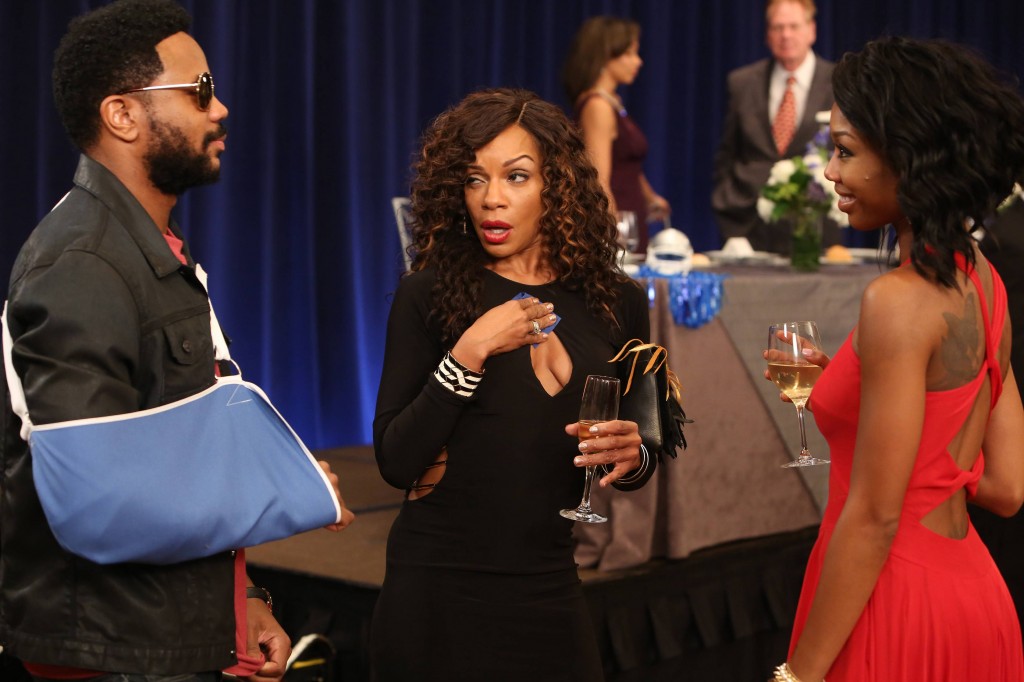 The Game, which is a spinoff of the UPN hit Girlfriends, is a show that focuses on the dating lives of football players. It originally debuted on The CW in 2006 but was bringing in only 1.9 million viewers an episode in its third season, according to The Daily Beast. So, the network canceled it in 2009. But, BET came to the rescue, picked it up, and moved taping from Los Angeles to Atlanta.
In 2011, The Game returned to TV, bringing in a whopping 7.7 million viewers, per The Daily Beast. The show has continued to display success. In September 2014, BET announced that it had renewed the show for its ninth and final season.
7. Taxi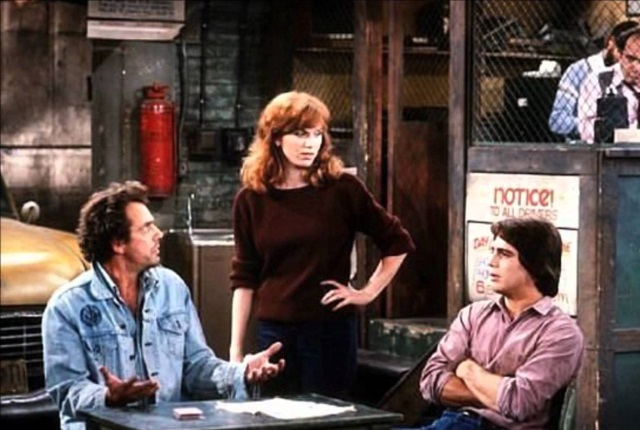 The show, which is about a group of New York City cab drivers, debuted on ABC in 1978. It was extremely popular and managed to snag four Golden Globes, in addition to plenty of other awards. The series had a loyal fan base, and its ratings remained steady from 1978 to 1980. However, ratings started to slip soon after, and ABC decided to cancel the show in 1982.
NBC seized the opportunity, quickly snatching up the award winning comedy. "By picking up the most-acclaimed comedy on television, we feel we're sending out a signal that we're interested in quality," Brandon Tartikoff, the president of NBC Entertainment at the time, told The New York Times. "We just finished our affiliates' meeting, and we got a strong vote of confidence from them for that kind of programming."
Taxi ran on NBC for its fifth and final season.
8. Airwolf
CBS's Airwolf, following the crew on a high-tech military helicopter, aired for three seasons from 1984 to 1986. After Season 2 saw several behind-the-scenes problems, the original show creator Donald P. Bellisario left the show. Though a new showrunner stepped up, ratings continued to dip and CBS canceled the series after the conclusion of Season 3.
It didn't stay off the air for long though. After the original Airwolf was canceled, USA Network picked up the series for a fourth season, but completely revamped it with an entirely new cast and a much smaller budget. The new version of Airwolf only aired for one season in 1987 before getting axed for good.
9. Arrested Development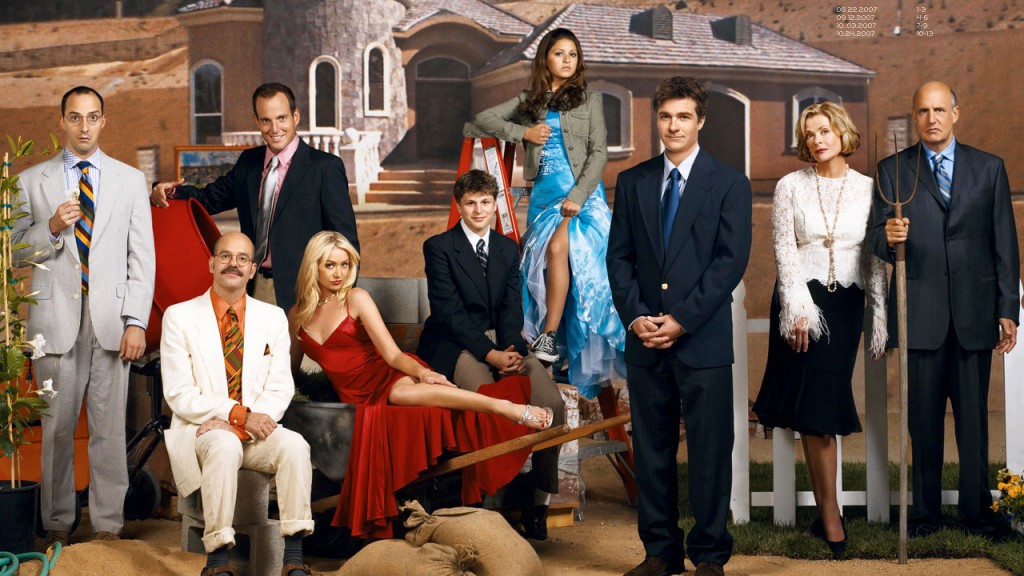 The Emmy-award winning sitcom originally aired on Fox for three seasons from November 2003 to February 2006. When ratings started to drop in Season 2, Fox decided to cut the season a little short, halting the production after 18 episodes instead of fulfilling its initial 22-episode order. In Season 3, Fox attempted to move the show to a better time slot, but ratings continued to dive. The network eventually cut the third season's episode order in half, before axing it altogether.
After its first cancellation, rumors of another season and an Arrested Development feature film persisted for several years. In 2011, Netflix announced it had picked up the rights to the series. Stars Jason Bateman, Portia De Rossi, Will Arnett, Michael Cera, and Tony Hale reprised their roles in the show's 15-episode fourth season, which debuted in May 2013 and earned generally favorable reviews. A fifth season  is hitting Netflix in 2018.
10. The Killing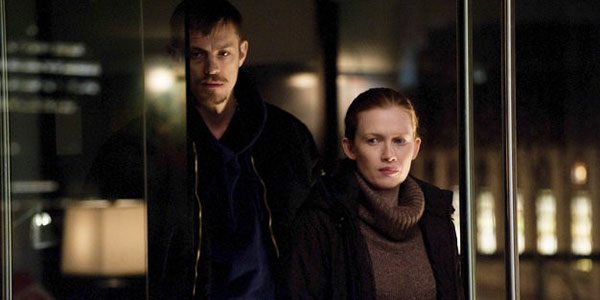 The Killing has proved to be pretty resilient. The crime drama was canceled by AMC not once, but twice, and was then picked up by Netflix in 2013 for a fourth and final six-episode season. AMC first canceled the show after its second season only to decide to pick it up again for a third season. The third season aired in the summer of 2013 with fairly modest ratings. Entertainment Weekly writes that the show ended its AMC run with 1.5 million viewers. In September 2013, the network re-canceled the show.
That's when Netflix jumped to the rescue. "The rich, serialized storytelling in The Killing thrives on Netflix, and we believe that it is only fitting to give Sarah Linden (Enos) and Stephen Holder (Kinnaman) a proper send off," Cindy Holland, vice president of original content for Netflix, said to Entertainment Weekly at the time.
11. Community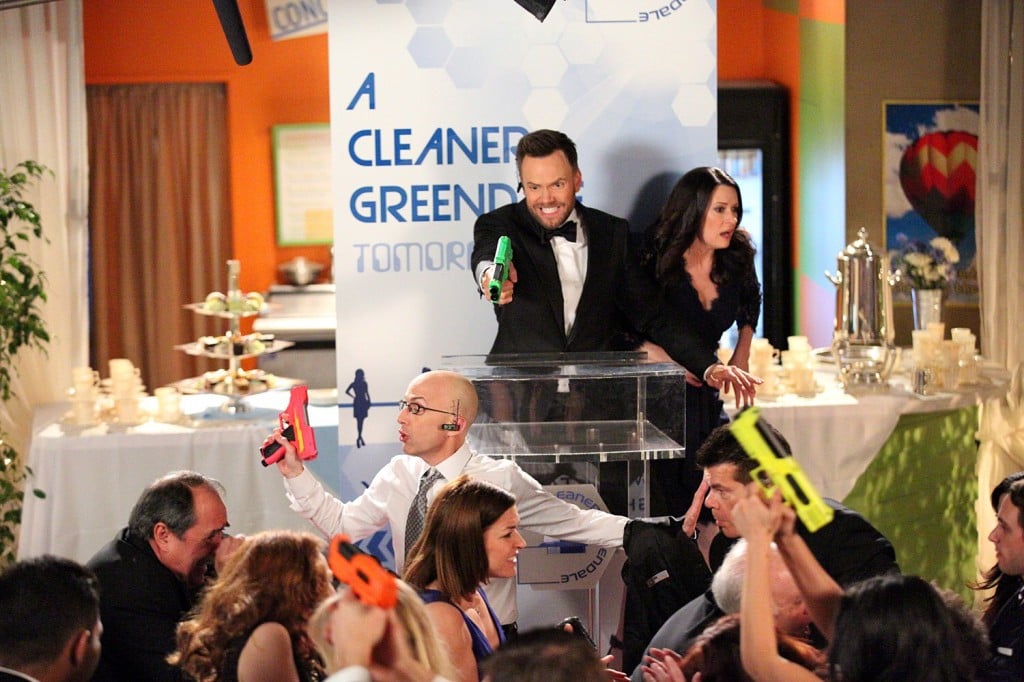 The NBC comedy, starring an ensemble cast as people at community college in the fictional town of Greendale, Colorado, premiered in 2009. Though the show received critical acclaim and developed a cult following during its five-season run, it was never a big ratings earner for the network and was ultimately canceled in 2014.
Luckily for fans, it was saved only a month later, when Yahoo picked up the show for a sixth season. That season premiered to mixed reviews in March 2015. Though new episodes have not been released since, Yahoo has suggested that they plan on continuing the franchise, potentially in the form of a feature film.
Additional reporting by Kirsten Klahn.
Check out The Cheat Sheet on Facebook!