Can a CBS Lineup Overhaul Reverse Troubling Trends?
Just one year removed from commanding the strongest Monday primetime network TV block, CBS Corp. (NYSE:CBS) is facing some tough decisions as it aims to stop viewership decline before its hit series How I Met Your Mother wraps up later this year.
According to The Hollywood Reporter, CBS averaged only 7 million viewers and a 2.0 adult rating on Monday — measures that placed CBS fourth among the Big Four networks. That's a far cry from where CBS was in 2010, when the network sent TV's top comedy, The Big Bang Theory, to Thursdays; How I Met Your Mother and Two and a Half Men were both showing growth; and 2 Broke Girls launched as the biggest comedy debut in 10 years with a 7.0 adult rating and 19.15 million viewers overall.
The sea change led CBS Entertainment President Nina Tassler to move quickly last week, when the network also placed last among the Big Four. She cancelled We Are Men after only two episodes and moved 2 Broke Girls to the 8:30 p.m. slot on Mondays. Tassler and CBS are hoping that 2 Broke Girls – which hit a series low on October 7 — can benefit from the enviable lead-in of How I Met Your Mother, but given the latter's conclusion at the end of this season, the move amounts to a quick fix on a much larger problem.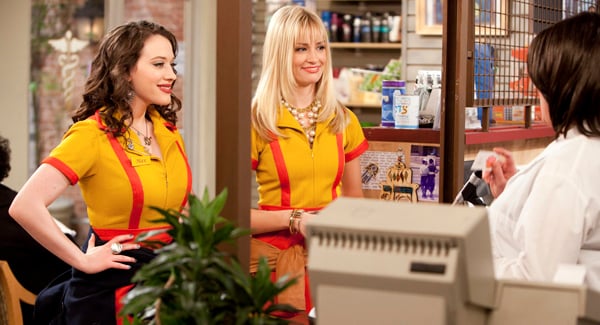 Some of CBS's Monday woes can be attributed to the popularity of NBC's (NASDAQ:CMCSA) The Voice, but even the success of that show can't account for why CBS's new drama, Hostages, is suffering despite its 10 p.m. time slot and lead-in from solid new comedy Mom. Hostages's 5.2 million viewers on Monday drew the lowest numbers of any series airing on the Big Four, including the cancelled We Are Men.
While CBS is hoping that the November 4 return of Mike & Molly can jump start the network's sagging ratings, new series like The Millers and The Crazy Ones could potentially be the kind of shows that fill the void of How I Met Your Mother. The Crazy Ones was this fall's biggest comedy launch and The Millers has showed solid weekly viewer retention, giving CBS hope that one or both of the new shows could lead to a resurgence of the network's famed comedy lineup.
According to The Hollywood Reporter, CBS can also rest a little easier knowing that while viewers don't seem to be tuning in live as much as they have in the past, they're still watching its shows on DVR. In the seven days of playback following CBS's premiere week, ratings for the network rose the most of the Big Four — 41 percent in the key demographic of adults ages 18 to 49.
Don't Miss: Google X Leader on Wearable Computing: It's Coming.