DirecTV Is Poised to Score with NFL Sunday Ticket Contract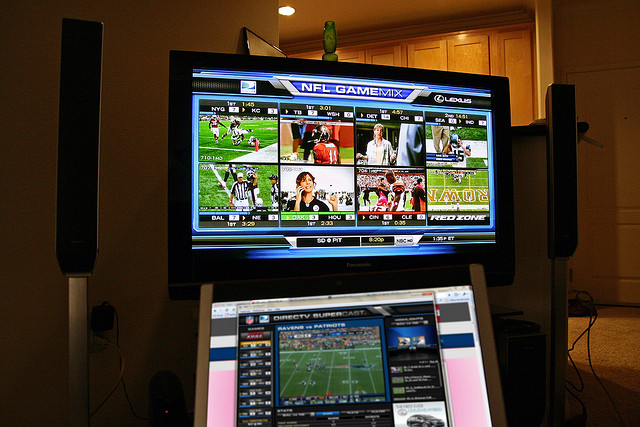 DirecTV (NASDAQ:DTV) is poised to secure another exclusive deal with the National Football League for its popular sports package, NFL Sunday Ticket, but neither party has yet to confirm the agreement, Bloomberg reports.
According to the news service, DirecTV has enjoyed offering the out-of-market sports package that broadcasts NFL regular season games unavailable on local affiliates for almost 20 years, but its $4 billion contract with the league expires at the end of 2014, and many new suitors are interested in acquiring the rights to the programming.

Carrying NFL Sunday Ticket is crucially important to DirecTV's business. Not only has the El Segundo, California-based company long been the provider of the popular package, it now also faces increased competition in the pay-TV arena.
Many tech companies including Google (NASDAQ:GOOG), Sony (NYSE:SNE), and Intel (NASDAQ:INTC) are now working to stream TV over the Internet, stealing pay-TV providers' once-loyal consumers. The customers DirecTV can consistently count on are its sports fans, especially those who enjoy football.
Bloomberg reports that about 2 million DirecTV customers paid for NFL Sunday Ticket last year out of the company's 20 million subscribers. The package that keeps them coming back to the tube currently starts at $49.99 per month; pro football junkies also have the option of paying $59.99 per month to finance streaming and get the games on their tablets and mobile devices.
At a time when both DirecTV and Time Warner Cable (NYSE:TWC)sell conventional pay-TV monthly subscription packages via set-top boxes and tech companies offer video-streaming alternatives like Netflix (NASDAQ:NFLX) and Chromecast, competition is tighter than ever. DirecTV's Sunday Ticket option is therefore a paramount part of its business.
Fortunately for DirecTV, it looks as if the company will be able to secure a deal with the NFL — or at least, that's what sources told Bloomberg. CEO Michael White stayed positive during an investor conference Thursday, when he said, "I'm very optimistic we will get an exclusive deal done on NFL Sunday Ticket."
A spokesman for the NFL was a little more vague, only telling the news service that that no agreement is done, but Reuters also reported Thursday that both sides agreed on the framework for an agreement. DirecTV's stock was little changed Thursday after the new reports concerning NFL Sunday Ticket came out, but they dipped Friday afternoon, down 0.19 percent at $66.89 as of 2:30 p.m. Eastern. DirectTV shares have gained 34 percent this year.
Don't Miss: 7 Great Romantic Comedies You Can Watch on Netflix.