Moonves on Letterman Extension: "There is only one Dave"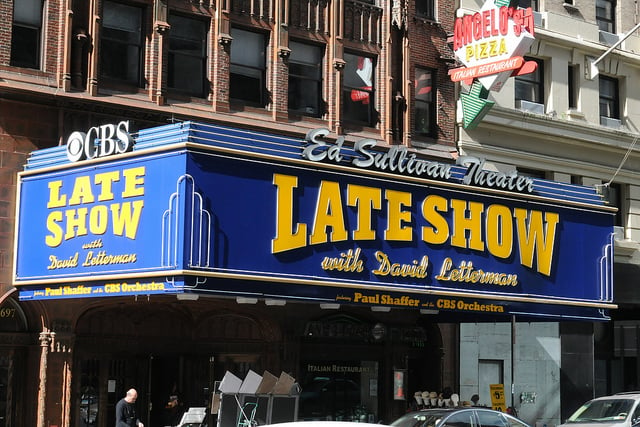 David Letterman is still going strong on CBS Corp.'s (NYSE:CBS) broadcast and will continue to do so for two more years. The network extended its contract with the late night talk show host through 2015, putting Letterman on track to continue his run while a new generation of late-night talk show hosts begin their run on NBC (NASDAQ:CMCSA) and ABC (NYSE:DIS).
In a statement from CBS Corp. president and chief executive Leslie Moonves on Friday, he said, "There is only one Dave, and we are extremely proud that he continues to call CBS 'home.'" Letterman's Late Show with David Letterman has acquired nine Emmy Awards in its twenty-year run and remains one one of the most popular late night talk shows.
"Les and I had a lengthy discussion, and we both agreed that I needed a little more time to fully run the show into the ground," Letterman later said.
Letterman is the longest running late night TV talk show host — a record dating back 31 years beginning with NBC's Late Night talk show. The opening week of the 2013-2014 season of the Late Show showed a 5 percent year-to-year increase and Letterman's contract had been set to expire at the end of 2014. The show averages about 3.1 million viewers.
The strong viewership shows that Letterman is a valuable asset, and having him around for an extended time should make it easier for the network to sell the late-night advertising space. So, if there were any concerns that losing Letterman would be more than just an emotional loss for CBS, those fears should be assuaged by the news.
With Letterman's contract extension, the 66-year-old talk show host is set to go head-to-head with the much younger late-night talk hosts at NBC and ABC. Jimmy Fallon is set to takeover NBC's Tonight Show from Jay Leno in February 2014 while ABC's Jimmy Kimmel Live! continues to rise in popularity.
The contract extension once again puts to rest speculation as to who might succeed Letterman — at least for the time being. There have been several names consistently brought up as possible successors to Letterman's historic run including his late-night colleague at CBS Craig Ferguson or Comedy Central's Stephen Colbert.
Moonves later reiterated his belief that Letterman is the best late-night talk show host. "There is only one Dave," Moonves said.
Don't Miss: Can Disney Characters Help Save J.C. Penney?