Twitter Erupts After Donald Trump Attacks Chrissy Teigen and John Legend
Being attacked on Twitter by President Donald Trump is a viral badge of honor as the social medium erupted after he lashed out at musician John Legend and wife Chrissy Teigen.
In one of his late-night tweeting manias, Trump boasted the progress he's made with criminal justice reform. In his lengthy thread, he added, "….musician @johnlegend, and his filthy mouthed wife, are talking now about how great it is – but I didn't see them around when we needed help getting it passed. 'Anchor' @LesterHoltNBC doesn't even bring up the subject of President Trump or the Republicans when talking about…."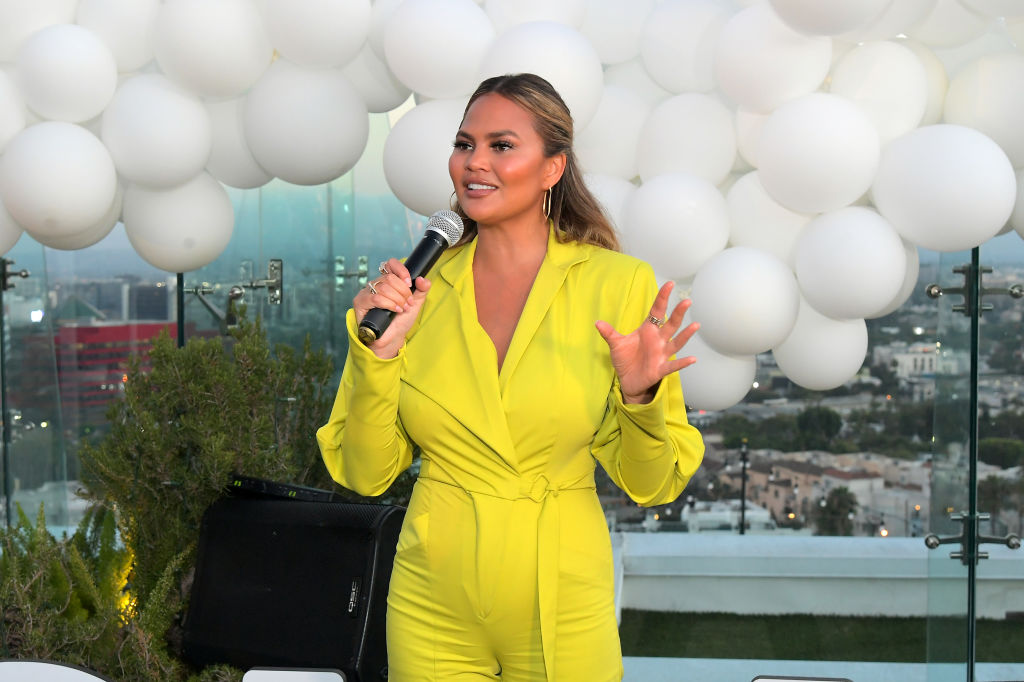 Although the thread continued, the Twitterverse wasn't going to let that go. And neither was Teigen or Legend.
She was not even part of the special
Clearly Trump's feathers were ruffled after watching the NBC special. Teigen quickly responded that she had nothing to do with the show. "the absolute best part of his tweet is I literally didn't speak in the special, nor was I mentioned. I'm cackling at the pointless addition of me because he cannot not be a b**ch," Teigen wrote.
Memes, comments, and hashtags quickly amassed as Twitter users collectively giggled at Teigen's response. Teigen reposted one viral video of Trump being rushed off the stage due to a security threat (that was dubbed in as being Teigen). "I love you guys," she tweeted.
But Teigen quickly moved on from the tweet and posted about watching 90 Day Fiancé. Fans "ate it up" even more. "Unbothered queen," one person commented. Another person remarked, "This video probably prompted the White House kitchen staff to whip up some late night pasta for Crooked Donald. I'm guessing Trump wanted Chef Boyardee to cook it for him. It's sad that won't happen, lol."
And now, the hashtag
There was no way this battle could go without a hashtag. Teigen became annoyed when her pasta spilled on her couch. "got a new couch. I love it except now I live in permanent fear," she wrote. And then, "f***********k I got pasta on my couch. karma is a p***y ass b**ch." Legend then suggested the couple cover their couch with plastic like a grandmother.
Although Teigen seemed to have lost interest in Trump, executive producer Andy Lassner started a hashtag. "I'm very, very serious. Very serious. Do NOT allow #PresidentP**yAssB**ch to trend. I'm begging you. Begging." Of course, Teigen retweeted the comment. She added, "no guys no please do not make this trend, for it is my fight with #PresidentP**yAssB**ch, not yours!!!!!!"
Bravo producer Andy Cohen weighed in with is own eye roll about the attack. "Starting a twitter war with @chrissyteigen is pretty much all the proof I need that this dude has lost his marbles. (Inviting the Taliban over was a close second)." Col. Morris Davis pointed out that the President of the United States should have better things to do than start a feud with Teigen. "North Korea & Iran enhancing nuke programs – Borrowing $$$ from China to give handouts to US farmers for crops China's not buying due to his trade war – $22,531,817,693,305.66 in debt – Sparring with @chrissyteigen in #PresidentP**yAssB**ch Twitter feud."