50 Cent Won't Stop Targeting Naturi Naughton
50 Cent is making fun of his Power co-star, Naturi Naughton, again. A week after he apologized for targeting her on Instagram, the "Candy Shop" rapper shared a meme taunting her on Twitter.
The message went viral, but for all the wrong reasons. It immediately prompted widespread criticism, including from Naughton herself.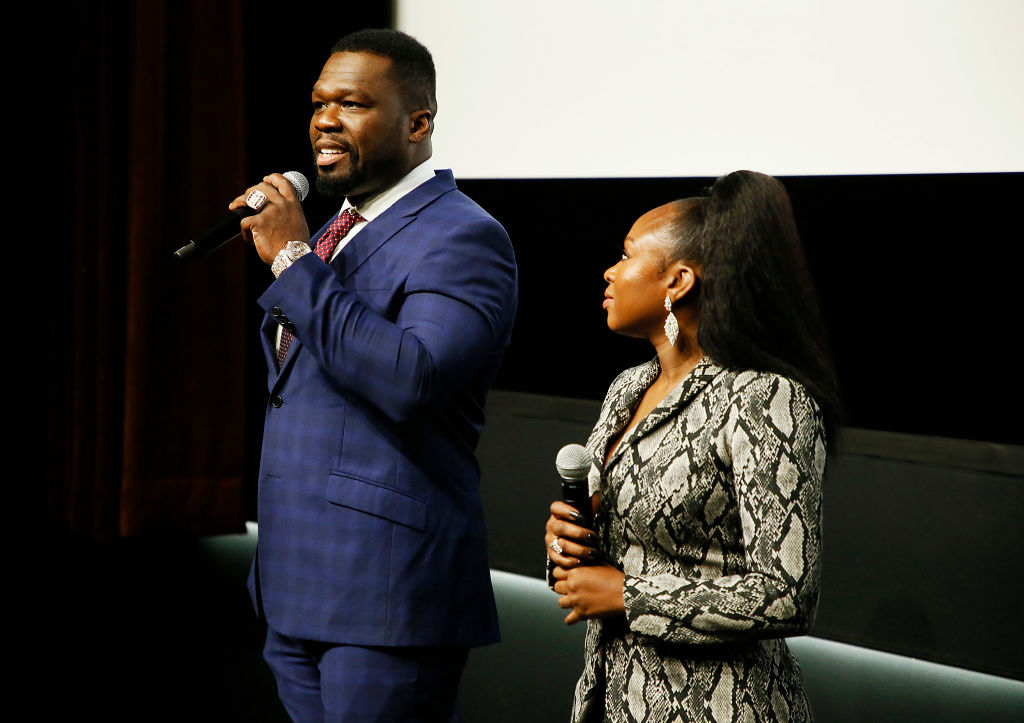 What did 50 Cent say about Naturi Naughton?
Let's recap the first thing that happened, in case you missed it.
In early November, 50 Cent made fun of Naughton's edges on Instagram. He used the meme to promote his hit show, Power, which is on a break until January.
Though 50 Cent is known for trolling, fans could not believe he targeted Naughton, given the power dynamic. 50 Cent is the executive producer of Power, which essentially makes him Naughton's boss. The former 3LW star plays Tasha St. Patrick, one of the leading characters.
Fans quickly commented things like, "Oh @50cent, you done humiliated her. Wow, I cant believe you put her on blast like that," and "How you do this to your own cast member?"
Naughton also weighed in, calling him "mean."
Shortly after, he apologized to the actress, saying in part, "I'm sorry if I hurt your feelings."
But the moment was short-lived. On Nov. 13, he shared yet another meme making fun of Naughton — and fans didn't hesitate to call him out again.
Reactions to 50 Cent's post about Naturi Naughton
On Twitter, the reactions ran the gamut from disappointment to outrage. One woman called 50 Cent's actions "disgusting."
Another announced that she will boycott Power due to 50's actions. "This is bullying employees and a woman," she continued.
Someone else asked, "50 why u doing this to her? She probably aint cool with it," to which another replied, "She already said she wasnt. The first time he could say he thought it was all in fun. This time he KNOWS he is hurting her feelings."
But others seemed to defend the rapper, with one person tweeting, "I find it interesting how people are so offended by this. The only thing that's comparable is the hairstyle. We know damn well 50s not saying she's ugly. Cmon now, the woman is beautiful."
As of writing, it appears that 50 Cent has not yet acknowledged the tweets.
Naturi Naughton responds to 50 Cent
On Nov. 14, Naughton took to Instagram to respond to the rapper's post. (As of writing, 50 Cent's Instagram is disabled for unknown reasons.)
"There's so much I wanna say but…You don't have an Instagram account so why waste my characters or come out of my CHARACTER," she wrote alongside a tweet that read, "Did we have a fight and I not know about it?"
It appears that he has not yet responded to her post.
It sucks to see how things are unfolding, especially between two co-stars. But who knows — maybe 50 Cent will apologize again (and actually mean it). We'll see.