Twitter Reduces Kid Rock to Rubble After He Slams Taylor Swift With Crude Remark
Kid Rock found himself on the receiving end of a public thrashing, bashing, and lashing after ticking people off with his comments about Taylor Swift. If it's attention he wanted, he sure got it, and it all went down on the battlegrounds of Twitter. But people not only called him out on for his words, but also for his track record in music.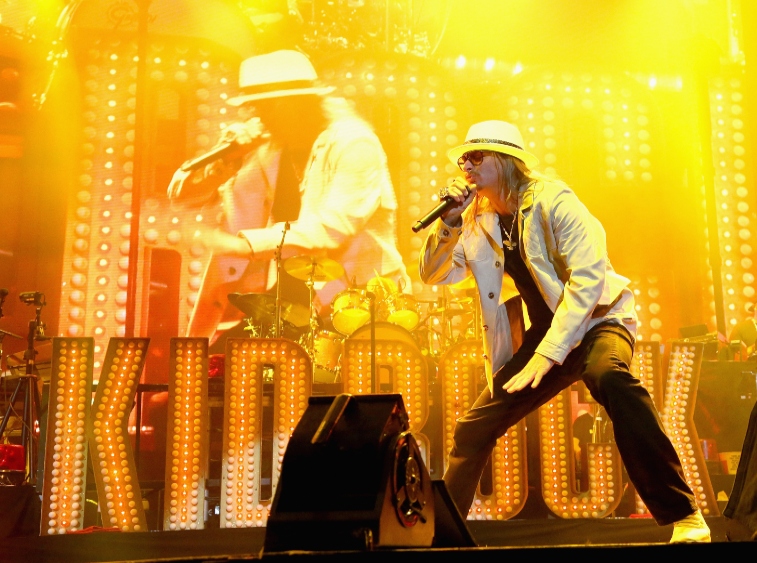 A lewd tweet set off a firestorm
Sharing his thoughts on Twitter Friday morning about Swift, Kid Rock, whose real name is Robert Ritchie, decided to fire off this tweet:
"Taylor Swift wants to be a democrat because she wants to be in movies….period. And it looks like she will suck the door knob off Hollyweird to get there. Oldest move in the book. Good luck girl."
Although he didn't elaborate on why he said this, people zoomed in on the sexist nature of his mini-rant and assumed it had something to do with Swift's recent interview with Vogue. In it, she touched on why she distanced herself from politics during the 2016 election, stating:
"Unfortunately in the 2016 election you had a political opponent who was weaponizing the idea of the celebrity endorsement. He was going around saying, I'm a man of the people. I'm for you. I care about you. I just knew I wasn't going to help. Also, you know, the summer before that election, all people were saying was She's calculated. She's manipulative. She's not what she seems. She's a snake. She's a liar. These are the same exact insults people were hurling at Hillary. Would I be an endorsement or would I be a liability?"
Swift also discussed her support of the federal Equality Act and denounced the president's position on it. The article referenced her show of political interest last year when she posted a message on Instagram about elections in her home state of Tennessee, stating that although she thought Senatorial candidate Marsha Blackburn was a wonderful person, she didn't agree with her "Tennessee values."
Kid Rock, who migrated to Tennessee and the country music scene, is assumed to have strong feelings about Swift's political opinions, but his tweet is being called misogynistic, gross, provocative, obnoxious, and hateful.
People immediately seized on Kid Rock's comments
Chrissy Teigen came to Swift's defense by responding to Kid Rock with a simple "you're pathetic." Fred Guttenberg, an anti-gun activist who lost his daughter in the Parkland shooting, also replied to the singer, saying "I am a lifelong fan. This obnoxious tweet just put an end to it. You can use your platform if you want to create more hate and violence, I will use my platform to say thank you to Taylor Swift."
But it didn't end there. Oh, Twitter users had a field day. Some called him in inauthentic hypocrite, citing how he grew up rich but co-opted Detroit hip-hop culture to jumpstart his career. Others called him out for saying something so disgusting just because he and Swift have differing beliefs.
Since setting off the social media storm, Kid Rock has been mum. Swift has not responded to his vulgar comments, but it doesn't seem necessary given that her fanbase have stepped up to defend her. But knowing Swift, that doesn't mean she won't reference this moment in the future. Fans should keep their ears open.