Did Tyler C. Just Hint That He's Definitely Not Doing 'The Bachelor'?
When Tyler Cameron wasn't awarded with Hannah Brown's final rose on her season of The Bachelorette, Bachelor Nation immediately started crossing their fingers that he would become The Bachelor. But at the end of "After The Final Rose," Brown asked Cameron out for a drink (as a "single girl"). Franchise fans were then torn between wanting Brown to get her happy ending with Cameron and seeing the fan-favorite in the lead role.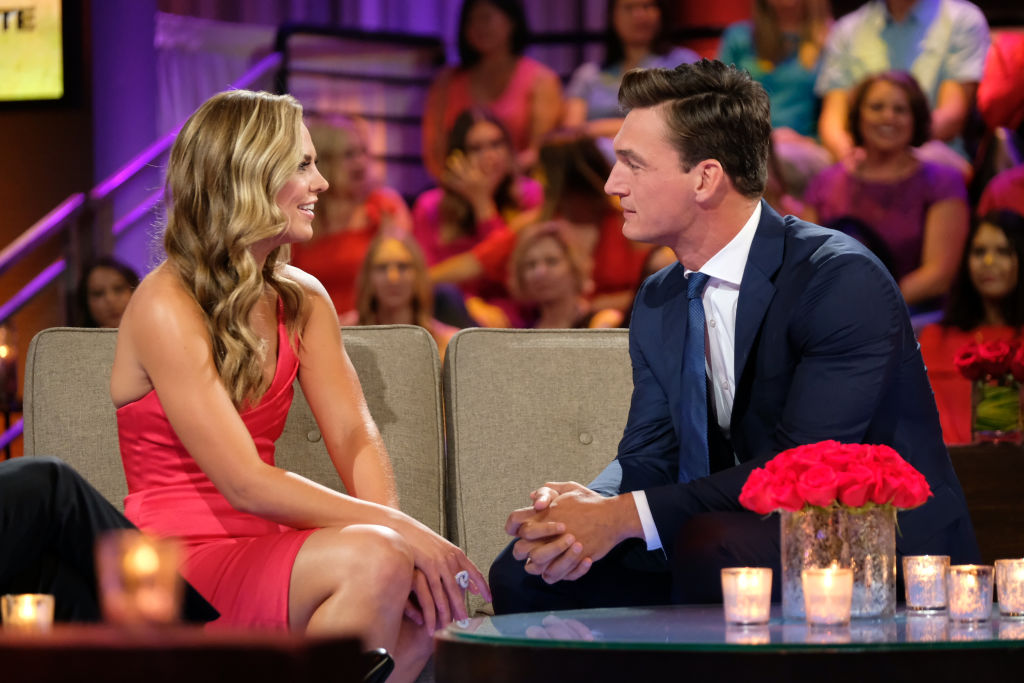 After The Bachelorette season finale, both Brown and Cameron gave several interviews about not wanting to jump into anything right away together.
In a recent interview with Nick Viall on his podcast, The Viall Files, Cameron said he doesn't think it'd be "healthy" for him and Brown to date right after the show ended.
"I cherish Hannah and value her and our friendship so much, but I don't think it's healthy for us to jump into anything right away. I think we need to be friends and see where life takes us. Whatever happens, happens," he said.
Does Tyler C. want to be The Bachelor?
When asked about The Bachelor in interviews, Cameron has always responded with caution.
"Yeah, that's something I've got to sit down and really think about. It's an incredible opportunity, but it comes with a lot of responsibility. I've got to weigh all the options and see if it's something I really want to go for—and if the opportunity presents itself too. Who knows? I just have to take it day by day at this point," he told Glamour when asked if he'd consider starring in the role.
Then (almost immediately after he spent the night with Brown to "[talk] about everything"), Cameron was seen out with Gigi Hadid in New York City. The two have been spending a good amount of time together recently.
A source told ET that Cameron and Hadid are casually dating.
"Although Gigi and Tyler are spending more and more time together, they are still casually dating," said the source. "The two are enjoying building a friendship first, going on dates and having fun. Nothing more than that right now."
Bachelor host Chris Harrison says Cameron is hurting his chances of starring in the leading role by dating Hadid.
"If Tyler is bouncing around from girl to girl and loving the life and enjoying the limelight — which, by the way, good on him. That's fine. If that's what you want to do right now, I don't blame him. He's probably enjoying life really, really well — but that's not someone we're going to want to have as our Bachelor or Bachelorette," Harrison explained. "So, it's about sincerity. It's about where you are in your life. And if that's where he is in his life, then he's not the guy for us."

Tyler C. hints that he's not doing 'The Bachelor'

But it looks like Cameron's mind might already be made up regarding The Bachelor. The contractor and model recently announced that he's running in the TCS New York City Marathon on Nov. 3 and he reportedly has said that he's running in the Chicago Marathon in mid-October as well, when The Bachelor is typically filming. He'll be running both races in support of ABC Food Tours.

So has Cameron decided to skip out on The Bachelor to focus on his relationship Hadid? Or maybe the franchise has already picked someone else. The Bachelor is usually announced at the end of August or early September, so we don't have to wait much longer to find out.

Read more: 'The Bachelorette': Tyler C.'s Favorite Compliment He Gets From Fans