University Offering Course in How to Dress Like Royals Kate Middleton and Meghan Markle
Kate Middleton and Meghan Markle have established themselves as style mavens in the British royal family, but it didn't start with them. For generations, the public has admired, followed, and disapproved of the fashion choices of the family's women, children, and men. From Queen Elizabeth's brightly colored frocks, to Kate Middleton's maternity wear and Princess Beatrice's bold hats, there's been a lot to talk about.
Since Meghan Markle joined the family, she's indirectly started what's been dubbed "The Markle Effect," causing retailers to sell out of pieces that the duchess has been seen wearing. In addition to that, it's recently been announced that she is launching an apparel line for charity.
The royals just keep inspiring the fashion world, and now, there's a university course devoted to the royal wardrobe.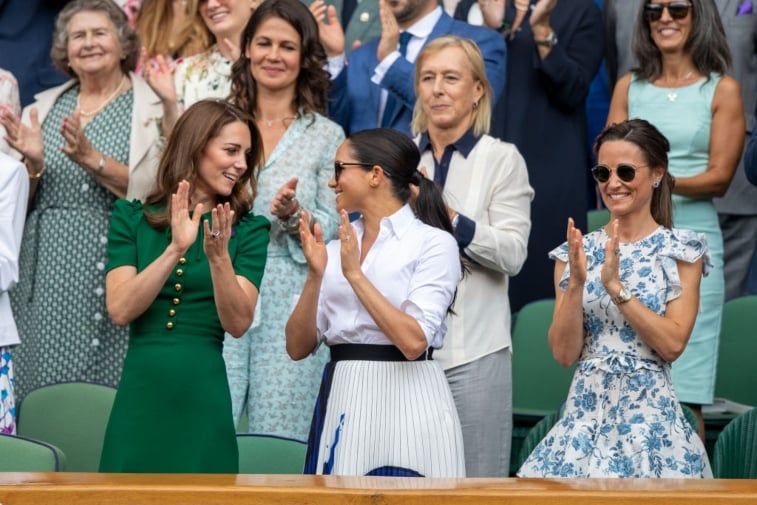 Who's offering the course and how much does it cost?
No one should worry about spots selling out because the course is free. The University of Glasgow has assembled the five-week online offering titled "A History of Royal Fashion" in collaboration with Historic Royal Palaces, and it's open to anyone who wants to learn. A description on the course website states that Historic Royal Palaces is a charity "that looks after the Tower of London, Hampton Court Palace, Banqueting House, Kensington Palace, Kew Palace and Hillsborough Castle."
It is available through FutureLearn, a London-based digital platform where users can find courses from multiple universities. For an extra $54, participants will have access to "A History of Royal Fashion" as long as it's available on the site. If you decide to take the free version, access is granted for 7 weeks. The start date for this one has already passed, but FutureLearn notes that the majority of their courses run again, so register anyway if you're interested.
What the classes cover
Students will travel as far back as the 16th century to examine how royal fashion intersected with power, wealth, and diplomacy. Week by week, the class will explore the history of the Tudors, Stuarts, and Georgians, leading up to the era of the Victorians and the modern-day Windsors.
Sally Tuckett, one of the course lecturers, spoke to Insider and gave an example of what is being taught about royal fashion history:
"The course gives a small insight into each royal family through history. For instance, Henry VIIII's wife, Catherine of Aragon, made his shirts even when Anne Boleyn was on the scene. It shows how politics weighed heavily on fashion, and how it was part of the rivalry. It shows how there's so much more to fashion than clothing."
Modern royals close out the course
The course will cover more than history. Participants will learn about fabric, textiles, and design, and will have the opportunity to sketch their own designs. After studying the style nuances of today's royals (who are celebrities in their own way), users can tap into inspiration from Kate Middleton, Meghan Markle, Princess Diana, and their other favorites.
For those of you who would prefer to learn about royal food instead, FutureLearn also offers this: "A History of Royal Food and Feasting." Rather than learn style, students will have the opportunity to experiment with royal recipes. Start dates are not listed yet, so there is time to sign up for the email list. If you're a royal superfan, go ahead and indulge in both courses.