Valerie Bertinelli Proves She is Queen of the TV Culinary Scene and Reveals Her 1 Most-Requested Dish
Valerie Bertinelli's title of 'celebrity chef' suits her. She has gone from playing the younger sister on One Day at a Time to her starring role on TV Land's Hot in Cleveland, and in 2009, serving as a Jenny Craig spokeswoman, losing over 40 pounds in the process.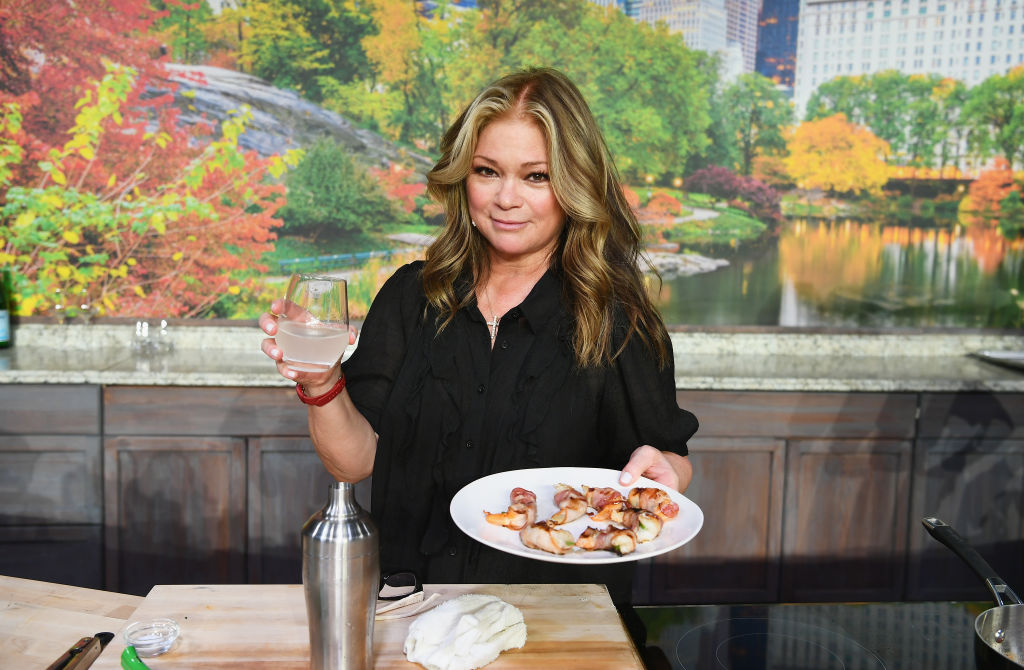 The once-and-still beloved celebrity has found a new, perfect niche for herself, and it's in the kitchen.
Find out how it all happened, how she keeps her youthful appearance, and the one dish her family and friends ask her to make the most.
How she arrived at Food Network
Her Food Network show, Valerie's Home Cooking, which she began in 2015, was a bit of happenstance.
"I was doing Hot in Cleveland, and the cooking show was going to be a fun summer thing to do," she told The Philadelphia Inquirer. "Then Hot in Cleveland was canceled, and I still had my cooking show and it did very well."
She certainly didn't think it would turn into a regular job. "We've just finished our eighth season," she continued, "and it's been 100 shows. I could not be happier. I feel at home."
Since then, Bertinelli has branched out into other cooking shows. She just began her seventh season as host of Kids Baking Championship. Her presence at Food Network is obviously a big hit with fans as she was asked to host two more Food Network shows, Family Food Showdown and Family Restaurant Rivals.
"This is just a perfect part for me," Bertinelli shared with Metro. "It speaks to who I am. It's how I learned to cook, it's how I got the passion for what I do now – through my family."
Bertinelli doesn't age
Looking at her, it's difficult to believe the actress is 59 years old. She still looks like teenage Barbara Cooper from her One Day at a Time days.
After her successful weight loss with Jenny Craig in 2009, she posed in a string bikini on the cover of People after her transformation.
"I need goals," she told ABC in 2009. "I need specific goals to keep me going. … So that's when we started talking and going well, maybe I would put a bikini on because I would like to look good in a bikini, I'm going to be 50, going to be, one day, soon, so I thought, why not? Why the hell not?"
She works on keeping herself at a healthy weight. The former wife of rocker Eddie Van Halen claims her anti-aging secrets are drinking Bulletproof coffee every morning, hydrating well each day, not stressing over the scale, and enjoying whole foods. But something tells us this girl's also just got some amazing genes.
The dish her family begs for
With all the cooking Bertinelli does and oversees on her Food Network programs, it's clear she knows her way around a kitchen.
Bertinelli's family loves her cooking, but there's one dish that her family asks her to make again and again.
"Gumbo. … It's something that I make once or twice a year … and it takes me all day to do it, and I do it with my husband, which is always nice. We freeze it," she told Food Network. "It's my brother Patrick and his wife Stacy's recipe that I've changed a little bit and they still have their version, but it's their version, and I love the way Stacy makes the recipe. And it's fun to make and it's so damn delicious."
Here's her recipe if you'd like to try it for dinner soon: Valerie's Very Best Gumbo.
Read more: What Is the Net Worth of the Original 'One Day at a Time' Cast?