Could This Be Valkyrie's Love Interest In 'Thor: Love And Thunder'?
Now that Marvel has announced Phase 4, it's time to start speculating what's to come in the next five Marvel Cinematic Universe films. Though it won't be arriving until Nov. 2021, we're already thinking about one important element of Thor: Love and Thunder — namely, that second word. Here's who we think could portray Valkyrie's romantic interest in the upcoming flick.
Valkyrie first appeared in Thor: Ragnarok
You'll recall that Tessa Thompson's perpetually drunk Valkyrie first entered the MCU in Thor: Ragnarok. Valkyrie is not her actual name — she's simply referred to by her number: Scrapper 142. She's a freelance of sorts, tasked with searching for champions for the Grandmaster's competition. That's how she discovers Thor.
However, the name Valkyrie comes from her former job as a member of the Valkyrior, an army of women who protected Asgard. Though she resists at first, she teams up with Thor, Bruce Banner / Hulk, and (to an extent) Loki in order to take on Hela.
In Endgame, she received a new title
Valkyrie was, much to fans' disappointment, absent from Avengers: Infinity War. Though it wasn't fully explained, it would seem as though she escaped when Thanos boarded their ship, along with many of the former citizens of Asgard.
In Avengers: Endgame, we see that Valkyrie has taken charge, acting in a leadership role in New Asgard (located on Earth) while Thor suffers following the Avengers' loss to Thanos. After they eventually defeat him, Thor decides to "retire," going to spend time with the Guardians of the Galaxy while officially crowning Valkyrie as King of New Asgard.
Tessa Thompson has addressed Valkyrie's sexuality
When audiences first saw the promotional materials for Thor: Ragnarok, many believed there could be a romance between the God of Thunder and this new character. While this was included in an initial draft of the script, the writers decided to move away from it.
Though we don't see Valkyrie with a love interest, Thompson was insistent that this iteration of the character be, like the one seen in more recent comics, bisexual. In fact, she pushed for a scene which would have shown a female sexual partner of Valkyrie's, but it was cut.
There was one scene, a flashback to the first time the Valkyrior fought Hela, which Thompson believes establishes a romantic connection. "There's a great shot of me falling back from one of my sisters who's just been slain," Thompson told Rolling Stone. "In my mind, that was my lover."
Here's what we learned at San Diego Comic-Con 2019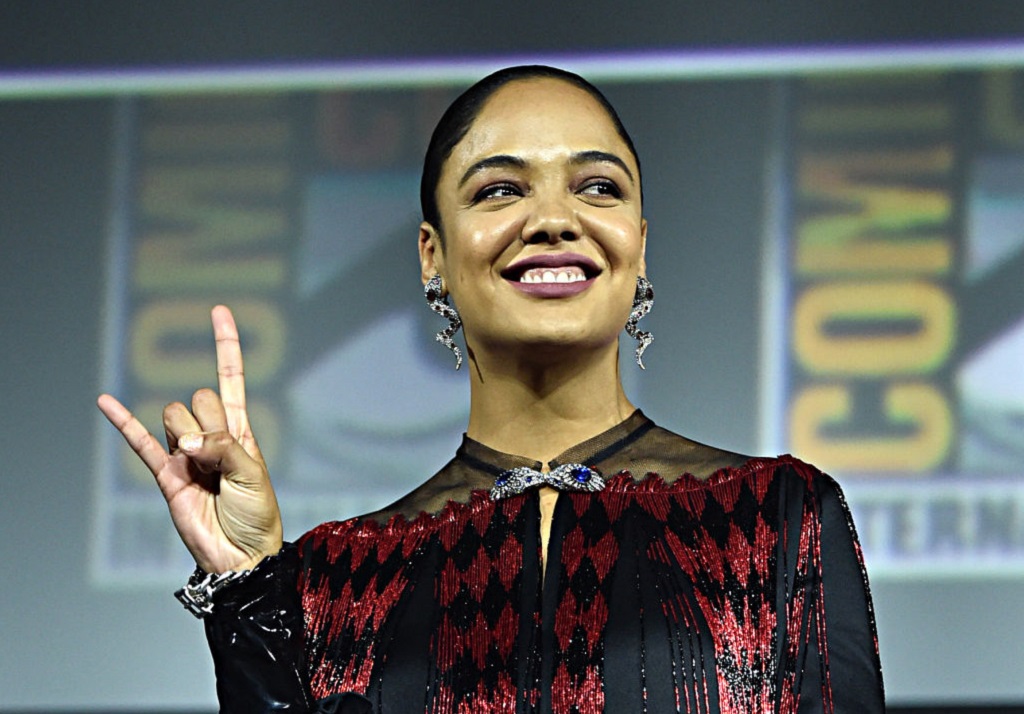 Since Thor: Ragnarok's success at the hands of director Taika Waititi, fans have been clamoring for something new to the MCU: A fourth film focused on one character. After much speculation, San Diego Comic-Con brought with it the announcement that another Thor installment is on the way — but with a twist.
In addition to Natalie Portman taking over the Mighty Thor mantle, Thompson will reprise her role. And, according to the actress herself, "As new King [of Asgard], she needs to find her queen, so that will be her first order of business. She has some ideas. Keep you posted."
Could this returning character be Valkyrie's queen?
So, as promised, the MCU is finally getting its first official LGBTQ+ superhero. Now, the question remains: Who will Valkyrie's love interest? IGN has a few ideas, including Portman's character. And another actress has already expressed her interest.
Jaimie Alexander, who portrayed Thor's friend and fellows Asgardian warrior Sif, happily volunteered on Twitter. Though it was insinuated in Thor: The Dark World that Sif was romantically interested in Thor, we could see this easily being retconned or simply glossed over in favor of a Valkyrie-Sif relationship.