'Vanderpump Rules': Brittany Cartwright Reveals That She And Jax Taylor Are 'Trying' to Have a Baby
Brittany Cartwright and Jax Taylor are probably one of the most surprising couples on Vanderpump Rules. Cartwright is sweet and wholesome and kind to everyone. Taylor has slept with almost every female member of the cast, constantly lies, and has been fired from his job at SUR more times than anyone can count.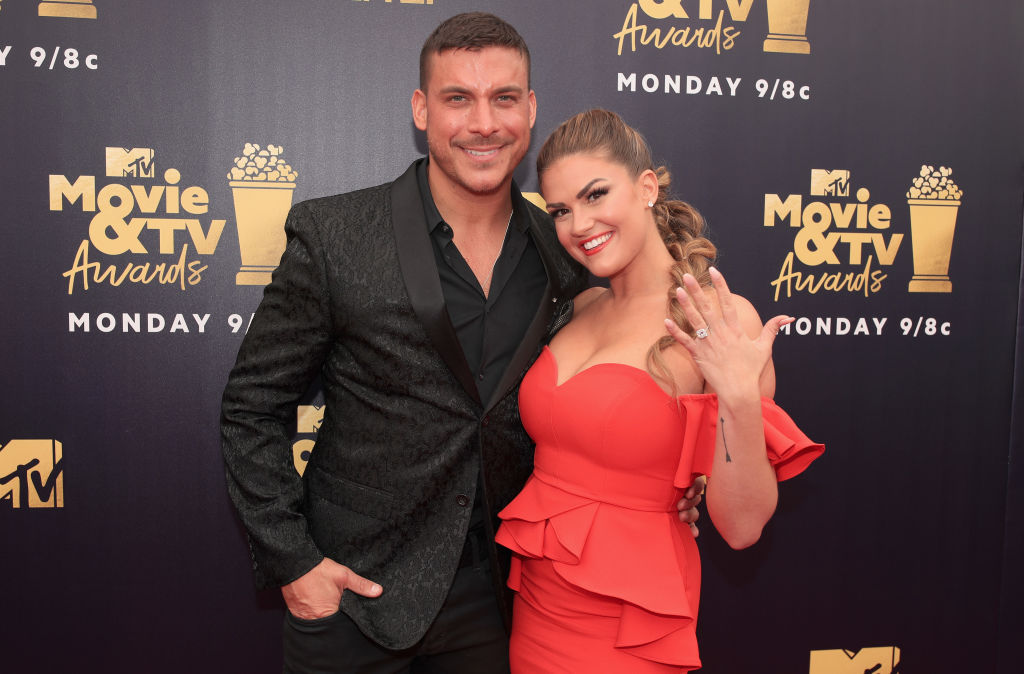 But yet, the two have stayed together season after season and even got married earlier this year. So, are Taylor and Cartwright trying to grow their family and have a baby, already?
Brittany Cartwright and Jax Taylor's troubled relationship
Cartwright and Taylor may have made it down the aisle, but that doesn't mean that their relationship was all smooth sailing. At one point, the two called it quits after Cartwright discovered that Taylor had cheated on her with one of their former coworkers. Not only was he unfaithful, but the gang also uncovered voice mails of Taylor trash-talking Cartwright, as well.
The pair split once this all came to light but ultimately, Cartwright took Taylor back. He later proposed and the two got married.
Just months after the wedding, Taylor was spotted without his wedding ring, fueling rumors that there was trouble in paradise. But Taylor claimed he just didn't like wearing jewelry.
"I don't ever wear my wedding ring," he told Hollywood Life. "I just don't. I'm not a jewelry guy. I go to the gym, I'm working in the yard. At my house, my wife doesn't wear hers either. And my wedding ring is big, so it gets in the way and all that."
"We wear it when we need to wear it, like when we go out and stuff like that, but around the house and stuff, no," he continued. "And, every time they [paparazzi] catch me not wearing my ring, I'm either at the gym or at my house."
Are Jax Taylor and Brittany Cartwright trying to get pregnant?
Though Taylor and Cartwright have had more than their fair share of relationship ups and downs, they claim to be ready to have a baby.
"Yeah, we're obviously open to it, we're not like, well I guess yeah, we're working on it," Taylor told HollywoodLife in September. "We're working on it, I'll leave it at that, we're working on it."
And Cartwright shared the same sentiments.
"I feel like I always say this answer, but it's almost, it's like the sense of family that I know that we're together, and that we're going to try for a family eventually, and that we're starting something, it's really cool," she told the outlet.
"I mean we're in the process, yeah, I'm super excited," she said. She continued, saying that she hopes to have a baby in 2020, but isn't sure if it will happen yet. "I'm not pregnant yet, I'll say it again." 
How does Cartwright feel about the pregnancy rumors?
Since Cartwright has gained some weight, fans have been relentlessly assuming that she's already pregnant.
"Oh man, so you diet, you diet, you diet, you diet for a wedding, you lose a bunch of weight, you're so stressed, you're so excited, you can't wait, and you're working out so hard," she said. "And then after the wedding you might gain some, and then all of a sudden you're pregnant. Which I know people are stoked, super excited for if we do become pregnant. I am too. But sometimes you just gain weight."