'Vanderpump Rules': Are Jax Taylor, Brittany Cartwright Getting Divorced?
Jax Taylor and Brittany Cartwright recently tied the knot in front of the cameras for the upcoming season of Vanderpump Rules on Bravo. The couple has had a turbulent relationship that involved a cheating scandal and after only a month of marriage, there are already rumors the pair are headed straight to divorce.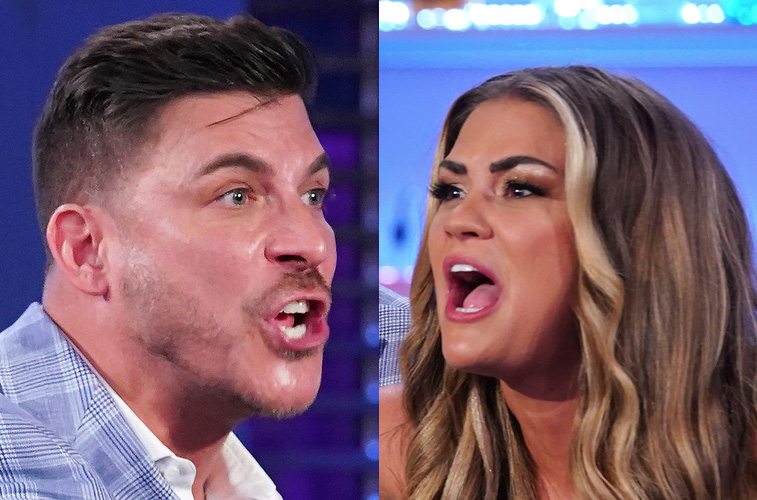 Reasons For Divorce Rumors
Jax and Brittany officially became husband and wife on Saturday, June 29 in a fairytale themed wedding that took place in Versailles, Kentucky. The ceremony was officiated by Lance Bass with tributes to Jax's late father that died of cancer last year and Brittany's late grandfather as well.
"We're stronger and happier than we've ever been," Brittany told People just before the nuptials. "We've been through a lot, but we came out on the other side. I feel like we've just gotten stronger and stronger as we've had to deal with any kind of negative situations that come our way. I feel like we've grown from it."
A month after the wedding, there have already been rumors that their marriage is not working out and that they are "unhappy" together.
"Brittany wanted to have this magical over-the-top wedding so that she could have a dream wedding that would play out on TV," an insider told Radar Online recently.
According to the source, Brittany can't seem to trust Jax and has already had "wandering eye" moments.
"She thought that getting married would make all of her suspicions go away, but it hasn't. All it has really done was give her a ring and more reason to worry that something may happen," the tipster added.
Another factor that's allegedly causing a rift between the newlyweds is Brittany's spending habits.
"Jax is freaking out about money now, too. Now that they are married, all of his money is hers and all of her money is his and it has been causing some major issues because she loves to spend," the insider claimed. "To make matters worse, they did not get a prenup. Everyone thinks that this was such a huge mistake."
Jax Taylor Slams Reports
Following the reports that Jax and Brittany's marriage was not doing so hot, the former model shared a picture on Twitter of both of them with big grins on their faces.
"The wife and I," he captioned.
A fan then replied to the tweet: "It's sad that y'all have only been married a little over a month and people are already saying y'all are unhappy."
Jax quoted the tweet and added: "Just goes to show how fake media is. I couldn't be happier with my wife. She's the best thing that has happened to me."
It was with that single tweet that Jax made sure everyone knew that his marriage with Brittany was fine and not in shambles as some media sources had reported.
When Does Vanderpump Rules return?
With all the drama of the Vanderpump Rules cast leaking online, fans are getting anxious to find out when Season 8 will begin on Bravo. A viewer recently asked Jax when the show would be back on television.
"Well, we just wrapped for the season, we don't know, but probably the same time it does every year would be my first guess. Thanks for watching," he tweeted.
For the past two seasons, the show has been starting at the beginning of December with December 2 being an unconfirmed guess as to the premiere date of Season 8.
Both Jax and Brittany will have a new nemesis according to a recent report.
Dayna Kathan, a SURver, will be joining the cast in the upcoming season and she's "coming in hot", according to a Hollywood Life source.
She's worked at SUR and been friends with the cast for awhile now, but she doesn't get along with Brittany or Jax so a lot of the drama will center around that, as she also is friendly with James and Raquel [Leviss]. Her birthday party was filmed already, too," the source revealed.
"Fans may recognize her already from last season when Jax FaceTimed Brittany and from Jax's staycation at the Mondrian and Brittany called her a whore since Jax admitted there were girls in his room," the source added. "It was the episode when they were at Brittany's bachelorette party. She currently works at Sur, too. It's looking like she will be full–time on the show. Expect her to almost be like an additional 'witch of WeHo.'"