'Vanderpump Rules': Jax Taylor Didn't Unfollow Kristen Doute, He Blocked Her
Kristen Doute from Vanderpump Rules set the record straight about the drama she's having with other cast members. Doute took to Twitter amid reports that cast members have unfollowed her on social media to say at least one person blocked her.
"I know @enews has been saying that Jax unfollowed some of us because of something regarding his wedding," she wrote. "Let me clear the air: Jax did not unfollow me, Jax blocked me. Why? NO CLUE. But I promise you it has nothing to do with beautiful Britt or their wedding."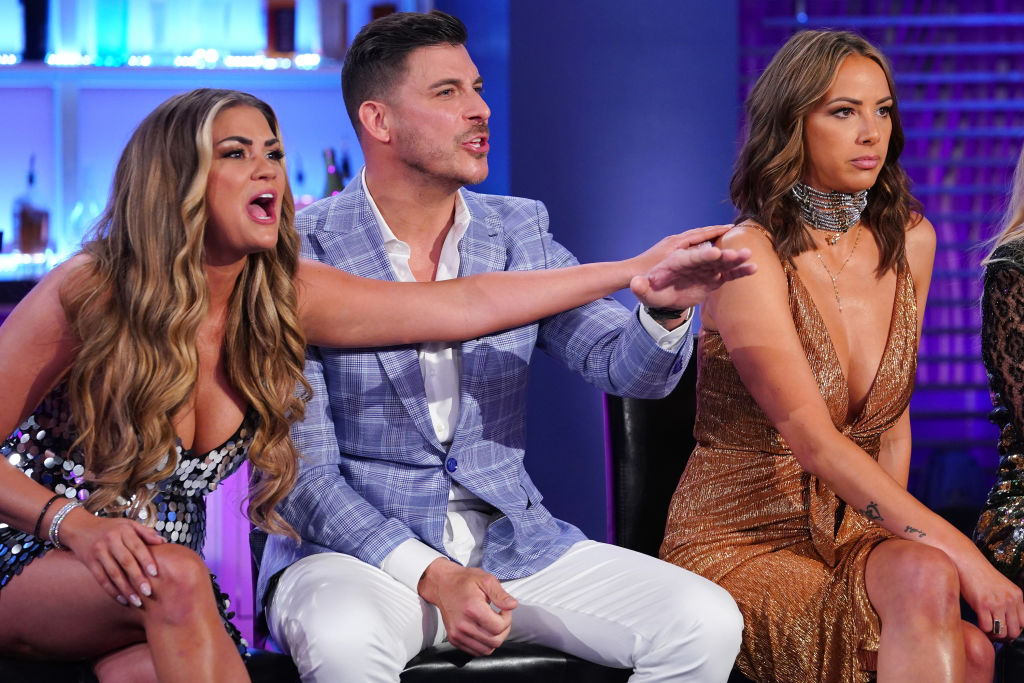 A number of media reports point to significant fighting amongst the cast. Taylor reportedly stopped following cast members Ariana Madix, Tom Sandoval and Doute. Doute also seems to be taking time away from most of the cast as she's been traveling back and forth to Michigan.
The original report centered on Lance Bass being the wedding officiant
The E News report Doute referred to points to cast members being annoyed with Taylor for hiring musician Lance Bass to officiate the wedding. Taylor and Cartwright originally asked conservative pastor Ryan Dotson to officiate the wedding.
But after Dotson was called out for being transphobic and homophobic, Taylor and Cartwright decided to find another officiant. They asked Bass, who has been close to Lisa Vanderpump and the rest of the cast for a number of years. But a source told E News Sandoval and Madix asserted Taylor only asked Bass because he was a celebrity.
In addition to Sandoval and Madix, Taylor was unhappy with Doute and Scheana Shay too. However, now Doute asserts the fallout had nothing to do with the wedding.
Taylor seems to be backing away from the cast
Since the wedding, Taylor seems to be keeping a low profile, at least on Instagram. As some cast members post about partying and vacationing together, Taylor is hanging out at home more often.
The last group photo he shared was in early August when the group traveled to Vegas. Doute was noticeably missing from the photo he posted with the crew. "Our crew likes to live on the edge.. vegas!!" he wrote. He is also sharing video from his daily workouts or one of his pups too.
Despite reports that he and new wife Brittany Cartwright are having marital issues, he posted a loving photo with her only last week. "My partner in crime for life! Love you baby." A photographer recently snapped a photo of Taylor without his wedding ring. An unnamed "insider" told Radar Online the couple "couldn't get along" and were "unhappy."
Drama with the ladies too?
Taylor isn't the only one on the outs with cast members. Some reports point to Doute feuding with Stassi Schroeder and Katie Maloney. However, other sources insist the trio is getting along well, according to Page Six.
For instance, Doute did not attend Maloney and Tom Schwartz's official wedding ceremony in July. Instead, she stayed back to be with Shay who was going through the egg retrieval process. She was also noticeably missing from Schroeder's engagement party that included the majority of the cast, including Vanderpump. A source told Page Six Doute was notified about the engagement and "there isn't any drama about her being excluded from anything."
Although she was missing from some important events, she was still present at a number of work-related gatherings. Doute, Schroeder, and Maloney have a wine business, Witches of WeHo. She attended the Santa Barbara Wine Festival with the ladies and was present at the Basic Witch Potion No. 2 rosé launch party where the three ladies posed for a photo.