'Vanderpump Rules': People Slam Kristen Doute for Not Practicing Social Distancing
Forget parties, drinks at the bar, or dinner out. Americans are being urged to practice social distancing to hopefully slow the spread of the coronavirus. In many cities, going out isn't even an option as bars and restaurants shut down. The CDC is now telling people to avoid gatherings of more than 50 people for the next two months.
But not everyone is taking the warnings to stay close to home seriously. And after Vanderpump Rules star Kristen Doute shared a photo of herself socializing with friends, her Instagram followers were quick to chastise her for endangering others. 
Kristen Doute says she's "quarantined" with Brittany Cartwright
On March 15, Doute shared an update about how she's handling the coronavirus crisis. 
"Just over here, quarantined at Britt's & reminiscing about simpler times…," she captioned the photo of herself with fellow Pump Rules cast member Brittany Cartwright and two other women. Doute didn't share exactly when the snap was taken, but it was pretty clearly an older photo, not one from that same day.
Earlier, Doute shared that she was quarantined at home with her two dogs and said that she'd attempted to stock up at the grocery store but found only empty shelves when she ventured out.
People slam Doute for not taking the proper precautions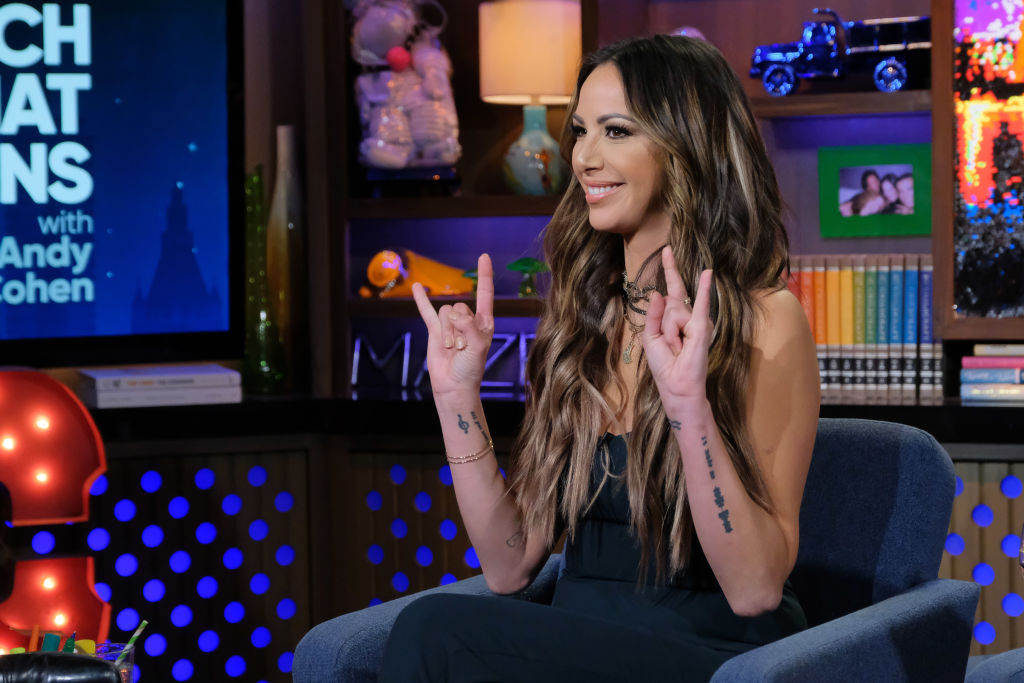 Doute seemed to be doing a good job of keeping her spirits up, even as the mayor of Los Angeles ordered bars and restaurants to close and normal daily life ground to a halt. A few followers praised her for her "positive thoughts" and for "enjoying life.'" 
But others on Instagram were quick to slam her for what they thought was a too-casual attitude about the coronavirus situation. 
"Y'all are setting a great example for what NOT to do," one wrote. 
"Do you know what social distancing means??? WAKE UP," commented another. 
Other followers warned Doute and Cartwright to stay six feet away from each other. Some said she should be setting a better example for her fans by staying home. 
Some people seemed to misunderstand Doute's post 
Based on the comments, it was clear that some people were confused by Doute's post. The caption made it clear that Doute was thinking back on happier times when she could spend time with groups of friends, not that she was currently out and about. But many people quickly assumed that the photo was new. They thought the reality TV star was flouting advice to stay away from large groups of people. "You aren't quarantined if you are out partying it up!" wrote one. 
However, Doute did decide to get together with Cartwright (and presumably Cartwright's husband Jax Taylor). That would seem to run counter to social distancing guidelines. There has been confusion about whether it is OK for small groups of people to gather together. But experts say the more you can limit your interactions with others, the better, even if you are healthy. 
"Every single reduction in the number of contacts you have per day with relatives, with friends, co-workers, in school will have a significant impact on the ability of the virus to spread in the population," Dr. Gerardo Chowell, chair of population health sciences at Georgia State University, told the New York Times.
Doute isn't the first Vanderpump Rules cast member to catch heat for ignoring advice to avoid gatherings. The other day, Scheana Shay had to defend herself after saying that she wasn't going to live her life "complete isolation" due to the coronavirus. 
Check out Showbiz Cheat Sheet on Facebook!