'Vanderpump Rules' News: Ariana Madix, Brittany Cartwright React to Jax Taylor's Fallout With Cast
Season 8 of Vanderpump Rules has not even aired yet but there's a whole lot of drama that is headed our way as the cast has seemed to fall out. The friendships are cracking for the Bravo stars that led Jax Taylor to unfollow from his co-stars from Instagram including Ariana Madix, Tom Sandoval and Kristen Doute.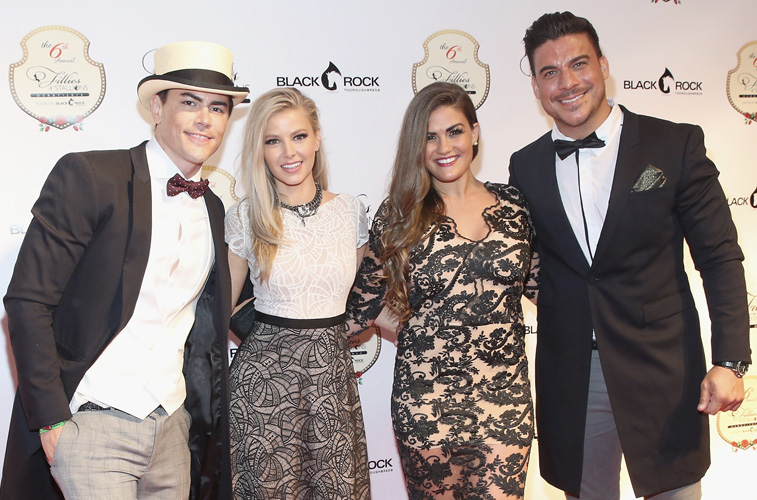 Is Lance Bance The Reason Jax Taylor Unfollowed 'Vanderpump Rules' Cast?
Taylor has always been one of the most controversial cast members of the Bravo reality show and has found himself at odds with Sandoval on numerous occasions over who is the leader of the group. This time, it seems that the rift got pretty serious to warrant an unfollow from the former model.
Initial reports assured that the fallout had to do with Lance Bass officiating Taylor's wedding to Brittany Cartwright. The problem lies on Sandoval asserting Taylor asked Bass to lead the ceremony only because he is a celebrity, but someone close to the cast has debunked those rumors.
"The unfollow had more to do with who Sandoval is hanging out with more so than anything else. It had absolutely nothing to do with Lance and the wedding," an insider told Hollywood Life.
"Tom has been nothing but a supportive friend and he's always going to be there for Jax. Sandoval is always neutral and sometimes that bothers people, but he's so not one to get caught up in the drama."
The former N*Sync boyband member had already involved himself in drama amongst the group when he revealed that Tom Schwartz and Katie Maloney were not legally married. It's worth noting that Bass is also a close friend of Lisa Vanderpump, producer and cast member of Vanderpump Rules.
'Vanderpump Rules' Castmates React
When reports started popping up about the feud amongst Taylor, Sandoval and Madix, castmates reacted to the news on social media.
E! News posted on Instagram the following text: "We have new insight into the feud brewing between Jax, Tom and Ariana and to nobody's SURprise, the tea is hot…and has to do with Lance Bass and a blowup at the wedding."
Cartwright replied to the post: "So off," along with three laughing emojis.
Sandoval's girlfriend, Madix, also posted a comment: "Love y'all, but you need better sources."
Doute, who has been at the center of controversy in Season 8, also took to social media to clarify the rumors of Taylor unfollowing her.
"I know [E! News] has been saying that Jax unfollowed some of us because of something regarding this wedding," she wrote on Twitter. "Let me clear the air: Jax did not unfollow me, Jax blocked me. Why? NO CLUE. But I promise you it has nothing to do with beautiful Britt or their wedding."
"The drama and real fighting that happened towards the end of this season of filming, which stopped last week, just became a lot for the entire cast," the Hollywood Life insider said. "There's a huge divide right now."
Jax Taylor and Brittany Cartwright Divorce Rumors
To add fuel to the fire, there are also rumors that Taylor and Cartwright are feuding just one month into their marriage. He was recently spotted around Los Angeles without his wedding ring, which has only raised speculations of divorce.
The alleged fights between the newlyweds are because they can't seem to trust each other, but Taylor has already denied the reports.
Jax wrote: "I couldn't be happier with my wife. She's the best thing that has happened to me."
Vanderpump Rules is set to return sometime later this year on Bravo and it will be interesting to see how all the drama plays out on television.