'Vanderpump Rules' Stars Jax Taylor And Brittany Cartwright Try To Put An End To All Those Split Rumors
Just weeks after becoming husband and wife, rumors are already swirling that Vanderpump Rules stars Jax Taylor and Brittany Cartwright are headed for a split. But, the couple is trying to put a stop to those rumors by showing fans that they are happily married, and they are even giving tips on how to keep a marriage strong.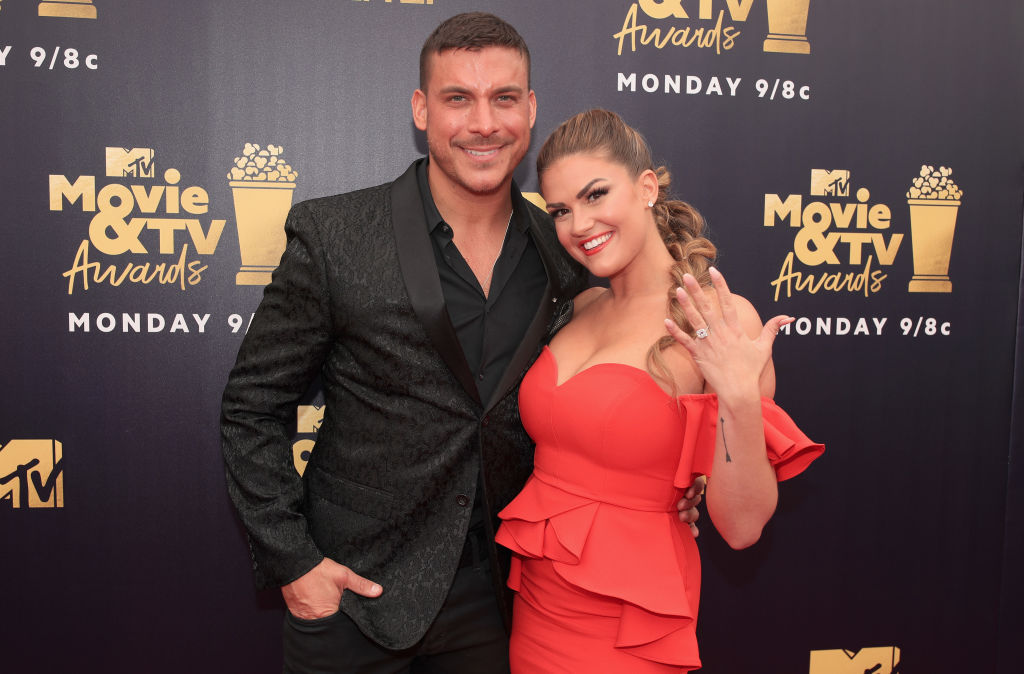 A missing wedding ring
The speculation started just two weeks after the Vanderpump Rules stars tied the knot on June 29th at the Kentucky Castle near Cartwright's hometown. She posted a pic on Instagram that featured the newlyweds kissing on the stairs to celebrate Jax Taylor's 40th birthday, and fans noticed that he wasn't wearing his wedding ring.
Taylor rarely wears the ring in his own Instagram posts and stories, so Cartwright's pic didn't show fans anything they hadn't seen before. But, then the "insiders" started popping up, claiming that Jax Taylor and Brittany Cartwright's wedding made the couple's existing relationship problems even worse.
"It has just been one thing after another," a source told The Hollywood Gossip. "Brittany is already accusing Jax of having a wandering eye and she doesn't know how she is ever really going to trust him. She thought that getting married would make all of her suspicions go away, but it hasn't. All it has really done was give her a ring and more reason to worry that something may happen."
A 'Sunday Funday' on Instagram
Despite the rumors – or maybe because of them – Jax Taylor showed in a recent Instagram Story that he and Cartwright are still in the honeymoon stage and their life is nothing but wedded bliss. In a series of short videos, Taylor gave fans a glimpse of their "Sunday Funday," which featured Cartwright dancing in the kitchen and the captions "Wife Life" and "I love her."
The couple also enjoyed some shots of tequila as they listened to music, laughed, and smiled for the camera. And at the end of the story, Taylor added the caption, "This is how you keep a marriage going strong."
The videos made it clear that the couple enjoys spending time together and the relationship appears to be better than ever. But, they didn't say anything about the rumored feud that is going on between Jax Taylor and some of his Vanderpump Rules co-stars that reportedly started when the cast gathered for the wedding.
Was there a falling out?
Every Vanderpump Rules cast member (except James Kennedy and Billie Lee) was either in Taylor and Cartwright's wedding party or an invited guest, but numerous reports claim that a fight broke out that weekend that started a feud between Taylor and some of his co-stars.
Jax Taylor shocked fans when he unfollowed Tom Sandoval, Ariana Madix, Kristen Doute, and Scheana Shay on Instagram not long after the wedding, but Doute recently revealed that Taylor didn't just unfollow her, he blocked her.
"I know @enews has been saying that Jax unfollowed some of us because of something regarding his wedding," tweeted Doute. "Let me clear the air: Jax did not unfollow me, Jax blocked me. Why? NO CLUE. But I promise you it has nothing to do with beautiful Britt or their wedding."
Sandoval and Madix returned the favor and unfollowed Jax Taylor, but they still follow Cartwright.
It's not Lance Bass' fault
Doute's tweet referenced the E! News report that the falling out occurred after Jax Taylor and Brittany Cartwright asked former 'NSYNC star Lance Bass to officiate their wedding. The story claimed that Sandoval and Madix felt that it was a publicity stunt to include the singer, but Cartwright says that's not what happened.
When E! News promoted the story on Instagram, they wrote in the caption that they had new insight to share about the feud between Taylor, Sandoval, and Madix, and the "tea is hot." The outlet also claimed that there was a blowout at the wedding, and it had everything to do with Bass.
However, Brittany Cartwright immediately responded to the post, telling them, "love y'all, but you need better sources!"
New episodes – surely covering all of Jax Taylor's feuds – of Vanderpump Rules will return to Bravo later this year.