'Vanderpump Rules': Stassi Schroeder Reveals If Tom Sandoval and Ariana Madix Are Invited to Her Wedding
Although Stassi Schroeder from Vanderpump Rules doesn't seem to be a huge fan of Tom Sandoval, she shares that he and girlfriend Ariana Madix will be invited to her destination wedding.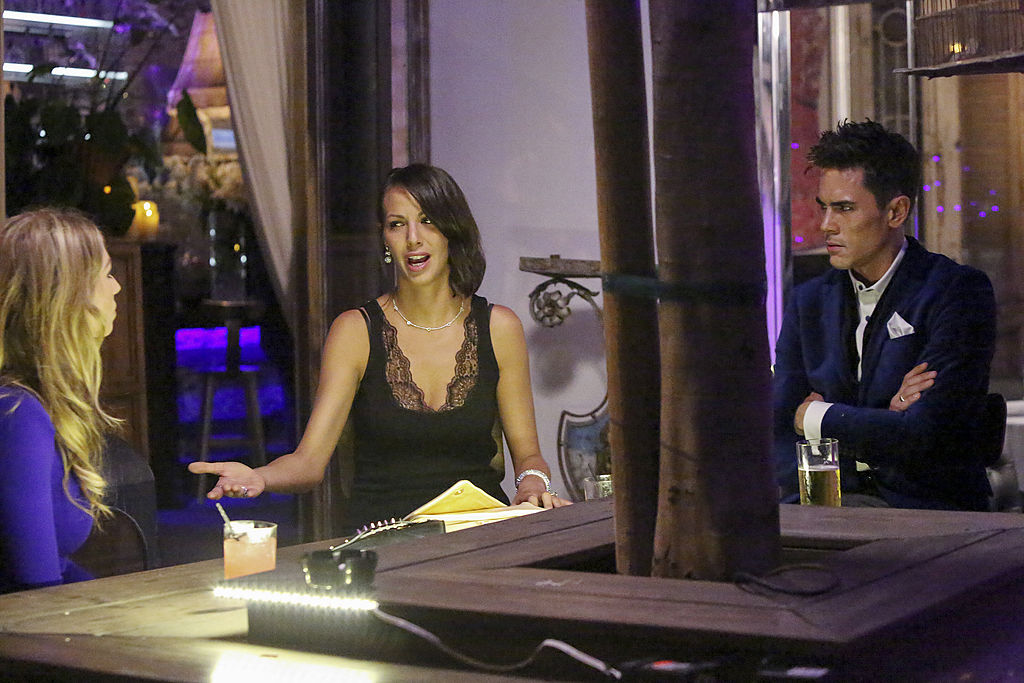 The season began with Sandoval rage texting Schroeder about her upcoming book signing party she planned to hold at TomTom. Apparently bartender plans shifted and Sandoval was concerned about staffing Schroeder's event. Schroeder was flummoxed and angry about the text messages and eventually confronted Sandoval during the event at TomTom.
The exchange reached an explosive level as Schroeder ended up screaming at Sandoval over how he handled the situation. Sandoval fought back but was clearly mortified the two were having the exchange at his restaurant in front of customers.
Sandoval still made the guest list
Schroeder and fiance Beau Clark appeared on Watch What Happens Live with Andy Cohen. An After Show caller wanted to know if the couple had a signature wedding cocktail in mind."My signature cocktail is the Aperol Spritz," Schroeder asserted. Plus the wedding will be held in Italy, which is "the home of the Aperol Spritz," Schroeder added.
Host Andy Cohen then wanted to know if Sandoval and Madix would make the guest list. "They are, yeah," Schroeder replied.
Madix offered insight into what she told Sandoval about going nuclear on Schroeder. Despite always being supportive of her boyfriend, Madix said she wasn't happy with how Sandoval handled the situation. "Oh my god, I told him, 'Do not contact her whatsoever. I am going to bed,'" she said when she appeared on WWHL in January. "And then I woke up and that already happened."
Adding, "That was like way, way out of line and severely inappropriate. I really just wish that they could have had that conversation in person somewhere else."
Kristen Doute still may not be invited
While Sandoval and Madix made the guest list, Kristen Doute still may be left out. The friendship breakdown between Katie Maloney-Schwartz, Schroeder and Doute is being revealed on the show. Fans knew serious cracks were showing in the friendships before the season began. Now they know the nature of the rift.
Doute believes she's on the outs with her two friends because she's the only one still single of the three. But Schroeder called the theory nonsense. "That is the sort of thing that pushes me even further away," Schroeder told US Weekly. "Because if that were the case, the whole entire time when I was like, 'Dude, you should totally break up with [Brian] Carter,' but then I was just going to dump her as a friend because she's single?"
While Doute did not recieve a "save the date" for Schroeder's wedding, Schroeder still hopes maybe they will be in a better place down the road. "The truth is, I just don't know yet, but my heart wants Kristen there. I am praying and hoping that we get to a good place where we understand each other," Schroeder wrote in an opinion piece for Glamour. "But I have no idea how this year will go. I have no idea if we'll be getting along. I have no idea where our relationship will be. We might end up watching this season of 'Vanderpump Rules' and be even more angry with each other. And why would I invite someone who's angry with me to one of the most important days of my life?"
Vanderpump Rules airs on Tuesday night at 9 p.m. / 8 p.m. Central on Bravo.