'Vanderpump Rules': These Two Members of the Cast Are Allegedly the Only Ones Who Haven't Cheated on Their Partners
The cast of Vanderpump Rules is not exactly known for being the most faithful bunch. In fact, many viewers would say just the opposite. The constant switching of partners and drama around possible infidelity is what keeps the show interesting.
Despite the constant drama, there are certain members of the cast who you would think would remain faithful to their partners. Brittany Cartwright, the show's resident goody goody, Beau Clark, Stassi Schroeder's new fiance, and Ariana Madix are just a few.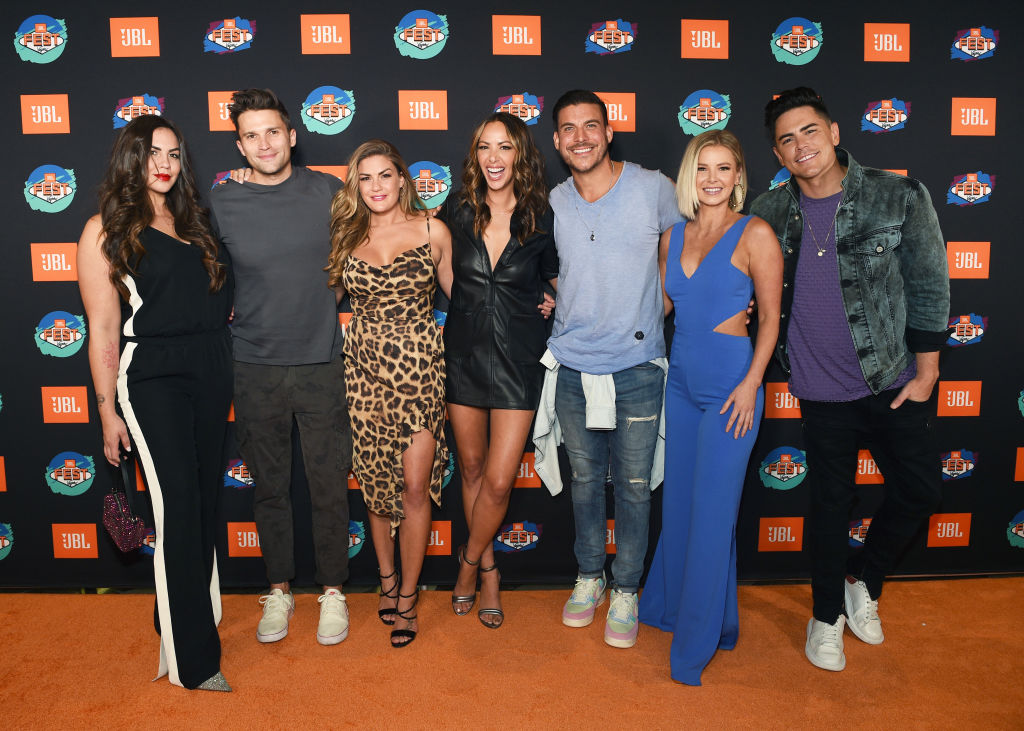 Recently, Jax Taylor, the show's biggest cheater of all time, came forward and revealed who has actually been faithful on the show and his answer might surprise you.
The relationships on 'Vanderpump Rules'
The couples have switched around quite a bit on the show, so it's only fair to give you a little refresher. When Vanderpump Rules first aired, Schroeder was dating Taylor, who treated cheating on her like an Olympic sport. One that he very much excelled in. Tom Sandoval was dating Kristen Doute, who ended up cheating on him with Taylor! Katie Maloney Schwartz and Tom Schwartz were still dating, though Schwartz admitted to kissing a girl in Las Vegas while they were together. After Sandoval ended things with Doute, he moved on to Madix and the two are still together. And Taylor is now married to Cartwright, even though he cheated on her pretty publicly a few seasons ago. James Kennedy started out his tenure on the show dating Doute but has since moved on to Raquel Leviss who he has been accused of cheating on multiple times.
Who has cheated on their partners on 'Vanderpump Rules'?
There are some members of the cast who everyone knows cheats, like Taylor or even Doute. But according to Taylor, almost everyone on the show has cheated at some point.
"Everybody on our show has cheated," he said, according to Celebrity Insider. "I think maybe Ariana and Brittany are the only ones that haven't. Everything that I do on the show where I'm the bad guy, every single person on the show has done. It got me mad."
Taylor's main problem is that he feels like he shares everything, including his infidelity, with the cameras and some of the other members of the cast do not.
"Tom Sandoval never talks about his relationship," he said. "They're very good about talking [about] things without talking about the things. I went to production, I'm like, 'I can't do this anymore. I'm bleeding for you guys. I never say 'no' when [some of the] cast would just say, 'No, I'm not talking about that.' I go, 'I'm sorry. I'm getting the same paycheck as that guy. He's not doing his part. This is not fair.' I had multiple conversations about it because it's not fair."
But according to Lala Kent, this upcoming season of Vanderpump Rules will show a different side to Madix and Sandovol's relationship. She says that this season, Madix has a breakthrough and really opens up.
We'll have to wait until the season begins to see how everything plays out with this drama-filled cast.