'Vanderpump Rules:' Was the 50 Cent/Randall Emmett Feud Just a Publicity Stunt?
All's well that ends well in the 50 Cent and Randall Emmett feud. Friday afternoon kicked off what became a crazy rollercoaster ride for the duo, not to mention Emmett's fiancé, Lala Kent from Vanderpump Rules.
50 Cent demanded Emmett repay a long overdue $1 million debt. So he kicked off his campaign by dogging Kent's relationship with Emmett in a video he posted from Vanderpump Rules. But after responses and Kent's own video post, the feud got even crazier. 50 Cent shared a text exchange with Emmett where the producer apologized and referred to the rapper as "Fofty."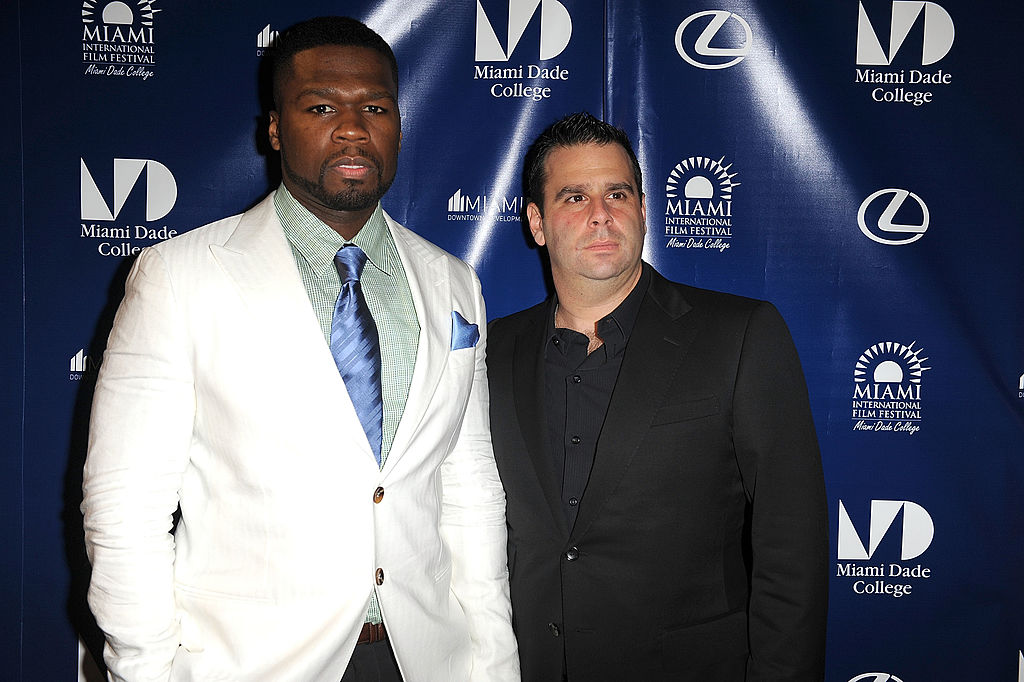 While the text reference appeared to just be a typo, the name stuck–hard. Soon Emmett's Wikipedia page included the reference and memes were created. 50 Cent seemed to be having the most fun with the reference. He created t-shirts, which produced a $300,000 windfall. Emmett ultimately paid 50 Cent in full by the Monday deadline, but now fans are wondering if the feud was real or fabricated to generate publicity.
Everyone is friends again?
On Monday, 50 Cent took to Twitter to let fans know the debt was repaid. "I got my money, so I have no problem with Randall Emmett, in fact I'm wishing him and his family a very blessed day. positive vibes now guys. LOL." 50 Cent has since removed all the memes about the feud he posted to Instagram too.
Fans seemed a little bummed that the feud and the whole "Fofty" trend ended. In fact, some asked 50 Cent if they could help with their own loan issues. "I got somebody holdin a 25$ loan, wonder if fofty can get it back for me," one person tweeted.
Also, fans were worried about missing out on those limited edition t-shirts 50 Cent was selling. "I need a, "I am sorry fofty" shirt for me, my family, my friends and my dog." Fans continued to post about the feud, clearly on Team 50 Cent, after the paid was repaid.
But others wondered if…
A few people wondered if perhaps this neat and tidy package was all for publicity. The feud exploded on Friday and took over social media with full force. "I am thinking that whole #Fofty thing was a publicity stunt bc it's getting so boring LOL," one person tweeted.
Another person wondered about the text exchange too, "Idk I feel the text snapshot was a fake set up. How else do u put to rest a Monday media frenzy that so public.. #fofty"
But for the most part, fans didn't care. They seemed to find the humor in the trend. "Well I guess it's all done. This was fun while it lasted lol. Whether it was fake or not I had a great time and found a bunch of new funny people to follow. Love y'all crazies lol."
But this blogger thinks it may have been a stunt
While most people probably don't seem to care if it was staged or not, one former celebrity blogger thinks 50 Cent set people up. Nik Richie, founder of the celebrity gossip site, The Dirty, posted what he believed to be evidence to his Instagram.
Richie took a screenshot of what appears to be trademark paperwork for the name "Fofty." He wrote, "People are so stupid. This entire thing was staged. I might be out of the game, but show me the money @50cent — Money by Tuesday, #Fofty."
He insisted that, "50 made up a bullsh*t storyline and everyone bought it. I got the trademark = this was a scam to promote something." Richie's followers were not 100% on board with the notion, asking about specific dates on the trademark paperwork. Plus wondering how Emmett would consider going in on something like this since it puts him in a negative light. Kent and Emmett are also no longer following each other on Instagram either. So was it real at least for the couple?
Check out The Cheat Sheet on Facebook!