'Vanderpump Rules': Why Does Tom Sandoval Prefer to Fly Coach?
On the eve of the holiday travel scramble, Bravo asked some of the hottest Bravolebrities how they prefer to travel. Some insisted they had to fly first- class all the way.
However, others shared they could usually be found in coach rather than first class. For instance, Teddi Mellencamp from The Real Housewives of Beverly Hills had this practical answer. "When you're traveling, like there's five of us," she says in a Bravo Insider digital original. "To me, it's obscene to spend that much money on five plane tickets."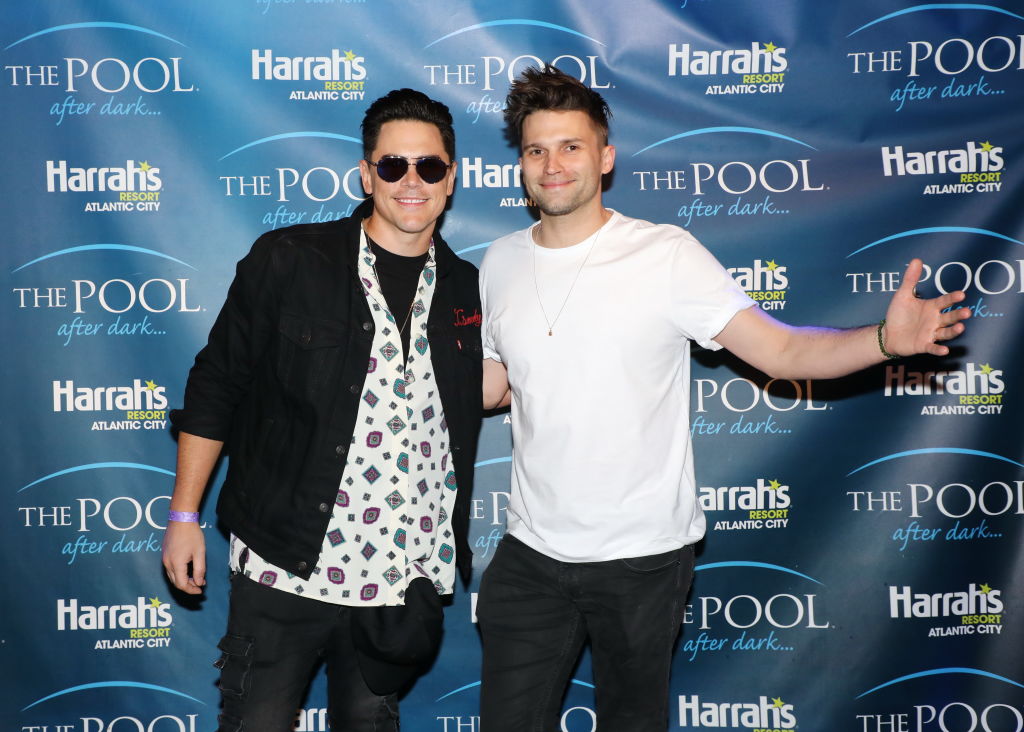 Cameran Eubanks from Southern Charm agreed. "Air travel, low," she says. "I think it's ridiculous to pay a premium just to sit a few rows up." While Eubanks and Mellencamp may be thinking that spending more on air travel with their children makes no sense, what about Tom Sandoval from Vanderpump Rules? He prefers to spend less on air travel, but the reason has everything to do with whether or not he's going to be awake (or not) to enjoy first class.
Sometimes you'd rather nap in coach
Sandoval and his Vanderpump Rules cast member friends are often seen traveling aboard Randall Emmett's private jet. Emmett, who is engaged to former SUR hostess, Lala Kent often allows the cast to travel in the lap of luxury and many have gotten accustomed to this benefit.
However, Sandoval likes to keep it real when it comes to air travel. "It's funny, I actually sometimes prefer to sit in coach," he says. "What I find is, if I go like first class, I'll actually wanna stay awake and experience the meals and like the cool seating."
But if Sandoval is wiped out or just too tired to have that immersive experience? "So actually I really prefer is going coach because I really don't want to be awake," he admits. "I'll just like pass out." Best bud, Tom Schwartz likes coach too. "Air travel? I'm easy I'm very low maintenance when it comes to travel," he says. But, he jokes, "Katie's a little bougie. But I'm perfectly happy in coach. Just, please. For the love of God. Do not put me in the middle seat. I'm too lanky."
But these 'Real Housewives' like to go, first class, all the way
The countess, Luann de Lesseps from The Real Housewives of New York City says she'd like to travel first class, but sometimes it doesn't happen. "I try to go high end, but sometimes it doesn't work out so you gotta go economy," she says.
Gizelle Bryant from The Real Housewives of Potomac says it depends on whether she's traveling alone or with her children. "If I'm traveling with the children, we might go a little budget," she remarks. "Only because it's me plus, three, that's four tickets. In my mind, doing the math, it's just a mess. But if I'm traveling by myself, it's first class all the way."
It's also only first class for Dorinda Medley from RHONY. "I'm sounding horrible but I really go high when it comes to air travel," Medley admits. "Listen, I'm 54 now. I can't be in a lot of discomfort."