'Veep' Stars and 2019 Emmy Frontrunners Julia Louis-Dreyfus and Tony Hale Refuse to Write Acceptance Speeches
With six straight Emmy wins for Outstanding Lead Actress in a Comedy Series, Veep star Julia Louis-Dreyfus (Selina Meyer) has had plenty of chances to bring the funny in her acceptance speeches. The same can be said for her co-star Tony Hale (Gary Walsh), who has received six nominations for his role, with two wins so far. But, both Louis-Dreyfus and Hale say that they aren't writing their acceptance speeches in advance this year, and they don't have anything funny planned just in case they do take home their respective Emmys for Veep's final season.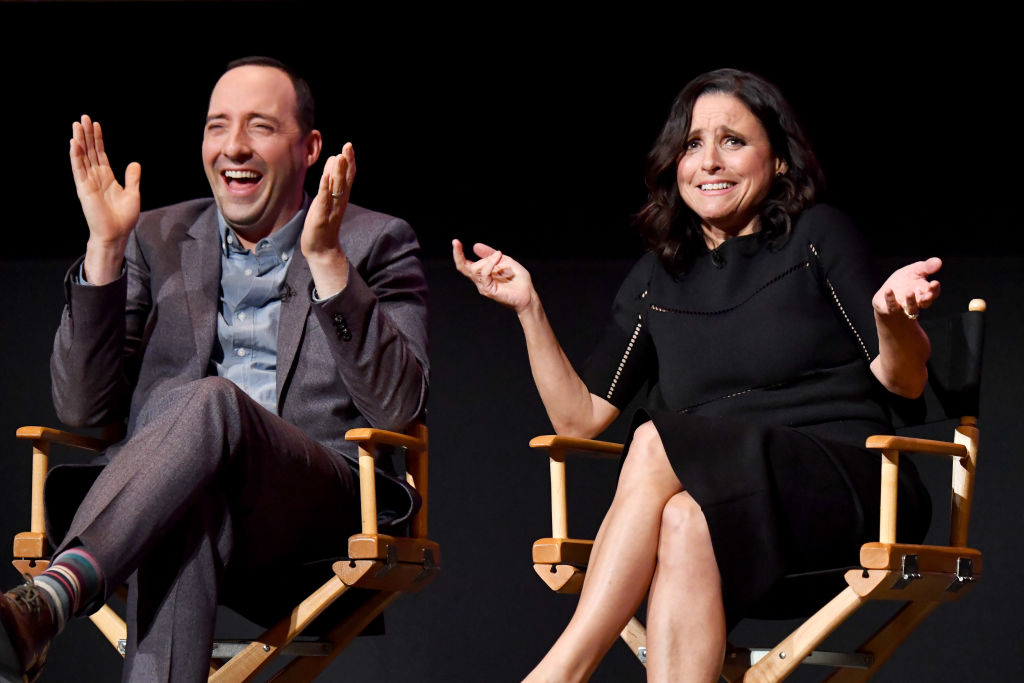 Staying in character
One of the most memorable acceptance speeches from Louis-Dreyfus came in 2013 when she won her second award for Veep. As Louis-Dreyfus walked to the stage to accept her award as herself, Hale stayed in character as her assistant and carried her purse. He also stood beside her while she spoke, and he whispered in her ear to remind her to thank her family.
During the speech, Anna Chlumsky (Amy Brookheimer) stayed in character while sitting in the audience and texting on her phone. The sketch was hilarious, but it wasn't planned far in advance.
Louis-Dreyfus told E! News that the idea came to her on the morning of the Emmys. And, when she told Hale about it, he said he knew she was going to win so he had to be ready.
Just because Louis-Dreyfus and Hale aren't writing anything ahead of time, it doesn't mean that something won't come to them at the last minute to celebrate their expected wins in their respective categories, Lead Actress in a Comedy and Supporting Actor in a Comedy. Especially since this year will be their last opportunity to do something fun as the stars of Veep.
The last season of 'Veep' wasn't easy
Saying goodbye to a show and characters that you have fallen in love with over seven seasons isn't easy. Hale says that when they filmed the last episode, everyone had to help each other keep it together.
"We were such a family. The last scene for each character, everyone would gather around the monitor to hug, laugh and cry. It was one big emotional roller-coaster," explained Hale.
The HBO political satire was a creative way to call out our leaders in Washington D.C. by portraying ambitious, yet incompetent politician. While Louis-Dreyfus portrayed the Vice President, Hale was her assistant with an unhealthy obsession for his boss.
This character dynamic led to Hale filming most of his scenes with Louis-Dreyfus, and he has a lot of fond memories about working with the TV comedy legend. He says they had a "little sanctuary" in the trailer where they would get ready, run lines, catch up, and make jokes before shooting started each day.
Hale also revealed that working on Veep gave him confidence, and he trusts himself more because the atmosphere on the set encouraged everyone to share their ideas. The actor also revealed that he kept the infamous leather bag that he always carried, and it is now sitting in his closet.
Everyone's predicting a seventh straight Emmy for Julia Louis-Dreyfus
Louis-Dreyfus is poised to become the record holder for most individual acting Emmys in television history if she wins this year, and no one thinks she is going to lose. Emmy voters absolutely love her, and they have been showering her with praise for nearly three decades.
This year marks her 19th acting nomination, and if her name is called on Emmy night it will be her ninth win. Currently, Louis-Dreyfus is tied at eight with Cloris Leachman for most individual Emmy wins. Her first win was back in 1996 for her work as Elaine Benes on Seinfeld, and her second was in 2006 for her work on The New Adventures of Old Christine.
During the first six seasons of playing Selina Meyer on Veep, Louis-Dreyfus has won six acting Emmys. Her seventh and final season playing the character should bring her a seventh award, and everyone in the Microsoft Theater will be shocked if that doesn't happen.
Still, she's facing some serious competition from comedy legend Catherine O'Hara for her turn as Moira Rose on Schitt's Creek. And, reigning champion Rachel Brosnahan from The Marvelous Mrs. Maisel is also nominated again this year. Rounding out the category is Christina Applegate from Dead To Me, Natasha Lyonne from Russian Doll, and Phoebe Waller-Bridge from Fleabag.
Despite the fierce competition, Louis-Dreyfus is an Emmy darling. She should have a speech prepared before she hits the red carpet.
The 71st Primetime Emmy Awards air Sunday, September 22, on Fox.