'Veronica Mars' Revival: How Did NBA Legend Kareem Abdul-Jabbar End Up On The Writing Team?
When Veronica Mars returns this summer, fans might notice a familiar name in the credits of the Hulu revival that doesn't belong to an A-list celebrity, but an NBA Hall of Famer. When show creator Rob Thomas announced the show's return last fall, he revealed that Los Angeles Lakers legend Kareem Abdul-Jabbar would be part of the Season 4 writing staff, but how did that happen?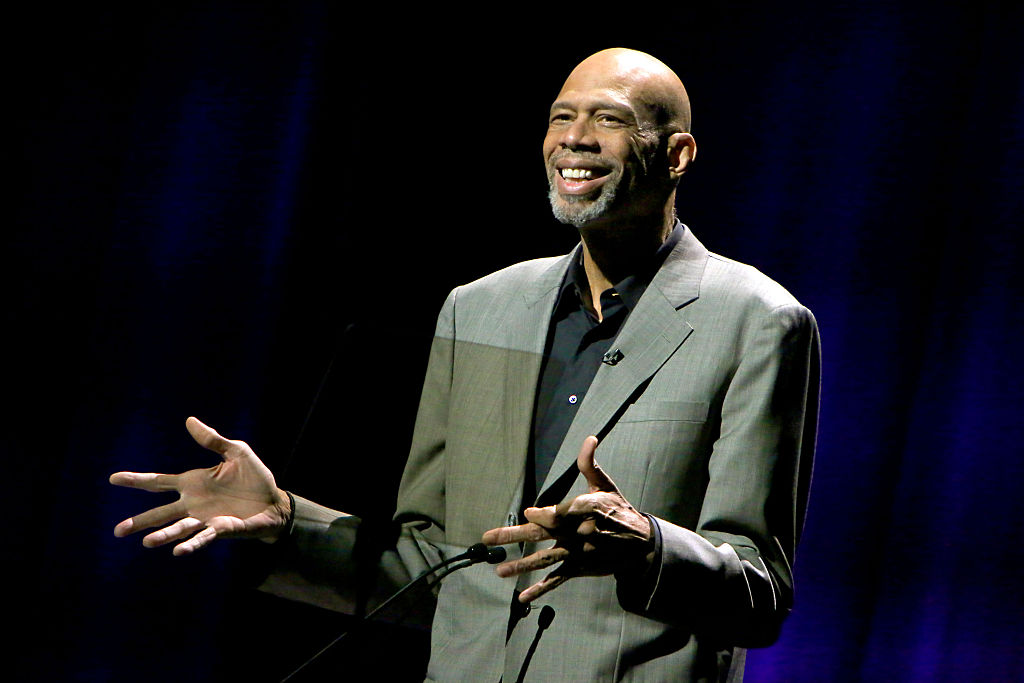 'Veronica Mars' writer Abdul-Jabbar is one of the greatest NBA players of all time
For those who are too young to remember, Abdul-Jabbar started his legendary basketball career in the late 1960s at UCLA, where, as Lew Alcindor, he led the Bruins to three NCAA basketball championships (it probably would have been four if he would have been allowed to play as a freshman).
He was so dominant with his ability to dunk that the NCAA banned slam dunks in 1967, and the popular shot didn't return to the college game for ten years. After college, the Milwaukee Bucks made Kareem the number one pick in the 1969 NBA draft, and he played for the Bucks for five years before they traded him to the Lakers.
Between 1974 and 1989, Kareem and the Lakers were one of the most dominant teams in the NBA (think Steph Curry and the Golden State Warriors), and he led them to six NBA championships. Kareem is considered to be one of the greatest players of all time, and in 1996 was voted number two behind Michael Jordan.
However, after his retirement from the league, Kareem didn't become a basketball coach or TV announcer, he started writing books.
Kareem is a best-selling author
While he played for the Lakers, Kareem wrote his first book, Giant Steps, that covered his basketball career, his conversion to Islam, and his political and social views. After he retired, he wrote numerous books and also contributed columns to different publications all over the country.
This isn't the traditional background for a TV writer, and Veronica Mars boss Thomas admits that the way Kareem joined the staff is a "crazy story."
"He's quite a Renaissance man… He wrote a column on the five young adult books everyone should read. One of those was my second novel, called Slave Day. I was so thrilled that Kareem Abdul-Jabbar named one of my books as one of the five books everyone should read. In that column, he said that he was both a Veronica Mars fan and an iZombie fan," Thomas told TVLine.
For Slave Day's 20th anniversary, Thomas reached out to Kareem's management team and asked if the athlete would write the forward for the book's re-release. Thomas eventually got word back from Kareem, telling him that he would love to write the forward as long as he could play a zombie on iZombie.
Kareem wanted to develop his own television show before 'Veronica Mars'
Since he worked and lived in LA during his basketball career, the 72-year-old appeared in numerous TV shows and movies, with one of his most famous roles being co-pilot Roger Murdock in the 1980 film Airplane!. And, after he retired from basketball, he continued to work in film and television.
That made it incredibly easy for Thomas to agree to Kareem's terms, and the basketball player showed up this season in iZombie as Zed, an undead city councilman.
But he wasn't satisfied with a guest role on the CW show. Kareem and his writing partner Raymond Obstfeld told Thomas they wanted to develop a show of their own, and Thomas told them they needed some TV writing experience.
He told the duo, "Well, you know if you do want to work in television, it would be great for you to get a little bit of experience. You're both Veronica Mars fans. Do you want to come on the staff and see how a television show works?"
Both Abdul-Jabbar and Obstfeld agreed to join the writing staff, and Thomas says that every time Kareem walks into the Veronica Mars writers' room, it weirds him out. The duo ended up co-writing episode 6 (which premieres with the rest of Season 4 on July 26th), and Thomas says the script was "terrific."