Why 'Veronica Mars' Fans Unhappy With Season 4 Are the Most Capable of Changing the Show's Future
As of late fans have been moved to action when their beloved TV series doesn't end the way they want — Game of Thrones fans we're looking at you — but the truth is, fans have been impacting TV shows for years. Ahead, learn why we think fans of Veronica Mars are the most capable of changing the outcome of future episodes of the mystery series after that tragic ending in Season 4. 
Beware, major spoilers are forthcoming. For those who haven't watched Season 4 of Veronica Mars, stop reading now and watch Season 4 on Hulu. 
'Veronica Mars' Season 4 tragic ending
After watching Season 4 of Veronica Mars on Hulu, we found ourselves discussing that big twist at the end with other Marshmallows. Learn why fans of the show are called marshmallows, here. We, like many fans, were disappointed and sad (We get really into TV shows, OK?) with the way in which Season 4 ended.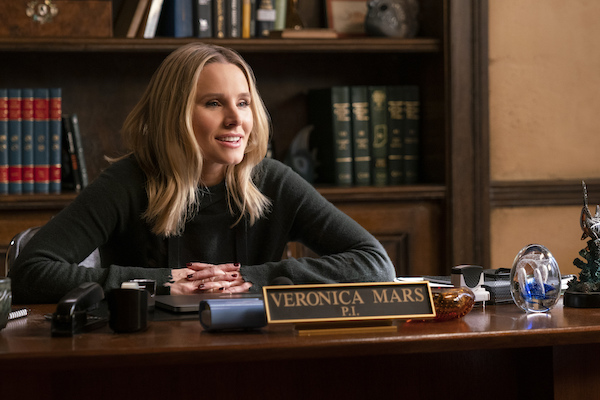 The show's star, Kristen Bell, who has played title character Veronica Mars since 2004, announced at San Diego Comic-Con in July, the series would be available to stream early in honor of her birthday. Fans quickly devoured each and every episode of Season 4 — eight episodes in all — and learned their favorite private investigator didn't get the happy ending she so rightly deserved. 
Logan Echolls (Jason Doering) died in a tragic explosion in connection to a major case Bell's character had been working on. She discovered the love of her love had been marked for death,  but proved to be too late. They had gotten married earlier that day in a courthouse ceremony with her BFF Wallace Fennel (Percy Daggs III) and father, Keith Mars (Enrico Colantoni) in attendance. Tearing up yet? We are. 
Fans reacted like any TV watchers do these days, they went online. On social media, many marshmallows said they wouldn't watch the show if it gets picked up for another season because of Season 4's tragic ending.   
Fans of 'Veronica Mars' have the power to alter the show's future
Discussing Season 4's ending had us saying, "If anyone can bring a character back from the dead, it's Veronica Mars fans." Instead of fans boycotting Season 5, we suggest they revisit their old ways by campaigning for what they want, the return of Logan Echolls. 
Veronica Mars fans have historically proved they can make almost anything happen. Not once, not twice, but three times fans of Veronica Mars have brought the series back to life. During 2005-2006 when Season 2 originally premiered, it became public knowledge the show may not continue. Fans jumped into action and inundated production company offices Mars bars and marshmallows. They raised money — thousands of dollars — to hire a plane with a sign to save the show. In the end, the show lived on through Season 3 until it went off the air. 
In 2013, Bell and the show's creator Rob Thomas launched a Kickstarter campaign to raise $2 million to make a Veronica Mars movie. They met their goal in less than 11 hours, talk about impressive. The movie premiered in 2014 then Hulu picked up the show for Season 4 which premiered last month. All of this shows Veronica Mars fans are capable of making incredible things happen. That's why it's not a stretch to believe they could successfully campaign to get Doering back on the show. 
In the meantime, we'll be binge-watching the entire series.