Vicki Gunvalson Completely Blindsided By Her 'RHOC' Demotion
Vicki Gunvalson was reportedly blindsided when she learned about her demotion on the Real Housewives of Orange County. Heading into Season 14, Gunvalson expected to return as a full-time cast member and was just as shocked as everyone else when Bravo decided to demote her to a friend in the new season. Now we know the real reason why, after 13 seasons, Gunvalson lost her orange.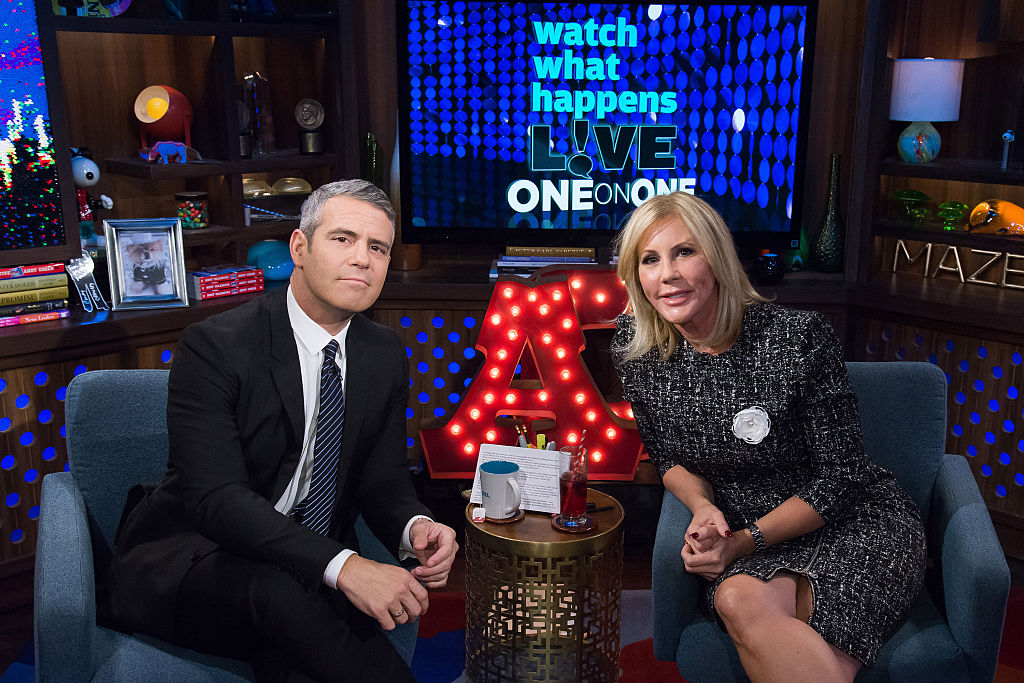 Bravo announces Vicki Gunvalson's demotion
A month away from the Season 14 premiere of RHOC, Bravo finally confirmed the rumors that they demoted Gunvalson to friend status. Gunvalson has stirred up a lot of drama over the years and her heated feud with Kelly Dodd was originally thought to be behind the network's decision to reduce her role. Inside sources, however, claim that there was a completely different reason why Gunvalson lost her full-time status.
According to All About The Real Housewives, sources say that the network wants to attract a younger demographic and Gunvalson does not fit into the grand scheme of things. Gunvalson has been on the show since way back in 2006, and executives felt like she is not the right person to speak for a younger audience.
Gunvalson fought for her position, however, and thought an engagement would save her spot. The network allegedly told her that getting married would not guarantee a full-time contract, though they were open to letting her prove herself.
"She was never offered a full-time housewife position," a source shared. "They told her she could prove herself, but just an engagement won't save you. Although that's what she pitched to them."
Gunvalson addresses her time on RHOC
Gunvalson has not said anything specific about her demotion. The RHOC star did post a lengthy note on Instagram about her time on the hit reality show. Gunvalson sounded like she has zero regrets about being on the show and still thinks of herself as the OG of the OC.
She also told fans that she will be returning in Season 14 and will appear sometime mid-season. Gunvalson closed by encouraging fans to tune in later this summer to see her in action.
When it comes to her future on RHOC, an insider says that Bravo does not want to make Gunvalson a full-time cast member any time soon. That said, they also do not think Gunvalson is going anywhere and will continue to appear in front of the cameras as a friend. As long as Gunvalson is content with this role, it sounds like we will see her on RHOC for years to come.
Vicki Gunvalson was shocked by demotion
While it sounds like Bravo never intended to offer Gunvalson her orange back, the reality star was allegedly shocked when she heard about her demotion. Inside sources claim that Gunvalson thought she was returning as a full-timer when filming was underway. She learned about the demotion after the fact, and it was too late to do anything about it.
Unfortunately, there is nothing Gunvalson can do to address her concerns, especially since it was a decision handed down by the network. Under normal circumstances, Gunvalson could make her frustrations known in front of the cameras. The only thing Gunvalson can hope for now is that Season 14 completely bombs without her. If that happens, perhaps Bravo will invite her back in Season 15.
Her demotion means a much smaller salary
In the meantime, Vicki Gunvalson is also taking a major hit when it comes to her salary. In previous seasons, Gunvalson was pulling down close to $1 million a year. That rounds out to around $60,000 for every episode. As a friend, the OG of the OC is only going to make about $20,000 per episode, and she will not appear in every installment in Season 14.
As a comparison, a new cast member is typically paid about $5,000 per episode. It is unclear how much we will see Gunvalson in Season 14, but as a friend, she definitely will not appear in all 21 installments. Regardless, Gunvalson will be taking a major salary hit as a result of being demoted.
That said, Vicki Gunvalson has been doing this for a long time and probably is not hurting for a big paycheck.
Season 14 of the Real Housewives of Orange County premieres August 6 on Bravo.