Vicki Gunvalson From 'RHOC' Makes This Hilarious Comment After Her 'Last' Plastic Surgery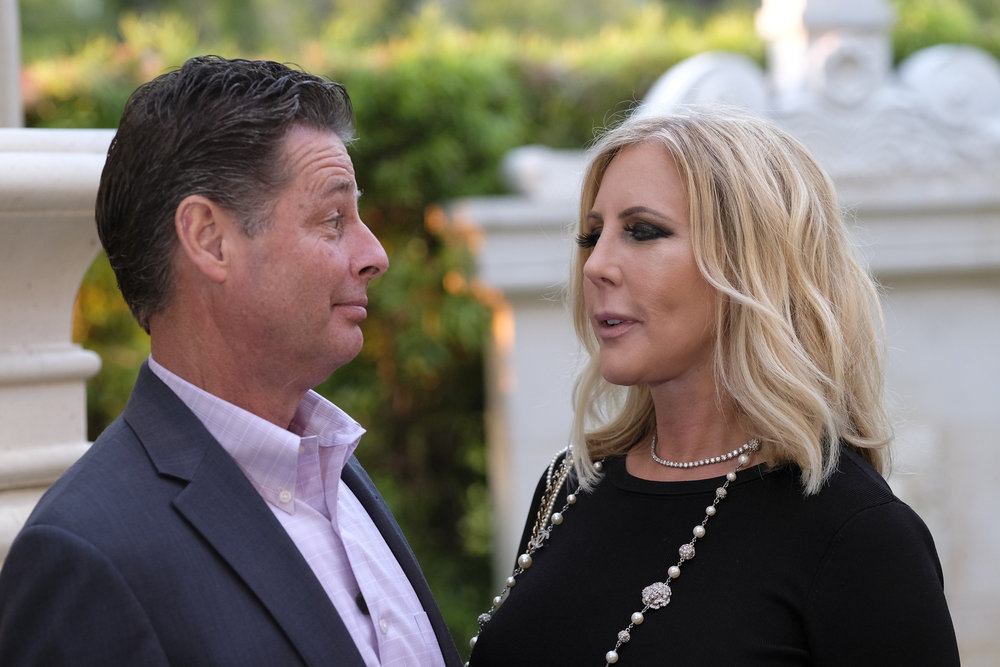 People say the craziest things after coming out of anesthesia, but Vicki Gunvalson from The Real Housewives of Orange County's comments may have taken the cake. From going nuclear on an airport transportation company to wanting to "whoop it up" with her friends, Gunvalson always has something entertaining to say.
But her latest, post-op comments may be the funniest and craziest to date. So why was Gunvalson having surgery and what exactly did she say?
Gunvalson has had a lot done to her face
Before and after images of Gunvalson show how different she looks today. While age may change the face, Gunvalson has had a long list of procedures. Plastic surgeons, who didn't treat Gunvalson hypothesized to Life & Style magazine what she's had done. "It seems she's been getting Botox for some time,"  Dr. Gary Goldenberg says. "There are no wrinkles or fine lines on her forehead."
Plus, she's had fat or filler injected into her face too. Additionally, her lips seem fuller which "looks to be filled with Juvéderm," according to Dr. Anthony Youn.
But this procedure is her last
She had a facelift after castmate Tamra Judge told her it might be a good idea, ET reports. "I went to Tamra's doctor, 'cause she told me I needed a face-lift," Vicki reveals. "So I thought, 'OK, I gotta listen to Tamra so she doesn't get mad at me.' No, but God love Tamra, she tells me how it is."
But Gunvalson says she's done with plastic surgery, US Weekly reports. She feels as though she's gone too far with fillers and wants to correct it. "I had a lot of fillers in my face and I didn't feel like it was me anymore," she says. "I had too many doctors, too many different times say 'let's do this, let's do that, let's fill here, let's do Voluma, let's do Sculptra,' and by the time I was done I looked in the mirror and was like COMMA 'I don't even look like myself.'"
"Some people were saying my promo pictures didn't look like me," she told ET. "It didn't. I was puffy, and I was — I didn't feel like I was myself. They do the cheekbones, and we gotta inject here, gotta bring the jawline down. Just, stop! I want everything out of my skin. I want to be back to, you know, being a 56-year-old and looking the best I can be. Then they tightened my neck. My neck's got no more wrinkles! I feel great."
She woke up after surgery and said this
Although she was clearly in pain, Gunvalson couldn't' help herself with the hilarious comments. Boyfriend Steve Lodge arrives in the recovery room to see his very bruised and bandaged girlfriend. He says, "This is the quietest you've been months. To which Gunvalson replies,"Do you love me? … Am I pretty?" Lodge says how he loves the outfit (referring to her surgical blanket).
She says that she has to keep her sexy man, followed by "I have no panties on right now."
Check out The Cheat Sheet on Facebook!