Vicki Gunvalson From 'RHOC' Thinks Braunwyn Windham-Burke Is 'Horrible'
Bravo asked The Real Housewives of Orange County cast what they thought about the newest cast member, Braunwyn Windham-Burke. Windham-Burke was often seen trying to make everyone in the cast happy but would sometimes anger or frustrate some of the women in the process.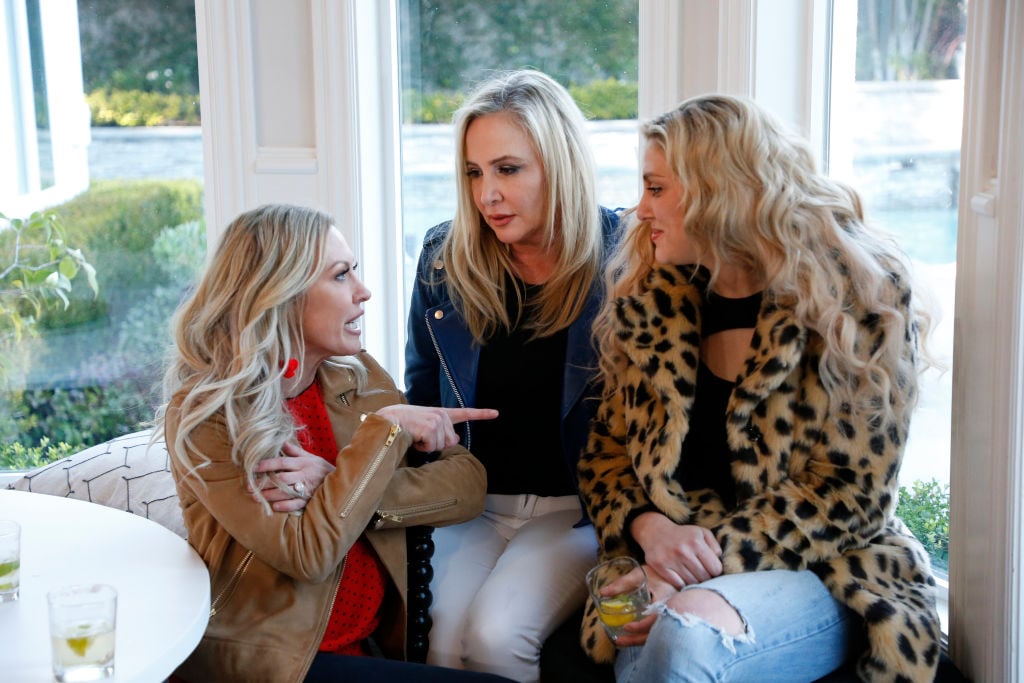 Although Shannon Beador and Tamra Judge quickly befriended Windham-Burke, she received a cool reception from other cast members. In fact, she was not welcomed whatsoever from the OG of the OC, Vicki Gunvalson. The ladies awkwardly tried to get along too. Windham-Burke had flowers and champagne waiting for Gunvalson in her Florida hotel room when the cast traveled to Miami.
Gunvalson seemed touched and admitted she was too hard on Windham-Burke and would try to get along with her. However, those good vibes didn't last. Gunvalson recently shared how she really feels about the newest cast member.
'She's horrible'
When Bravo asked each cast member about Windham-Burke, Gunvalson didn't hold back. "I think she's horrible," Gunvalson said shaking her head. Of course, most of the animosity may have nothing to actually do with Windham-Burke. Instead, she is likely angry that Windham-Burke took her orange.
After 13 seasons, Gunvalson was demoted to the "friend" role on the show. Gunvalson was a main, original cast member of the groundbreaking series. Plus, she's one of the few OGs left franchise-wide. During BravoCon she shared that she will never return to the show in the "friend" role. "I'm never coming back reduced again," she said, Page Six recounts.
She told the crowd signing on for the friend role was "one of the hardest things [she's] ever done." Plus, she later told Page Six even if she's offered a position on the main cast, she's not sure if she'll return. "I have no idea," she said. "I have no idea what's going to happen next year."
Gunvalson thinks Windham-Burke took the show to a low level
During her Bravo interview, Gunvalson said she's disappointed with the impact Windham-Burke had on the show. "Truly I think she's a bad pick of a cast member," Gunvalson remaarked. "I think she brought our show to a low level."
Gunvalson also suspects Windham-Burke studied the show and then tried to portray a sensationalized character as a result. "I think she watched me and the show for 13, 14 years and she came in thinking she's got to be this sensationalism and I think it's not emulating Orange County. I think it's really, really sad."
When asked how she felt about the reunion, Gunvalson said, "I don't care anymore. I want to be over the negative and be positive. I have a business to run and that's all I care about."
Gunvalson seems to be alone in her feelings about Windham-Burke
The rest of the cast appears to like the newest cast member. "Braunwyn has had a good first season," Beador shared. "I became her friend right away and that's uncommon for me."
Judge also befriended Windham-Burke and the two got extremely cozy on more than one occasion too. "I'm going to give her a nine," she said. "I'd give her a 10 because it took her a while to speak her mind." Emily Simpson agreed and wished Windham-Burke would have stood up for herself more often. But Simpson adds she knows how that can be a challenge in this situation.