'Vikings': Lagertha's Most Memorable Moments
History's Vikings has renewed the love people have for the Viking Age. Lagertha (Katheryn Winnick), the first wife of Ragnar Lothbrok (Travis Fimmel), made quite a name for herself throughout the series. Almost everyone has come to betray her at some point in her life, but she still finds the will to believe it's all fated by her gods. She's had numerous memorable moments throughout the show.
Lagertha leaves Ragnar after he shames her
Lagertha is a fierce shieldmaiden with a promising future. When Ragnar cheats on Lagertha and the woman comes to Kattegat heavily pregnant, Lagertha has no choice. She promptly leaves her life and home for her dignity. She would rather be living on the streets than be subjected to such treatment. And who can blame her? Not many women would put up with such a thing, and she isn't about to be a sister wife to Aslaug (Alyssa Sutherland).
She stabs her next husband in the eye
Lagertha finds shelter with her new abusive husband in Hedeby. She takes it for a while, but eventually Earl Sigvard (Morten Suurballe) tries her for the last time and Lagertha stabs him in the eye for his disrespect and treatment. The moment was building for a while, so fans weren't surprised by Lagertha's choice. It's hard to believe she put up that any of it at all. Even her son Bjorn (Alexander Ludwig) was itching to kill him. Lagertha becomes earl of Hedeby and takes her rightful place as an equal to Ragnar Lothrbrok.
Lagertha has a relationship with the King of Wessex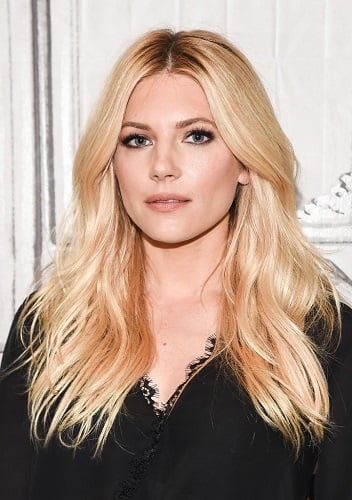 Lagertha, first and foremost a farmer and the child of farmers, knows the value of good land. Her dream, along with Ragnar's was always that their people would find good farming land somewhere. While initially going to England to raid, Lagertha stays in Wessex for a time with Athelstan (George Blagden) to help settle the lands King Ecbert (Linus Roache) of Wessex granted them. During this time, she develops a relationship with the king and it seems she is happy with him. He gives her a beautiful necklace that she insists must have been made by dwarves. She eventually returns with the other Vikings, leaving Ecbert clearly saddened by her loss.
She kills the usurper Kalf
Kalf (Ben Robson), once Lagertha's closest advisor, usurps Hedeby out from under Lagertha while she is away raiding. She returns to learn that not only has Kalf made himself the earl of Hedeby, Ragnar will not do anything to help her reclaim her domains. Lagertha eventually gets close to Kalf, and even warns him that she will kill him one day. The day finally comes, and it just happens to be the day of their wedding. Lagertha, pregnant with his child, stabs Kalf to death. The dramatic turn of events makes Lagertha the powerful ruler of Hedeby once again.
Lagertha kills Queen Aslaug
As fans probably know, Queen Aslaug's death was a long time coming for Lagertha. How could she forgive Aslaug for any of it? Lagertha takes back her rightful place as the ruler of Kattegat. She allows Aslaug to turn her back to leave, but she doesn't get too far. Lagertha shoots her with an arrow and Aslaug smiles as she falls to her death. She could have killed Aslaug's sons as well, but she wouldn't do that for the love she has and always will for her first husband, Ragnar. She becomes queen of Kattegat and feels at home once again. Her triumph is deserved after all of the betrayal and tragedy she has dealt with for her entire life.
These are just some of the many memorable moments Lagertha has endured on Vikings. She will be back for the final season before the end of the year.