Exclusive: 'Vikings' Season 6: Who Is Ganbaatar and What's His Role in the Final Season?
Fans are eagerly waiting for the final season of Vikings to premiere. The series finally has a premiere date for the first half of season 6 and a brand-new trailer. Viewers may have already spotted a new character joining the cast, Andrei Claude. Who is Claude's character Ganbaatar and how could he change the course of the season?
Andrei Claude spoke with us about the upcoming season
Andrei Claude spoke to us about his new character Ganbaatar, a Rus Viking with a larger role to play. According to Claude, there will be continued hostility between the sons of Ragnar (Travis Fimmel) in the upcoming season.
"Well, in the trailer that has just been released we could see that Ivar will be travelling to the land which is now known as Russia, where he will meet Prince Oleg (Danila Kozlovsky) who tries to form an alliance with him to take over Scandinavia," Claude revealed. "In this season we are going to see all four sons of Ragnar forming their own alliances and going against one another."
Who is Ganbaatar?
So, who is Ganbaatar and how will he come into play with the upcoming season? "Ganbaatar is the captain of the Rus Vikings' army and also Prince Oleg's right-hand man," Claude revealed.
It sounds like working on the set is just as fun as fans would imagine it to be. "We all got along really well before we even began shooting, and working together was an absolute pleasure," Claude said about his experience on set.
What's Andrei Claude's favorite scene?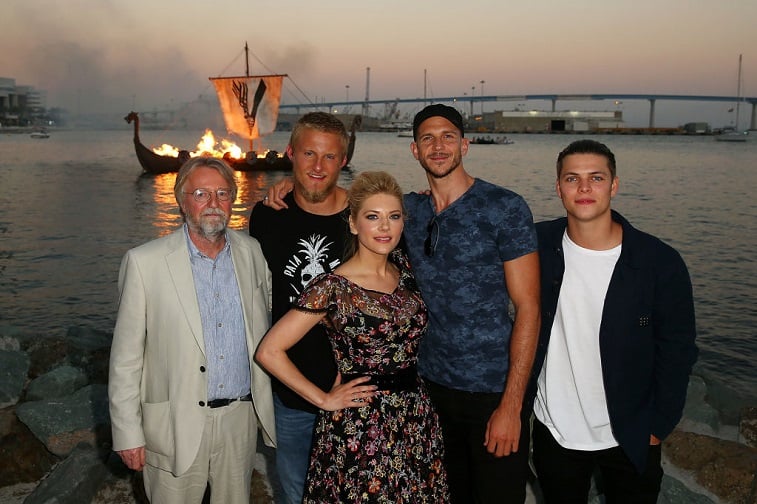 What was Claude's favorite scene to shoot? He kept tight-lipped about the particulars but said it's an upcoming battle scene. "I can't disclose the details at this stage, but one of the battle scenes in particular, which we all rehearsed for quite a long time, was my favorite," said Claude.
How long will Ganbaatar be on the show for the final season? Claude said, "We'll have to wait and see," when asked if he'll be returning for the second half of season 6.
The actor has been sharing behind-the-scenes images
Claude has been sharing a number of behind-the-scenes images and hints about his role. He's also been sharing quirky photos with the cast. In one, he can be seen with Ivar (Alex Høgh Andersen) and Ubbe (Jordan Patrick Smith) in Dublin, Ireland. "Watching the England vs Ireland rugby game with the boys on St.Patrick's day in the center of Dublin… I think this might get messy #ireland #stpatricksday #vikingscast," Claude captioned the post.
Another post shows a few of the cast members celebrating Halloween, including Lagertha (Katheryn Winnick). She's seen with Claude and a few other people. "We began celebrating Halloween, hence my very intricate leprechaun disguise tonight #happyhalloween #vikingscast #halloween #2017 #ireland #actorslife #historyvikings #season6," Claude wrote.
Another image is a still of Claude fighting as Ganbaatar. "And did I mention that we're not the friendliest of people? 😄 #WeAreRusVikings ⚔️ #HistoryVikings #Season6 #ComingSoon @HistoryTV," wrote Claude.
The final season of Vikings is hopefully going to be everything fans are looking for. There are still so many things that need to happen for it to be a satisfying end of an era. The first half of Vikings season 6 premieres on Dec. 4 at 9 p.m. E.S.T.