'Vikings' Season 6: New Cast Member Andrei Claude Keeps Sharing Behind-The-Scenes Images
Vikings season 6 finally has a premiere date and fans can't wait. A new member of the cast, Andrei Claude, has been sharing behind-the-scenes media that has people talking. Claude revealed to our publication that he is playing Ganbaatar in the final season. Ganbaatar is a Rus Viking captain. Read on to learn more.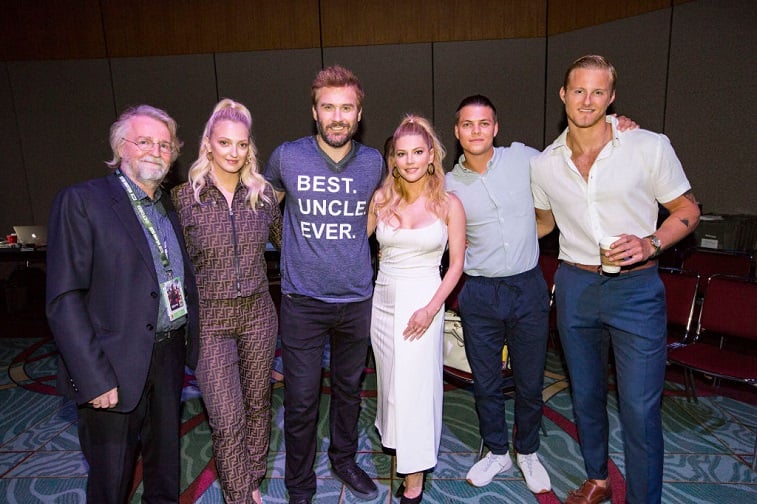 Who is Ganbaatar?
Claude is clearly excited about the new role and luckily he's been sharing numerous behind-the-scenes images to tide viewers over until the final season premieres. It looks like Ganbaatar will be involved with Ivar the Boneless (Alex Høgh Andersen).
"Well, in the trailer that has just been released we could see that Ivar will be travelling to the land which is now known as Russia, where he will meet Prince Oleg (Danila Kozlovsky) who tries to form an alliance with him to take over Scandinavia," Claude revealed. "In this season we are going to see all four sons of Ragnar forming their own alliances and going against one another."
Claude's new role will be tied to Prince Oleg, so things could get interesting for this new character. "Ganbaatar is the captain of the Rus Vikings' army and also Prince Oleg's right-hand man," Claude said.
Who is Andrei Claude?
Fans should get to know Andrei Claude better. He's an actor that was born in Malta. He's known for numerous roles, including spots on Game of Thrones, The Dovekeepers, and Medici. Claude has also worked as a fitness model throughout his career.
Claude can't stop sharing images that 'Vikings' fans will appreciate
Thankfully for fans, Claude can't seem to stop sharing behind-the-scenes images. In one post, Claude is seen celebrating Halloween with some of the cast, including Katheryn Winnick who plays Lagertha.
"We began celebrating Halloween, hence my very intricate leprechaun disguise tonight #happyhalloween #vikingscast #halloween #2017 #ireland #actorslife #historyvikings #season6," Claude captioned the post.
Another hilarious photo shows the actor alongside Ivar and Ubbe (Jordan Patrick Smith) in Dublin, Ireland enjoying themselves. "Watching the England vs Ireland rugby game with the boys on St.Patrick's day in the center of Dublin… I think this might get messy #ireland #stpatricksday #vikingscast," Claude said in the post.
Claude has shared many more images, including posts of scenery on set. In one, two Viking ships can be seen near land. "They call it the golden hour in photography, and looking at this beautiful scenery the reason for that is quite evident #filming #shooting #historyvikings #outdoors #onlocation #onwater #wicklow #ireland #ilovemyjob #actorslife," wrote Claude.
In another, a Viking ship is sailing towards a beautiful shore covered with snow. "We're getting closer #historyvikings #season6 #comingsoon," the post is captioned.
In another post, Kattegat can be seen along a watery landscape. "A new breed of Viking is approaching. Be prepared for the unexpected. ⚔️ #Vikings #HistoryVikings #Season6 #ComingSoon," Claude teased.
Another image is a still of Claude as Ganbaatar fighting fiercely in battle. "And did I mention that we're not the friendliest of people? #WeAreRusVikings ⚔️ #HistoryVikings #Season6 #ComingSoon @HistoryTV," wrote Claude.
If these images are anything to go on, the final season of Vikings is going to be epic for fans. It sounds like Claude will have an important role in the upcoming season. Season 6 premieres on Dec. 4 at 9 p.m. E.S.T.