'Vikings' Season 6: What Happened in the Premiere of the Final Season?
Vikings premiered the first half of the final season and fans can't seem to get enough. So, what actually went down? Read on to learn about the most important events of the first two episodes. There are obvious spoilers ahead.
Ivar the Boneless strikes up a new friendship
First thing's first, Ivar the Boneless (Alex Høgh Andersen) has met his match in Prince Oleg (Danila Kozlovsky). Ivar travels along the Silk Road running from his past as a king and a supposed god. They are attacked along the road and taken to Kiev to meet the Rus Vikings in all their glory. Oleg is clearly interested in Ivar, a man who calls himself a god. Oleg himself goes by the nickname the Prophet, so their friendship seems fitting.
The new duo shares a sweet moment when they are strapped to ropes and carried off on a sled with horses. The ropes are strapped to a hot air balloon of sorts. They end up going flying in the air and it's nice to see Ivar enjoying himself.
Bonding over the dead
Prince Oleg also shows Ivar the mausoleum of his dead wife that he had killed. She had been unfaithful and he knew it. He tears up talking about it, and Ivar explains that he knows what it's like to be betrayed. Oleg treats Ivar's arrival in Kiev as an omen of what's to come. He says he wants to look west to Kattegat, the original place of his people.
How did Prince Oleg get his nickname of the Prophet?
Ivar learns the truth of Oleg's nickname which comes into play for him. Oleg was supposed to attend a feast during a power struggle of epic proportions. The night before, he receives a warning in a dream of poison in the wine. Oleg still attends the feast, but he is a little wiser about things and doesn't drink the wine. His friends do though and they end up dying.
Prince Oleg kills his own brother
In a surprising turn of events, Oleg kills his own brother in front of Ivar. Prince Oleg kills Prince Askold (Blake Kubena) with the wine. Oleg dances around in the room as his brother starts to choke and eventually die. Ivar doesn't drink the wine and luckily gets the hint about the story of how Oleg received his nickname of the Prophet.
All hail King Bjorn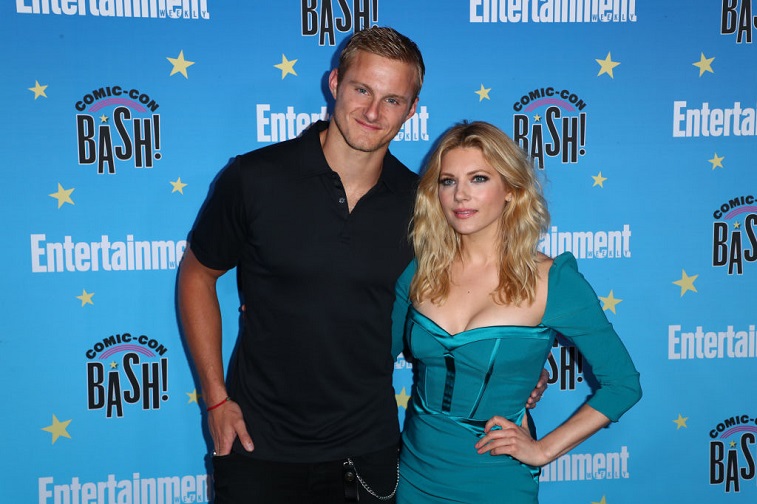 Back in Kattegat, Bjorn tells his people that he will be nothing like Ivar. Men are brought in that helped carry out heinous acts for Ivar, including killing Thora. Hvitserk (Marco Ilsø) reminds everyone who the men really are, but Bjorn decides to banish and brand them instead of killing them.
Kingship proves to be difficult for Bjorn who is already comparing himself to his famous father, Ragnar Lothbrok (Travis Fimmel). His mother, Lagertha (Katheryn Winnick), decides to leave public life and build a farm like she once had with Ragnar. Bjorn accepts his mother's decision and gives her his blessing.
Ubbe (Jordan Patrick Smith) and Torvi (Georgia Hirst) travel with Lagertha to find the right piece of land to help build her home. Torvi tells Lagertha that she's pregnant, and Lagertha already seems to know. Lagertha later buries her sword and says she'll never fight again.
King Bjorn Ironside makes a choice
Bjorn receives news about King Harald (Peter Franzén), who needs his assistance. When last they had seen him, Harald was injured after the battle. It's revealed that King Olaf (Steven Berkoff) saved him and took him back with him. While Harald was recovering, Olaf took his lands. Harald's men ask for Bjorn's help. Bjorn takes the time to make a choice, but finally chooses to go and help King Harald. He decides to leave Ubbe in charge of Kattegat while he is gone.
News of Floki reaches Kattegat
Kjetill Flatnose (Adam Copeland) arrives out of nowhere with Floki's (Gustaf Skarsgård) boat. Kjetill returns to Kattegat to recruit more settlers for the settlement. He finally explains that Floki actually up and left the settlement without saying anything. He said they searched for him but couldn't find him. Ubbe decides he will go and find Floki himself.
Bjorn finds Kjetill, knowing that his story doesn't sound quite right. He doesn't believe it or that Floki just left. He recommends that Kjetill join his army, which isn't really a choice, so he agrees.
The premiere left us all breathless. We can't wait to find out what happens next in season 6 of Vikings.