'Vikings' Season 6: Why Gunnhild Deserves Better Than Bjorn Ironside
Gunnhild (Ragga Ragnars) is now the wife of King Bjorn Ironside (Alexander Ludwig) on the hit History series Vikings. She's been desired by many men on the show, yet she stays loyal to her husband when he can't seem to do the same. Read on to learn why Gunnhild deserves better than Bjorn. There are spoilers ahead.
Who is Gunnhild?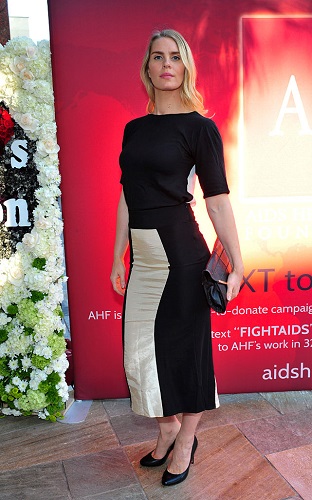 Viewers first meet Gunnhild when she is the wife of Jarl Olavsonn. She's a fierce shield-maiden with a softer side. King Harald Finehair (Peter Franzén) starts to covet her as many men do. She faces Bjorn in battle and is taken captive in Wessex by the Saxons, who Bjorn is fighting for.
Gunnhild and Bjorn seem to have a real connection and they fall in love. They eventually marry and Gunnhild stays loyally by his side. In season 6, it's obvious that she loves him and she tells him so. Bjorn responds by telling her she is hard to love.
Bjorn Ironside doesn't have a good track record being loyal
Bjorn hasn't had the best history when it comes to being loyal to the women he's with. He has a tendency to cheat on his significant other ever since he was with Porunn (Gaia Weiss) and he cheated on her with Torvi (Georgia Hirst). He ends up getting with Torvi in the end, only to never treat her right as the mother of his many children. Bjorn even leaves Torvi to marry a woman he doesn't even know based on her beauty.
Just because Bjorn is now with Gunnhild doesn't mean he's going to be loyal in the slightest. Once again, the cycle of cheating continues with Bjorn now sleeping with Ingrid (Lucy Martin). All this woman had to do was tell him not to deny the gods and he's hooked and can't say no.
Bjorn's father cheated on his mother
He doesn't know how to be faithful and it's honestly sad. Granted, Bjorn learned many attributes from his father, Ragnar Lothbrok (Travis Fimmel), who cheated on Bjorn's mother Lagertha (Katheryn Winnick) basically right in front of him. That situation totally scarred Bjorn and he chose to live with his mother for a number of years away from his father.
Gunnhild deserves better than Bjorn Ironside
Gunnhild is desired by many men and she deserves to be happy. The fact that her husband who has been portrayed as loving her would cheat on her so easily doesn't speak well of their relationship. Harald and other powerful men would probably do anything to be with her, yet she stays with Bjorn because she loves him. She deserves someone faithful and hopefully she gets that in the end.
Fans aren't happy about Bjorn's behavior
Fans aren't really on board with Bjorn's cheating ways. He continues to make the same mistakes again and again. He never seems to learn. "Bjorn doesn't learn," a Reddit user wrote.
Numerous viewers called Bjorn out for cheating on Gunnhild. "Bjorn, keep your **** to you and your wife," another user said.
"Once he decided to hop in bed with her I found myself saying 'well **** you're an idiot who has not learned a single thing after becoming a king,"' another Reddit user chimed in.
Hopefully Gunnhild will find the happiness she deserves. Maybe Bjorn Ironside can redeem himself somehow in the coming episodes.