'Vikings' Season 6: Will Lagertha Be Killed in the Final Season?
Lagertha (Katheryn Winnick) is a beloved character on the hit series Vikings. She's been around since the very beginning and was Ragnar Lothbrok's (Travis Fimmel) first wife. She gave him two children, though only one made it to adulthood, Bjorn Ironside (Alexander Ludwig). Fiercely loyal to her family and beliefs, Lagertha is unlike any other shieldmaiden on the show. Fans are wondering if she will be killed in the final season by one of Ragnar's other sons, as it was prophesied. There are possible spoilers ahead, so read on only if you are caught up with Vikings.
A possible leaked image seals the character's fate
The final season of Vikings is being kept quite tight-lipped, as it is the end of an era. The series is extremely popular with fans who are looking for any information they can find about how it will all end. Winnick has been hyping season 6 for fans, and she recently shared an interesting post to her Twitter page. The actress shared an IBT article discussing a leaked image on Reddit. The image may reveal Lagertha's impending demise. The leaked photo allegedly shows the funeral pyre for the character. The pyre is complete with a sword and shield for the fierce shieldmaiden and queen in her own right.
Lagertha's death was prophesied by the Seer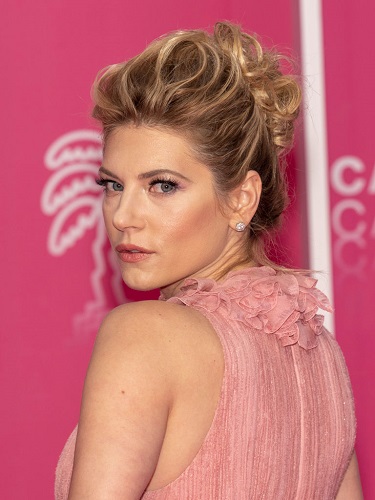 The Seer (John Kavanagh), who prophesied many things that have come to pass, told Lagertha long ago that she would die at the hands of a son of Ragnar. Because of her immense popularity with fans everywhere, she's been kept on the show as long as possible. But, as the final season is upon us, it makes sense they would finally make the long-awaited scene happen.
Fans are convinced Winnick has confirmed Lagertha's death
Once Winnick shared the article, fans went into a literal frenzy thinking that she had seemingly confirmed her character's fate. Some fans have threatened to stop watching the hit series in protest. But would Winnick actually want to confirm her character's death? She may just be hyping up the final season to get people to watch. It is possible that Lagertha could survive and outlive all of the sons of Ragnar.
Could Hvitserk kill Lagertha?
There are a number of theories of how Lagertha could be killed off, but one popular theory on Reddit suggests that Hvitserk (Marco Ilsø), one of Ragnar's sons, will deal her the deadly blow. A user pointed out that the Seer had previously told him, "You will accomplish what others before you have failed to accomplish." This theory would make sense, as many people have tried and failed to kill the shieldmaiden and queen. Hvitserk could choose to kill Lagertha for Ivar (Alex Høgh Andersen), as he has a large vendetta against her for killing their mother.
A reunion could be coming in the final season
To the delight of fans, there could definitely be a Lagertha and Rollo (Clive Standen) reunion coming. Winnick recently posted an image of her and Standen on her official Instagram account. "Reunited with my Vikings family. @clivestanden," she captioned the image. It looks like the two will be reuniting for season 6. The final season of the story of the Vikings hasn't yet been announced, but the first half is expected to launch later this year.
Fans will soon learn the fate of Lagertha, one way or the other. There is still hope that she could outlive them all. Will Lagertha be killed in the final season? The wait is almost over.