Vince Gilligan Gets All the Credit for 'Better Call Saul' But Said He Has 'Very Little' to Do With the Show — It's All Peter Gould
Even people who have never seen Breaking Bad before know that it's the brainchild of creative genius Vince Gilligan. Many fans and critics call the show the greatest of all time. In 2011, Gilligan explained his pitch for the Emmy award-winning series, saying, "You take Mr. Chips and turn him into Scarface."
Before Breaking Bad made him a household name, Gilligan had moderate success writing episodes of The X-Files and the Will Smith movie, Hancock. But it was his creation of Heisenberg's unlikely drug empire that really turned Gilligan into a superstar. Now the spinoff prequel series, Better Call Saul, is keeping that fame alive.
There's just one problem — besides his contribution of inventing the Breaking Bad universe upon which Better Call Saul is based, Gilligan has very little to do with the show's brilliance. The brilliance is all coming from his fellow showrunner Peter Gould.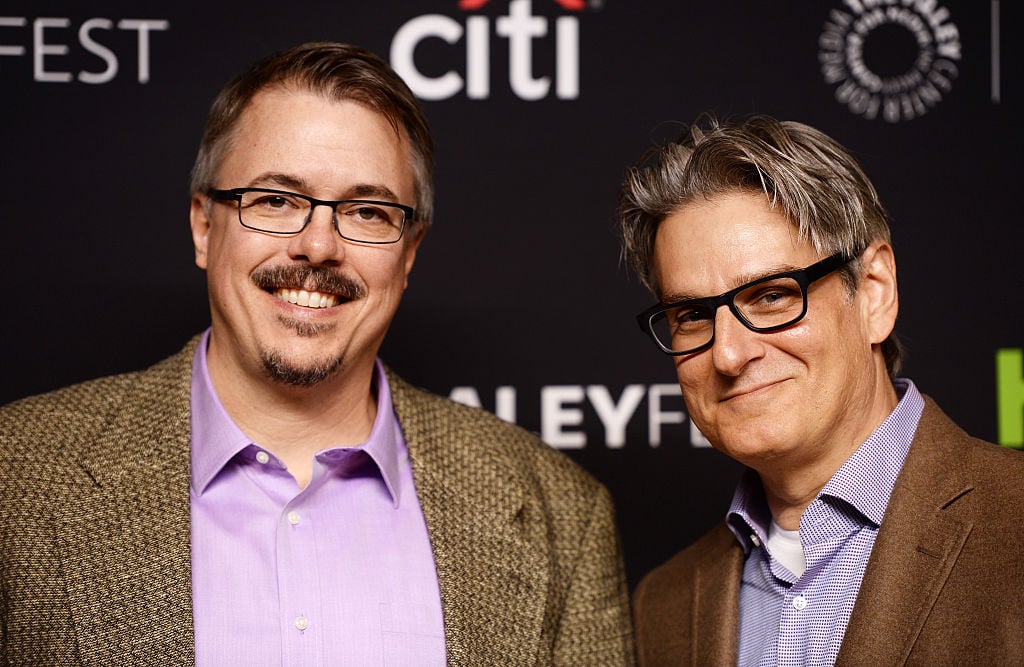 Vince Gilligan admitted that Peter Gould should have all the credit for 'Better Call Saul'
Both Gilligan and Gould share showrunner credit on the series, but it's Gilligan's name that gets mentioned more often in conjunction with the extraordinary success of Better Call Saul. However, during an El Camino promo interview on The Rich Eisen Show, Gilligan revealed just how little involvement he had.
The 53-year-old producer told Eisen that he was lucky to direct just one episode of Better Call Saul, Season 5. "That show is in really rock-solid hands," Gilligan said. "It's being run by Peter Gould… Peter and the writers are doing a tremendous job; the show just gets better and better without me."
"You have nothing to do with it?" Eisen asked.
"Very little," Gilligan confirmed. "I mean, I directed the one episode, but I'm kind of just a director for hire. They gave me the script, and I read it, and I said this is awesome and I figured out how to shoot it."
It's worth noting that Gilligan was more involved in the early days of Better Call Saul and did help Gould create the series. But all the accolades the show's been getting lately are solely Gould's doing.
Gilligan doesn't even know how 'Better Call Saul' will end
Now that we're more than halfway through the penultimate season of Better Call Saul, fans are starting to make serious predictions about what will happen as the Breaking Bad timeline creeps closer. But Gilligan proved just how little he's involved in the decision-making process during the same interview.
"Do you or they know how it's [Better Call Saul] going to end?" Eisen asked.
"I think Peter's kind of coy with me," Gilligan explains. He goes on to explain that while Gould does bounce ideas off him, he's been keeping some of his creative concepts secret. It's all just further proof that Gould is the real mastermind behind the Better Call Saul world and Gilligan is a secondary player.
Gilligan is overjoyed that some fans love 'Better Call Saul' better than 'Breaking Bad'
Both showrunners had a common goal in mind for Better Call Saul — they didn't want it to suck.
"We wanted to not embarrass ourselves. We wanted our spinoff series to not take anything away from the original, to not leave a bad taste in the mouth of the fans of the original," Gilligan explained during an interview with Rolling Stone.
And now he's overjoyed to hear that some Breaking Bad fans admit they are enjoying the prequel more than the original show.
"I'm so glad," Gilligan told Rolling Stone. "I never thought anyone would come up to me and say, 'I like Better Call Saul better than Breaking Bad.' If you had asked me before we started, 'Would that bother you if someone said that?' First of all, I would have said, 'That's never gonna happen. And yeah, it probably would bother me.' It doesn't bother me a bit. It tickles me. I love it."