Viola Davis Says Kissing Liam Neeson Was 'Groundbreaking'
Viola Davis has had a long and decorated career in acting. She overcame a childhood of abject poverty to follow her dream of becoming an actor, a pursuit she began when she was still in high school. After getting an undergraduate degree in acting and then attending the famous Juilliard School of Performing Arts, she put the work into supporting her passion with talent and drive. It paid off in a big way, making Davis the first African American to win an Emmy, Oscar, and Tony.
Today, Davis is known as a versatile actor who has given show-stopping performances on both the small and large screen. As her hit show How to Get Away with Murder sets to wrap up its final season, fans are looking back over her many performances.
One of those performances stands out in Davis' mind as particularly groundbreaking, and that was her role in Widows, a film where she got to kiss Hollywood heartthrob Liam Neeson.
Davis has shared many on-screen kisses with famous men, so what made this one different?
Davis has been outspoken about how racial divides shape her roles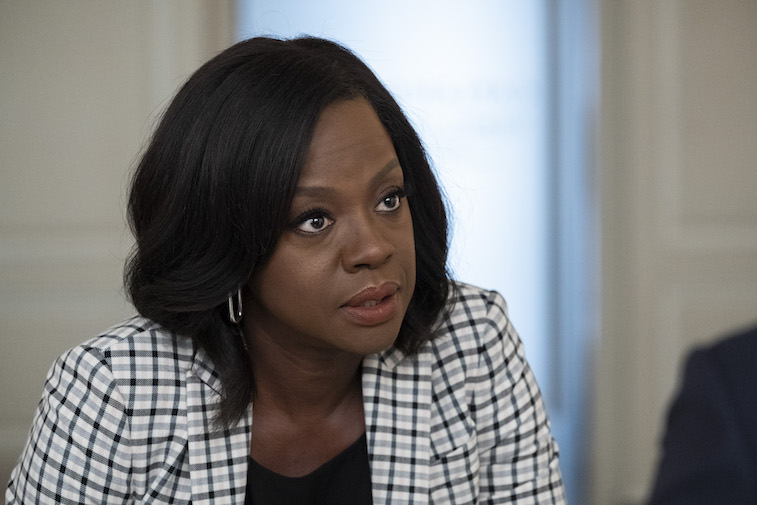 In Widows, Davis plays alongside Michelle Rodriguez, Elizabeth Debicki, and Cynthia Erivo. It's a heist film where Davis' character has to take over the work for her criminal husband (played by Liam Neeson) after his death.
In the opening scene, Davis is lying in bed with Neeson, and the two share a passionate kiss. Davis believes that this moment is important because it is rare to see a woman of color playing the romantic interest of an attractive and popular white actor.
Davis thinks that this kind of pairing is noteworthy. "That is, a dark-skinned woman of color, at 53 years old, kissing Liam Neeson. Not just kissing a white man," she explains, "Liam Neeson, a hunk. And kissing him sexually, romantically."
Davis went on to praise Widows for giving her an opportunity to play a character whose race is not an active part of the plot line: "I always say that one thing missing in cinema is that regular black woman. Not anyone didactic, or whose sole purpose in the narrative is to illustrate some social abnormality. There's no meaning behind it, other than she is just there."
Davis has faced backlash over some of her roles
When Davis speaks about the intersection of race and acting, she does so with lots of personal experience behind her. One of her early television roles was on Law & Order. Davis played a serial killer, a role that's not uncommon for the crime series.
She faced criticism as a black woman for playing a serial killer, but she considers the part one of her favorites. She also pointed out the hypocrisy of her facing criticism for playing a serial killer saying, "Anthony Hopkins didn't."
She also faced considerable criticism over her breakout role in The Help. Cultural critics like Tavis Smiley vocally decried the fact that Davis and costar Octavia Spencer got so many accolades and awards for playing maids.
He said that it spoke to a lack of balance in Hollywood where black actors are only acknowledged when playing certain roles.
Davis questions some of her past roles
While Davis defended the film to these critics, she has since acknowledged that The Help is problematic and centers on the voice of the white narrator rather than the black women who are ostensibly the central focus.
"I just felt at the end of the day that it wasn't the voices of the maids that were heard," Davis explained.
She also expressed frustration that playing in such a critically acclaimed film didn't open more doors for her: "I went right back to playing the same roles I did before The Help, only getting paid a little bit more money. It's like you have to sift through sewage in order to get what you feel like you deserve. I was not a box-office draw. So I just went back to having my five or six days on a film."
That is why her role in Widows stands out to her as groundbreaking. In it, she was a leading character who was simply existing and playing an interesting part without her race being a central focus. Kissing Neeson was a symbol of the kind of roles she believes should be open to not just her, but black actors everywhere.